---
Senior For Sale SOLD
YM Senior 681
---
Sold Eventide 26 'Nis'ku' (based in Canada)
Bilge Keel, 30" draft, Cutter rigged spruce mast roller furling, 5 sails, 2 sheet winches, Volvo Penta inboard diesel. Fitted with Porta Potti WC.
Custom built tandem road trailer electric brakes.
All drawings available. Inventory includes anchor and winch, radio, clock, barometer, hand wing gauge, lifejackets, fenders, inflatable dinghy, cooler, boat hook torches kerosene lamps and 2 burner vented stove and fire extinguisher.
Nis'ku is at present ashore on her trailer at Vernon, British Columbia.
$12,000 (Yes that is Canadian Dollars!)
Please note that Donna's 26 foot Eventide sailboat is still available, and she is getting very anxious. The asking price is now $8500, and all offers are welcome. I have inspected the sails, and all are in good order. I have started the motor, and added a good battery, so she is ready to be towed and launched. If there is any interest, or you want updated spec sheets or photos, please respond soonest (before we start advertising again)
Contact David Jones
3/10
---

For Sale SOLD
'Goosander', the designers own boat,
---
Comments SOLD
For Sale, 'Rose of Holcroft' Eventide 24,
---
Eventide 24SOLD
Echo sounder, Log, Radio, Fully restored VGC, New Diesel 1GM10, 4 Berth, Toilet, Self-draining cockpit, Cutter rig, Long keel, Club mooring may be available at Portsmouth.
---
Volvo Inboard, MD1Spares
---
---
For Sale, British Seagull Outboard, Electronic Featherweight.

---

For Sale, British Seagull, Silver Century Plus Longshaft, Clutch Drive.

---

Eventide 26 Mast For SaleSOLD

31 foot mast, 28ft luff groove. Ali, tapered, with standing rigging in s/s steel, galvanised rigging screws and galvanised tabernacle to suit. Ali boom with in boom reefing and jammers., kicking strap etc.

Really needs new luff track, it's external and has slight damage., nothing a good D.I.Y.er could not handle. Spreaders are timber, laminated, might need re-gluing one side, again not a difficult task.

This is a complete kit to rig a cutter Eventide 26, got to be a snip at £250. At present in a field in North Essex!

---

Eventide 26 For Sale SOLD

Built in marine ply, triple keel, long coachroof, bermudian rig. Basically sound condition, fully equipped. Not used for 2 years, has been ashore, well covered and ventilated, but needs some paint and maintenance. Petrol inboard (Ford 105E)needs overhaul, part prepared for removal, (good opportunity to install diesel).

This yacht was purchased last year with the intention of sailing this summer, some work has been done and there is more to do, but it is not a major project. Very genuine and unusual reason for selling, and is being sold at a huge loss, hence GENUINE BARGAIN at £1200, to ensure quick sale.!!

---

For Sale. Honda 10 hp outboard. 4 stroke.SOLD

Longshaft, in excellent condition, electric start, charging, spare prop, (different pitch). Still under transferable warranty. Full service history. £1000. Contact Jonathon Bish

Tiptree Essex.

---

Set of 8 galvanized Steel Chain plates for Eventide.SOLD ( 24 or 26!)Could also be used on other boats too!

Six shroud plates, for either cutter or sloop rig, depending on where you fit them! and a pair of backstay plates. Also a substantial Stem fitting also galvanized, that you might alter to fit, or alter woodwork to suit!

All really need re-galvanising, but to be honest are not that bad.

£30 for the lot including a 5% donation to funds.

---

Pair of bilge keels for E.26.SOLD

Removed from E.26 ('Francharlie') they have been subject to heat and the paint has burnt off them. They are mild steel, slightly pitted, not badly and just need wire brushing then galvanizing to make them fit for use. They are approx 1/2" thick. 61" long on top flange, which is 5" wide. Depth 18" length of bottom flange, 30".

£45. 5% donation by seller to funds,

---

For Sale,SOLD

Anti slip sand

International, in small packets, £1.00 each, plus P&P. I have just a few left. Suitable to sprinkle on any gloss paint to obtain a non slip finish.

(Donated to fund website by Geoff.)

---

Sextant for Sale. Ebbco, plastic sextant, with tatty box. The shades need a filter or two and the box could do with new hinges! Fun toy to obtain horizontal or vertical angles. Has the more accurate and easier to use hand wheel, rather than the vernier type read out.

£20. SOLD (inc 5% donation to web site).

---

For Sale

1992 YM 3-TONNER

SOLD

£4,850

Built 1991/2 in iroko with ¾" thick planking, bronze-fastened and glued, based on the Alan Buchanan YM 3-tonner design, but with m/h rig, lead keel, s/d cockpit, side decks. Double-skinned transom. Teak deck, coachroof, cabin sole, cockpit sole.

LOA 22ft 2". LWL 18ft 4". Beam 7ft. Draft 2ft 10". Headroom 5ft.

Deck Gear.Pulpit, guard wires, pushpit. 20lb CQR anchor with 70ft chain & 50ft multiplait rope. Warps & fenders. Bilge pump. Cushions for cockpit, boathook, brush, fuel & water carriers. Kedge anchor. Dodgers. Mainsail cover.

Engine: Yanmar 1GM10 diesel, serviced 2002/3. 8-gallon fuel tank.

Sails/rig. 1996: new aluminium mast & boom, new standing rigging, new main with 2 slab-reefing points. 2000: new genoa with roller furling. 2003: new genoa sheets.

Instruments/Safety. Bulkhead compass. Garmin 128 GPS. New NASA digital E/S. Tricolour nav light. Seavoice VHF. Clock, barometer, fire ext., fire blanket, flares. Windex aerial. Life ring in holder.

Accommodation. 2 berths in saloon. Table. Forward WC & basin. Galley has 2bnr/grill Calor cooker, sink with handpump from 12-gallon tank, crockery, cutlery, pots & pans.

---

For Sale Sestrel hand bearing compass new in box. lighting device needs refitting, otherwise perfect.

This is a real quality product, that sold for many times this price....£125 ono,SOLD

---

Plastimo Atlantic Cooker. 2 burners, oven and Grill. Flame failure on oven. In extremely good, clean condition, see pics. With fiddle rail and gimbals. Grill pan included. Set up for ordinary Calor butane, the blue bottles. Works well. Used aboard 'Fiddler's Green' since new. Kept in pristine condition, see the pics! Not retouched!!

Reason for sale? I have bought the latest Plastimo with flame failure devices on all burners! Fits the same space exactly of course! £175. (inc 5% donation to funds).SOLD

---

SOLD

For Sale Eventide 26, Privateer, in need of total refurb. Freewith the mast and sails listed below!!!!! Or she will be destroyed????

Mainsail and r/r genoa by North Sails, bagged, both in reasonable condition, for 26ft Eventide. Also aluminium mast & boom, st.stl. standing rigging, running rigging and r/r gear. £500 the lot.

---

For Sale.......SOLD

Prop Shaft Coupling. New, 1 & 1/8th inch shaft size. 78mm PCD, 4 bolt fitting. £20,(Donated by Doug, to help fund web site.)

---

For Sale, SOLD

Eventide 26, 'Sea Breeze'

Built 1970. Marine ply, triple keel. 4 berths, Sea toilet, 2 ring gimballed stove, anchor and chain, speed log, echo sounder, and compass. Hull sound. New foredeck. 10 hp Stuart Turner, needs attention. £3,000. Lying Canvey Island, Essex.

---

For Sale Air vents. PVC Simpson Lawrence make. New just slightly soiled, they clean up a treat.

---

25 ft 1964 built centre cockpit Bermudan sloop. Believed designed by M.G.

built by Frank Parsons of Leigh on Sea, carvel mahogany on oak. copper fastened with Centre ballast keel and wooden bilge keels.

4 berths cooker sink sea toilet. Yanmar 8hp inboard diesel, Lying in south Essex. Price £3,500

please contact Peter

---

For Sale.

Buchanan one off 30 yacht GRP fin keel, much work done, work to finish !(project boat) mast, boom, some sails, mini twin petter diesel engine 11hp, hurth gearbox, fitted out inside ! for info and to arrange to have a look and pics.

SOLD

---

Yachting Monthly Senior

Click Picture to enlarge. SOLD

16" timber construction, double chined with bilge keels (one central ballasted keel with two timber support fins either side). Aluminium mast and boom. Mainsail and two sizes of foresail, oars, anchor (with chain and warp), fenders, spare halyard and sheets and fixed bilge pump. Seagull Silver Century outboard (3 - 4.5HP). Six quality berth cushions with removable covers all in good condition.

Includes braked trailer. This used to be a road trailer but although basically structurally sound and bearings OK it is only now suitable as a launching trailer.

Also option of an additional 18' braked break-back trailer in full roadworthy condition.

This second trailer is not for sale on its own.

Currently lying Bucklers Hard, Hampshire

Boat and launching trailer - £500 (willing to be flexible on transportation options within reason)Boat and launching trailer and road trailer - £1,050

(NB we get very few Seniors for sale - given it's in fair condition,

it's a good price ED.)

---

24ft M. V. Fin Keel Eventide Motor Sailer - Jeopardy SOLD

Refurbished during 2002-3, re-launched March 2004. This 24ft eventide is built of marine ply, she is very solid and watertight. Her original builder has paid great attention to detail in her construction. She benefits from having a reasonably new Vetus twin cylinder Diesel inboard engine (11hp - Type M205). Built in 1968, she comes with her original build plans and some photographs showing her construction. I have copies of every survey (last condition report conducted in March this year). Loads of old bills and history and all recent bills to show refurbishment's undertaken.

She has been repainted inside and out, rewired, anodes replaced the engine has been service (all oils, filters, belts, impeller etc). Currently afloat at Rochester, Kent, this boat has a full inventory and is ready to sail. Inventory includes:  Full set of sails (various types - 7 in total) - modern material  Vetus twin cylinder Diesel inboard engine (Type M205 - 11hp) - very low hours  Inflatable tender, pump and ors  Various fenders, boat hooks, ropes etc  Two anchors and chain 

Assorted engine spares, tools etc  Selection of life jackets (some new), life belt, emergency flares,  Sea toilet  Plenty of interior lighting - also gas lamp in working order  12 volt TV / Radio / Cassette player  Two-ring cooker and grill with gas bottle in working order  Barometer, clock, tiltometer  Auto bilge + manual whale bilge pump  Echo sounder (untested)  Navigation lights  Cradle for winter storage  Much more to list - come and see for yourself A very roomy boat - sleeps 3/4 - lots of space inside and out. I can email you plenty of pictures - call or email me for more details or to arrange to view. This boat has been valued for insurance purposes at £5000.00. Quick sale required (genuine reason) - best offer near £2500.00 will secure. Make me an offer or swap me - what have you?

---

03 Jan 2005

just SOLD from these pages SOLD

SENIOR: "Only A Monkey" Sail number 1529 16" timber double chined, marine ply on mahogany frame with bilge keels (one central iron ballast keel with two hardwood timber fins either side). Wooden mast and boom, sails, oars, anchor with chain and warp, fenders, spare halyard and sheets and fixed bilge pump. Brass fittings port holes, bow roller, fare leads plus more. MARINA 4HP Outboard. Excellent condition hardly used been kept in dry storage.

TRAILER - SNIPE: Galvanised, single axle, braked trailer in excellent condition with new wheel bearings, winch strap and lockable tow hitch comes with spare wheel. WORK COMPLETED: Keels: All three where removed the ballast keel (Centre) was sandblasted and coated before replacing, the bilge keels have both been renewed and refitted.

Hull: The marine ply hull was completely stripped of all old paint and then resin coated and is now in primer. The transom and one small panel adjoining starboard side have been renewed with marine ply.

Upper Deck: Was completely stripped of all old paint, wood treated and sealed.

Cabin: The cabin roof and sides have been renewed, treated and sealed requires primer and paint. The interior I have not done much with it mainly just needs a good sanding and repaint and varnish. Have new bilge pump, piping and pickup to be fitted. Berth cushions (4) all in good condition. Looking for offers in the region of £1,200 ono. Willing to be flexible on transportation delivery options within reason.

---

For Sale :Maurice Griffiths Barcarole 'Meriel 'Builder: Seacraft & Co Ltd Year : 1958 LOA: 8.98m (29' 5") Diesel inboard. Mahogany on Oak Frames Bilge Keel Cutter Rig Tiller Steered Aft Cockpit 4Berths

'Meriel' is one of 15 Barcarole class known to have been built. She is Part I registered and has cruised extensively round Britain and in the Mediterranean. She is currently on a Pontoon mooring at Heybridge in Essex.


Available for £ 12,000,

---

For Sale: 'Marionette' (photo to follow!)SOLD

Eventide for sale. 26foot version. diesel engine- Yanmar 1GM10 1996, Alloy spars, excellent condition. Sail No 1320

Must sell Price reduction, Dec 05 to £5,000 ono.

Afloat Keyhaven-Hampshire. 12/05

---

SOLD: 'Veterata' A classic MG design! SOLD

bought 'Veterata' ten years ago and found water had leaked between the double diagonal mahogany planks deteriorating the timber to a meter above the water line. I spent 5 years replacing the bad timber with cedar using epoxy adhesive. She still needs a lot of work doing to her and really requires somebody with better carpentry skills than me.

As a result I have lost some interest in her but realize she is worth very little commercial value at present. She is a really pretty vessel and probably the last of her design so I am loath to scrap her and have been paying £600 a year storage charges for the last year and a half in the hope that Peter of Wooden Ships would be able to find some interest.

Do you think you can help?

ashore at Polbathic, Cornwall.<![if !vml]><![endif]>

Peter Knott

11/05

---

SOLD:

Yamaha 8 hp Outboard, for spares. Has a corroded block and head. It does run, for 20 seconds, so not seized! All other parts in good order, have you got a Mariner or Yamaha with a duff gearbox and need bits? One ignition coil would be worth this! Remote tank and fittings, SOLD

---

SOLD:

This is a heavy weight offshore type suit from 'Douglas Gill'. Large size, 42" chest. 5'8" tall approx. High waist trousers with re-enforced patches and braces, hand warmer pockets, life jacket attachments, reflective tape etc

Used to fit me till I grew slightly. I can still get the jacket on but the trousers are a bit tight! Waist up to about 34", (Yes I was once!) Has not been worn for 6 years, is about 10 years old, thus for sale at just £30.00

Where else can you buy this sort of quality at this price! Sold Sept 06 SOLD

---

Eventide 24

'Otteau' is a solid, seaworthy, 4 berth, Marine ply on oak frames, Epoxy & fibreglass sheathed, bilge keel cruiser, capable of long sea passages in comfort and safety as well as exploring swatchways and creeks along the coast, taking the ground when required. She has been meticulously maintained and is in immaculate condition throughout. Currently lying on River Blackwater, Essex.

Draft 3ft 3" (extended keels) Engine: Yanmar 1GM10 9.5 hp only 60 hours use, driving 3-blade prop.



Tiller steering to transom-mounted rudder. Ali spars. Roller reefing boom with stainless steel horse and mainsheet system. Roller-furling genoa, Stainless steel 19x1 standing rigging (2002) Lavac sea toilet. Plastimo 2 burner cooker and grill.


Comes with full set of original plans and on-board copy of 'Magic of the Swatchways' by designer MG.!!


Reason for sale - moving to larger Griffiths design with four kids and dog to accommodate.

Priced to sell at £3950 ono.

To arrange viewing or for fuller inventory, please ring me on xxxxx xxxxxx xx Mike SOLD

---

1 Port light The glass needs replacing and wing nut needed for the fastening, but a quality fitting none the less, approx 4 inch glass. got to be worth £10!

For further details of the above, contact me, John Williams ( Essex)( donation to the website funds from the sale.) 08/06 SOLD

---

24' Eventide motor Sailer. Professionally built in 70's. Bilge Keels. Lead stub keel. Well maintained 10 hp Bukh diesel. Marine ply hull. Fibre glassed top sides. SELF DRAINING COCKPIT. Bowsprit. Good suit sails. Stainless steel standing rigging. Sea loo. Cooker. Water tank. Whale pump. Comfortable interior.

On Small Ships Register. Surveyed 2004.

Trailer with new bearings, hubs and tyres.

Ashore at Emsworth.

Ready to tow away and sail. Larger boat prompts sale.

PRICE £3450 ovno.

Phone xxxxxxx zzzzzzz or emailsandra.summers

6/06 SOLD

---

Jointly designed by MG and Bruce Roberts, 'Jua' is a robust steel vessel, junk rigged, capable of sailing anywhere.

Between 1997 and 2000 she cruised the South coast to the Scillies and the East coast. the French Canals to the Med, twice, French and Spanish coast in the Med, then from Gibraltar To the Canaries and on to the West Indies and the British Virgin Islands, Florida and Georgia, before return to UK.

Equipped to the highest standard with all you would expect of a boat capable of World cruising. 4 anchors miles of chain and mooring lines, 27hp Yanmar, capable of 6knots with 40 gallon fuel tank.70 gallons water, paraffin cooking and heating, electric refrigeration. 4 solar panels etc etc.

She is now back near the owners home in Spain, L'Ametlla Marina East coast of Spain.

She can be viewed and sailed by arrangement, flights to Barcelona with Ryan Air.

Asking price £40,000

for more details contact Kathy and Roger,


SOLD

---

FOR SALE: ??? A GH in Hawaii......... SOLD

Dear Sir, I would like to offer to your Golden Hind enthusiasts an opportunity that I believe would benefit my boat. I have owned a 1967 Golden Hind for about six years and am slowly seeing it go into a state of neglect. I have lost interest in cruising and would much rather have a smaller boat for whipping around the island and not going long distances as I originally intended. The boat has been for sale, but no one is interested in wooden boats and the only people who will take it are definitely the type that would just let it sink. I like this boat and have a great fondness for it. I have not invested very much in it and am not interested in making money on it.

I feel a great obligation to prolong its life. It is very well equipped and does not appear to need a lot of work. Most of the neglect has been cosmetic, though I do see some potential problems if they are not addressed soon. The boat is moored at a public marina located next to a repair yard. If there is anyone interested in obtaining this boat, you should be prepared to spend between $5k and $10k to get it into ship shape.

I am prepared to let it go for free,but I would prefer to get enough funds in exchange to buy a 17' boat on a trailer that I saw being sold for $2,500 (I can probably get it for less). Who ever is interested, I will send as much information as I can to allow you to make an informed decision. I realize that boats are always a risky investment -even if they are free - but I do feel this is still a solid boat and is in need of a caring home. Aloha

David Verbeck

Update August 06. David would like to donate this GH 31 to someone who will sail her!!

What price Deck Cargo from Hawaii!??

November 2006. we have just heard the offer has been taken up and Jonny Blake is off to sort her out and start cruising! Bon Voyage

08/06

---

Waterwitch 30' Sloop "Witchcraft" 1969, bilge keel, Iroko on oak, registered, good sails (tan) stainless rigging, Bukh engine, sound boat, needs some caulking/tidying up. Much work done. On trailer, Brightlingsea Essex. Reluctantly offered for sale. We had planned to take her down to the Med thru the French canals, she's a lovely roomy boat, great character! £4950 or reasonable offer. More info


7/06

---

SOLD

GALATEA SOLD

Eventide 26 sail No. 1047

Built in 1969 by a professional engineer resulting in a very sturdy, heavy and stable sea boat, she comes with the original plans. She is rigged as a Bermudan Cutter with a 4 foot plank bowsprit giving an LOA of 30 feet, she has a deep narrow cockpit and is tiller steered. Her hull and decks have been glass fibre sheathed from new. All spars are aluminium and the boom is a roller furling type, standing rigging is stainless steel. She has a long keeled hull with steel bilge plates giving a draught of about 3 feet depending on loading, and is able to take the ground very comfortably, she is ideal for creek crawling.

Tan coloured mainsail ( 2 seasons old ) with 2 reefing cringles for slab reefing if preferred to roller boom option. White spitfire jib and staysail, large genoa and a storm jib. Mainsail bag and boom cover.

All halyards were replaced last season with modern Hemp look alike 10mm – to keep traditional feel. Sheets are 2 seasons old.

: Main plough type anchor 10Kg with substantial amount of chain and a second 5Kg both at the bow with separate chain pipes and chain lockers. Manual ratchet type horizontal winch for breaking out and retrieval. Small folding grapnel type for kedging kept in stern locker. Various warps ranging in size and length, more than enough fenders.

Dolphin series II marine two stroke 12HP, gearbox, raw water cooled, wet exhaust system. This is a reliable and quiet engine which requires very little maintenance. Remote stern gland greasing.

Electrical wiring was upgraded 2 seasons ago, there are a number of lights throughout both cabins. Main battery 12V 110 Ahr which also starts the engine, an emergency 'jump start' battery pack is included ( not yet needed ). Silva 'Star' Sea Data unit giving speed, depth and water temperature. Silva 'Star' NAV Repeater, linked to main GPS system. Garmin 128 fixed GPS receiver. Magellan GPS300 handheld backup. NASA Navtex Plastimo NAVIK windvane self steering gear. Autohelm AH800 Tillerpilot. Navico RT6500 VHF radio with extension speaker. Bulkhead mounted compass (2). Handheld sighting compass. Mast Head Tri colour navigation light. Large radar reflector ( catch rain type ) Slot together day signals ( cone & ball ) Other – Large Rigid Solar panel c/w regulator/controller ( not fitted )

A small but adequate cooking area c/w small s/s sink (drained) and hand pump. A gimballed 2 burner spirit/parafin stove (no gas on board). A good amount of storage for essentials to hand but plenty of deep stowage under bunks. Three powder fire extinguishers and fire blanket. Various cooking equipment, pans, utensils, plastic plates/cups copper kettle etc..

sea toilet located between the main and fore cabins, includes small vanity unit drained through hull, mirror.

Brass clock and Barometer mounted on bulkhead.

Brass hurricane lamp ( paraffin )

Emergency boarding ladders

Two boat hooks, one extending type.

Two life buoys, 1 ring, 1 horseshoe.

Hand held rechargeable spot lamp ( 500 candle power )

Spare tiller.

Tender: 2.6 metre XM inflatable, . Evinrude 2.3 HP two stroke outboard, anchor

She comes with a transferable mooring near to the Folly at Whippingham andownership of a floating pontoon.

Why are we selling her – we are hoping to change our lives by buying an old Dutch barge and cruising the waterways of Europe and so we will have little time for sea sailing. She is a well loved and well cared for boat and she needs a new owner to continue to look after her.

Price £7000.00 ovno????SOLD

---

For sale, or part share???: SOLD

MG designed 30ft bilge-keeler, a Blue water or creek exploring boat.

MG design, a one off. 'Eirene' 30 ft on deck with bowsprit. Very similar GH. Built of the best Iroko and 1088 ply, and sheathed in rubber in what is now Zimbabwe and taken overland to South Africa a few weeks before the end of the old regime. She was sailed in South African waters for 10 years before being laid up for years ashore. She was fitted out to be sailed back to the UK, but as a result of terrible weather, then the sad death of his wife, the owner eventually shipped her to the UK. She has been ashore for years.

At about 7 tons she is no trailer sailer, but was designed to withstand the worst weather, she has been through dozens of full gales offshore and THREE Hurricanes, unscathed!

She needs fitting out, repainting and updating. Her electrics are minimal and 1970. She has yawl rig, all sails good, inc storm jib. Roller reefing on genoa, (Aires wind-vane self steering to be sold separately), as well as more modern Autohelm 1000, auto pilot, old 1970's, VHF, that could well do with replacing. She also has a fitted radio and tape deck. Tan sail covers and dodgers. Inboard twin Lister air-cooled diesel. Sea toilet in the fore cabin. Galley equipped with Paraffin stove with oven. Sink and large freshwater tanks. Single berth forward with sail bins and wardrobe space and heads. Two berths in saloon and two quarter berths aft.

The Bilge keels are hollow and are the fuel tanks. The stowage, fittings and quality of the woodwork has to be seen to be appreciated. What other boat in the fleet has a proper bonded drinks store!

The companionway was designed for sailing in the Southern Ocean and would be considered difficult by many, but with a little thought a simple sliding hatch could be added and the low doghouse removed.

She would be a fantastic sailing cruiser in any waters, with a little love and work. where else could you get a boat with such history and of similar size with such a well built hull?

The owner would dearly like to see her back afloat and would consider a 50% shared ownership in order to get her back afloat, provided she stayed in the Blackwater area.

This could be a splendid opportunity for someone to own or part own a large capable shoal draft cruiser. Ashore in Bradwell Marina, Essex.

Realistically priced at £6,000 or £3,000 for a half share, in which case the present owner would sponsor the materials for restoration, till she was launched.

Please Contact Tony Scrace xxxx

---

FOR SALE: SOLD!!!!!!


Now advertised on E-Bay with no reserve, 3.5.07.....

SOLD!!!! For about £1,500!! May 07


1969 Golden Hind GH31 sloopBuilt by Terry Erskine Yachts at Hartwell's, EnglandLocated: Wilmington, North Carolina, USAConstr: marine ply with dynell polyester skin, frp decks & cabintop, lots of teak & mahogany. 15 HP Lister diesel aux power.

This boat has three transatlantic crossings under sail. Original owner died in 1996. Boat was stored (neglected) for seven years. The hull and enginewere restored in 2004 along with all new mainsail, genoa and asymmetric chute. Interior and other systems still need restoration. The boat sails well and is good for cruising/live aboard.

I have a friend who just sold his 1980 GH31 and he told me of quite a few calls from the UK after the boat was sold. I thought that I might start by offering the boat in the UK first.

SOLD


05/2007

---

Comments For Sale: SOLD!!!!!!

YM Wild Duck 'Whisper'

'Whisper' is long-keeled 3 ton Bermudan fractional rig sloop. Pine on Iroko. Seam batten construction.

Built in 1971 by a boatbuilder for his own use. Spruce mast and boom. Vire 7 inboard newly reconditioned 2001 and serviced by Fairways March 2005. Working sails. Danforth and Fisherman anchors. Many additional items. Surveyed 2002. Located NW Kent.

(This vessel has been known to John for many years, built and sailed beautifully on the London River during the 20 years John worked there!)

£4000 Contact Norman Dow 020 8310 xxxxx SOLD

---

<![if !vml]><![endif]>SOLD!!!!!! Marionette

EVENTIDE 26

A classic boat, marine ply hull, ally spars, Yanmar 9hp diesel. 4 berths in 2 cabins, baby blake sea toilet. Well equipped and ready to go. Centre keel +2 bilge keels, draws less than 3 foot. All in excellent condition, afloat at Keyhaven £5,900 ono.

Phone 01590 xxxxxxx

Or 07952xxxxxxx

---

26 foot Eventide. Built in Singapore. Teak hull construction. Mast and set of sails. Taylors 030 cooker. Echo-sounder.

Sea toilet. Solar panel. Lying at Quay Lane Boat Yard, Gosport, Portsmouth. £5,000. Tel: 07939xxxxxxx

03/06

---

Marina berth in Gosport. Share sailing, maintenance work and non berthing costs.

She lies at Berth H47 in the Gosport Marina (formerly Camper and Nicholson) and is due to refit mid April at Port Solent. Built by Hartwells at Plymouth in 1963. Bukh 36 engine fitted 1984 and re-conditioned 2005. Survey 2004. Two owners from new, both RN Cdrs. Cascover sheathing on hull. Cruised cross channel and French canals. New-ish rigging and mainsail, but genoa is old.

Contact Charles Fremantle 01249 xxxxx,

SOLD

---

FOR SALE:'Sula Sula'SOLD!!!!!!

Eventide 24, Sail number E970. presently lying ashore at Fleetwood Marina on the hard standing. She has a moderate amount of kit with her, and is in need of a little remedial work to the port raised topside in one small area apparently. She was sailed extensively in the N.W by Jim Bell years ago, but sold to the present owner, Ian Fairclough, the ex coxswain of the Fleetwood Lifeboat, a couple of years back. Ian has retired from the sea now and would like to see her go to a good home.

She is fitted with a BMW D7 diesel inboard Hurth gearbox abd new 12 x 9 prop. New 50 litre fuel tank, she has timber spars, various terylene sails, Selena SW LW MW and VHF receiver, Nasa multi channel VHF. Stowe trailing log, Hand bearing compass Seafarer Echo sounder. We do know she was 'Cascover' sheathed from new, a real plus point!

Ian is willing to haggle around the £1000 mark for her.

You can contact Ian on 01253 xxxxxxx, SOLD

05/07

---

FOR SALE: Senior 'Ida Rose' SOLD!!!!!!

UPDATE!

A much loved Senior on trailer, sound but in end of season condition, with some paintwork in need of attention. Main and furling jib.

Hull construction double diagonal mahogany on ply. Lying Norfolk.

Any offer will be considered for her, I would rather she was sailing not sitting on a trailer! Please contact me for more details and photographs.

Contact David Praties

(boat in Norfolk.!)

05/07

---

FOR SALE:Swin Class yacht. 'Coridon' SOLD!!!!!!

Griffiths designed 6 ton Gunter sloop. Rig modified to sail the inland waters of The Netherlands, where she is based. She is featured on page 278 of 'Dream Ships. Teak Carvel built 1963. Farryman 9hp diesel. heater, mast lowering crane, cradle. Sleeps 4.

Moored near Antwerp at the moment, for sailing the Great Rivers.

Brian Cole. First and only owner since 1963!

0118 xxxxxxxxx

Reduced to 12,500 Euros!!!

05/07

---

Withdrawn from the site...... by editor.

Click to enlarge

'Aries' 26 foot cutter rigged Eventide.

Bilge keels. Ready to sail away, fully equip for cruising. 4 berths sea toilet with wash basin, hanging locker, VHF, Echo sounder, Autohelm, Trailing log. Chart table. Solid fuel stove, Calor gas cooking, gimballed. Steering and hand bearing compasses. Furling headsails, roller reef mainsail. 16-18 hp Saab inboard diesel. Dinghy and outboard could be included.

Lying Greenwich, London.

(was offered at £7,000)

suggest survey or contact EOG before going further!!!! 05/07

---

For Sale SOLD

Eventide 26 'Serenity'

5 berth well maintained Eventide 26 with cutter rig, bowsprit. Roller reefing Genoa. Plus Complete spare suit of sails, new stainless rigging approx 5 years ago.

10 hp Stuart Turner petrol inboard, another complete and fully refurbished Stuart 10 as a spare.

Galley with sink, cooker with 2 burners and oven, Houdini hatch.

Cockpit cover. Sea Toilet.

Echo sounder, VHF, Auto pilot. Main compass and handheld.

Main anchor, CQR and fisherman kedge, Bilge pump. Ropes and warps, fenders etc.

Can be seen afloat and in full commission, Bradwell.

£3,000 ovno SOLD

---

For Sale SOLD!!!

Yanmar 1GM10 diesel inboard, complete with alternator, gearbox, single lever remotes, control panel, wiring loom, Vetus water lock exhaust system and hoses, fuel tank, stainless steel prop shaft, bronze propeller, shaft log, inboard and outboard bearings, steel engine bed complete with anti-vibration mounts, in fact a complete system which I have only just removed from my Norfolk Broads sailing yacht as it was too heavy for such a lightly constructed boat. The engine is located near Stalham in Norfolk and would be collection only.

Asking £750

Contact Mat Gravener

---

For sale: SOLD

Redwing is a 24' Eventide traditional wooden sailing boat moored in Portsmouth. She is a very stable and roomy boat for her size with a very sound hull. Although she could be sailed, she would suit someone looking for a restoration project to bring her back to her classic looking condition. She is lying on a swinging mooring in Portsmouth Harbour, which costs £520 a year and can be transferred to the new owner if required, subject to the pro-rata payment for the remainder of the year.

Unfortunately she has been somewhat neglected in recent years so is in need of refitting, some serious cleaning, painting and repairs. There is a fixed outboard Yamaha 9.9hp which is not in working condition. She was fitted as a four berth and I was planning to refit her and have removed all the old internal upholstery below, in readiness. However, due to other commitments, restoration is no longer possible for me and I will be moving to something smaller instead.

She comes with some equipment including flares, 2 anchors and chain, fenders and a stove. I have not examined the sails recently, however, I believe they are usable but uv strips are perished on the 2 jibs.

I am looking for around £1,500 for her, plus mooring. For anyone who is seriously interested in buying Redwing,

SOLD

---

Divers waterproof camera case with Fuji camera. SOLD

This is the tiny Fuji camera that many of the pics on this site have been taken with. It fits in my pocket and as such is carried at all times. In a new leather case, (the previous one was looking tatty!), and with all the original manuals, CD, etc. It has a 3x optical zoom and digital zoom. All sorts of fancy features, can shoot video as well.

In addition I have a spare computer docking port, spare battery, a 64 and an 8 meg card as a spare.. (As You can get over 300 pics on the one card I have very rarely used the spare...)

Also included a spare battery and a charger for it, mains or 12v for use on board.

The divers case is good to 120ft or 40 metres. It is as new, has spare seal, is barely any larger than the camera. The camera lives in the case on board... This is the way I get pics when others are hiding their cameras!

I do not think anyone will deny most of the pics I take are good quality. It is a 4 million pixel camera, but amazingly I normally use it on the lowest setting, 1/3 million, for the pics you see here.

Reason for sale, the family have bought me a new waterproof, all singing and dancing camera for my birthday!

Offers around £80.00 for the whole kit! (Camera case alone was over £100.)

SOLD instantly!!!!

---

Aires Wind Vane Gear, the standard edition, in good working order, removed from 30ft MG ocean sailer on sale of boat.

Spare new servo rudder, several vanes, all fittings. Arranged to bolt down to top of stern deck. All parts available, still being made!

http://www.ariesvane.com/index.html

(selling on behalf of the owner)

---

SOLD

<![if !vml]> <![endif]>

Name: Mystique. Class of yacht: Riptide 31

Type of rig: Junk Rig to Sunbirds latest design Year built: Launched 1997 Builder: Owner Designer: Maurice Griffiths Construction material: GRP (Foam Sandwich) Colour: White hull and deck with non-slip on deck & coach roof Keel type: Triple keels with encapsulated lead ballast in centre keel Principle dimensions: L.O.A. 31'6" L.W.L.26' Beam 9'6" Draft 3'6" Displ. 12,400 Engine: Lister (air cooled) SL3 18 hip Diesel 15 gall tank Cruising speed 4/5 knots, Max speed 6.3 knots Electric start. 2 Batteries Instruments: Rev. counter, volt meter, Start/stop buttons Nav. & Deck Lights: Port, Starboard, Stern & Steaming lights Spars: Noble laminated wood Mast sheathed in epoxy & fibre glass Yard – silver anodized alloy tube by SMS Battens and boom – GRP protruded tube by SMS Keep patterns of PVC tube Sail: White 537 sq ft with cover Rigging: Sunbird latest style Steering: Wheel from transom hung rudder Safety Equipment: Horseshoe lifebuoy. Life jacket 2 Fire extinguishers

Deck equipment: Lewmar 16:1 Self tailing Halyard Winch Barton Clutch cleats and blocks S/steel pulpit, pushpit & guardrails Spray hood. Fortress & Fisherman anchors 6 mooring wraps, 4 fenders 2 Buckets, broom, and brush Instruments: Sestrel B700 Steering Compass. Log Echo sounder (Space age Elec.) at chart table Echo sounder (Clipper) at wheel Barometer Clock Cassette Radio Accommodation: 3 Single berths or 2 double and 1 single Saloon: Settee layout 5'10" headroom. 4 Lights Solid fuel (charcoal) stove (Nelson Marine) Sole of red carpet, wood headlining Blue cushion covers and cream curtains Nav. Area: Chart table 3' x 2' in aft cabin Galley: Calor B700 2 burner cooker, with grill and oven on gimbals S/s sink, foot pump from 1 water tank Cooking utensils for four, 2 Gas bottles Heads : Handmagic chemical toilet. Hand basin

Miscellaneous Equipment: Avon 9' Redcrest inflatable dinghy Johnson 2-stroke Outboard Launching trolley, designed for the yacht History of yacht: Since launching in 1997 Mystique has cruised the Thames Estuary area. View at: Ashore, Benfleet Yacht Club, Canvey Island, Essex.

Price:£6,000 ono

For further information please contact Robert Marshall

Soon to be sailing on the London river, based at Greenwich.

---

SOLD

'Solest' 36ft Atlantic Clipper, hull designed by MG.

Boat is in need of restoration. Purchased 2 years ago and now for sale by the family of the late owner.

Fitted with a Perkins 4.108 inboard diesel, this has been overhauled. All receipts available. Some new panelling cut and fitted, new interior lamps fitted. All sails and rigging. Also available is structural survey from 2005 where hull checks out OK. Mast has suffered some damage and is in need of work, interior need refurbishing. However new Stainless Tabernacle made. Sestrel compass. Radar, Raytheon 'Mariners Pathfinder 2600', condition U/K. Large quantity of paint, including 3 cans of red antifoul. Stored ashore, craneage to your transport available.

Generally sound overall and offered for sale at £8,000 ono.

---

SOLD SOLD E26 Johari.

<![if !vml]> <![endif]>

Johari is a sound boat, fully equipped for coastal cruising, afloat at Lowestoft in Lake Loathing, in commission and in use.

Ply hull and originally Cascover sheathed, but over the original I have re-sheathed her with 8 oz. Woven cloth and the bottom has been primed and coated with coal tar epoxy 'Epidac' 4coats.. new rudder blade fitted. The bilge plates were removed before the re-sheathing, additional internal ballast was fitted to compensate and wooden legs used for drying out.

Original Stuart Turner P66 two stroke twin is still in good form and is fuelled by electric pump via a 10 gallon Stainless tank in stbd cockpit locker.

Stainless pulpit / pushpit and alloy stanchions … Stainless rigging, Hollow wooden mast with sensible functional mast lowering gear. Slab reefing on alloy roller boom. Cutter rigged with two foot teak bowsprit.

Brand new Navman DSC and Raymarine Tiller pilot this year, NASA Target sounder. Two year old RED Bombard AX3 tender with trusty seagull outboard. Sitting on wooden davits which function as legs and mast cradle.

£4,500.00 (I might consider a 'Cruiser style motorcycle 800cc plus ' as part payment.)

For more details Email me, John Moore

09/06SOLD

---

For Sale: Very old, Galvanised and copper, Anchor Lamp. SOLD

This old paraffin anchor lamp was old in 1973! Believed either Dutch or German in make. Used for years and still working, it really needs a new internal lamp glass to make it 100% again. Stands about 10 inches to a foot tall. Real proper working boat kit!

With a bit of TLC will be good for another 35 years. (Yes I have moved on to a smaller one.. still paraffin though!)

£15.00

SOLD

---

For Sale:SOLD

Eventide 26 'Saoirse'

This Eventide is offered for sale by the Harbour Master of Penarth Quays, Cardiff.

Stuart says he will accept any reasonable offer and will throw in a lift to a trailer for £40.00.

To be fair she is not in a good way and does need a lot of work. She also is odd in as much as she has no inboard but has been fitted with an inboard well for an outboard. There is a very unsuitable Seagull in there at the moment!

Ali mast and boom, hank on foresails and mail on the boom, all in poor condition. she has been roughly fibre glassed on the cabintop and deck apparently, does not bode well, so if you have a lot of time and effort, but little spare cash, give Stuart a call.

1/08SOLD

---

SOLD!

Barrier Reef 38 'Crystal Voyager'. SOLD

Crystal Voyager was designed by Maurice Griffiths and built by Ferro Cement Marine Services in 1972. Her over all length is 43 feet, her beam is 11 feet and she draws 6 feet. She is a centre cockpit design with steel doghouse. Pedestal mounted wheel steering rig. There are two single berths in the forward cabin, and two single berths in the aft cabin. she has a long keel of very substantial dimensions, being nearly 1 foot wide at the base. Overall weight is 16 tonnesCrystal is incredibly stable and will hold her course unattended for long periods of time. She had an extensive survey in march 1998 by an expert ferro-cement surveyor, his inspection concluded that crystal was in very good condition. She is moored on the Isle of Wight on a pontoon at Bembridge marina.

£15,000.



4/08 SOLD

---

SOLD

British Seagull Curlew 4 hp. Long shaft. Unused. SOLD

This motor was loving built by me from new parts obtained when I cleared the Seagull factory in 1996. Though the crankcase has a 1990 date on it, most of the motors parts are unused, including the block, head, bracket, gearbox, prop, inner and outer exhaust, carb, drive leg, etc etc.. It has only ever been used in the test tank.

Click here for a Video clip of it running!

I built it to go onto the back of my daughters wedding present, an 18ft Foxcub cruiser. Despite loving my motors she expressed a need for a reverse gear, for the new mooring in Brixham marina they were offered. Thus this Easter, before we launched, I swapped it for a 'different' sort of 4 hp... a Mercury! Wash your mouth out John! (Actually it is a very nice sail power job and does nearly as well as I think the Seagull would have done!). So I have a quite rare Seagull to offer for sale. SOLD

---

FOR SALE: DIDO an Eventide 26. (see the Gallery) SOLD

Belongs to Barry, who is having to give up sailing, sadly.

We understand she has had a new bottom and some other repairs very recently, by the local boatyard, and is now back up for sale, reasonably priced....located in Essex.

Click the link below for more details. SOLD

---

For Sale 'Westwater'

A Ferro MG Tidewater 30' Loa +/- 9' beam drawing 4'6" I have all the original drawings from MG's hand plus correspondence and photos with the original commissioning owner.

Hull was professionally built by Ferro Marine services in the 1970's

Full details of the restoration can be found in the builders and restorers section of the Eventiders web site

The interior needs a lick of paint and the Baby Blake toilet requires a service kit and bolting to the floor. Other wise a little tidying and she will be complete.

The inventory is as follows.

Compass

Fire extinguishers

Genoa

Stay sail

Working jib

Storm jib

Mainsail and cover

Danforth anchor and chain plus fisherman's kedge anchor

Simpson Lawrence anchor winch

Volvo 35hp twin cylinder diesel engine

Gas oven and hob (not fitted)

Electric bilge pump and hand back up bilge pump

Combi log / sounder

I am looking for offers in the region of £6500 and will include the winter cradle and 13' dory as part of the sale.

Malcolm Bell SOLD

4/08

---

For Sale: Eventide 26/27 Marionette. SOLD

'Marionette' a 27ft Eventide (bilge keeler). Purchased in 2006 from her one former owner. She was completed in 1996, She is complete and we sailed her regularly in 2006 until I got ill, she has a good 11hp Yanmar inboard, good emergency outboard, radio, 3 or 4 sets sails, all gear works fine, with all the fittings and necessary kit as you would expect, she is ready to go. She needs anti fouling (missed last year)

She is moored at Littlehampton, West Sussex, I am absolutely mortified at losing her but it simply has to be done, as you are all aware for the complete novice or experienced sailors she is just so easy to rig and sail, absolute dream, as a first/starter sailer I could not recommend anything better.

£3,000 (includes everything) I paid £4k and added outboard etc. Inspection or look over welcomed.

Contact Mike Hill SOLD

---

FOR SALE:

MINTAKA– Maurice Griffiths Waterwitch SOLD

Lying Portsmouth Harbour

<![if !vml]> <![endif]>

Length Overall: 33ft (10.05m)

Length on Deck: 30ft (9.14m)

Beam: 8ft 6in (2.59m)

Draft: 3ft 3in (0.99m)

Displacement: 6 tons in full cruising trim

Full and extensive inventory and history available from Chris, mail him at the address below,

(normal trick, replace the spaces and the at with a @ symbol

£16,500 ONO.

Chris PhillipsSOLD

09/06

---

YM Senior Patience,

Currently sitting in a barn in Suffolk on a road going trailer.

Stripped down and painted this year after she began to let in a little water whilst at moorings. She has an inboard villiers engine, however I have been unable to locate parts for the sailing propeller it is attached to. I have had the engine running, it needs an exhaust. I lost the rudder and have the components for a new one, assembly required.

£700 SOLD

12/07

---

sold

10% of funds raised will go to fund the web site.

Eventide Project: She is too good to just let rot and to scrap her without asking around would be a crime, I am looking for someone with time and a little money. Boat is basically complete she just needs considerable attention.

Jemily: 3 berth Eventide 24 1986, sail no 1690, lying Poole.

Sadly broken up and sold for parts....

---

sold: 'Little Gull'

Maurice Griffiths Design: Lone Gull built 1968

Dimensions: LOA: 28 ft. LWL: 24 ft. Beam: 9 ft. Draft: 3 ft 6 ins

Location: Hampshire (Registered in Guernsey)

Carvel construction pitch pine planking. Fibreglass sheathed decks. Mahogany coamings. Cast iron keel. Internal lead pig ballast.

BMC Captain diesel on flexible mounts with PRM 2:1 reduction. Morse engine controls. 25 litres fuel tank. 2 batteries.

Sestrel compass, 1991 handbearing compass, VHF, Autohelm 1000, Echosounder, Charts.

Four single berths & sea toilet, Chart table, kitchen with double ring burner & sink. Hanging storage compartment opposite toilet. Wood Burner in saloon.

Mast & Sails Sloop rig. Pine mast & boom, Ally adjustable spinnaker pole. 1x main (boom roller reefing) 1x Working jib on roller reefing, 1x Genoa 1x Spinnaker & spinnaker pole. Assortment of other sails as well.

Extras

New 4 man Inflatable available separately (via negotiation) Warps, fenders, anchor, boat hooks, lifejackets, water proofs. Many extras not listed.

Other Information: 'Little Gull' has been with the present owner since 1988, she has been sailed single-handed many times. She has cruised the Channel and been to Holland & Dutch canals.

21 full size photos available on request

Price: £7000.00 OVNO Contact Henry Saunders 0773 xxxxxxxx

In need of restoration and a good home, great winter project

9/07 SOLD

---

sold: GH 31 'Mollymawk'

Vince has decided to part with his lovely GRP GH 31, 'Molly' and she is up for sale on the Slipway Marine site.

'This is a superb example of the well respected Golden Hind 31 classic sailing yacht. She has considerable character and a tremendous track record as a comfortable, seaworthy and roomy cruiser with good headroom Her long keel with bilge plates allow her dry out almost anywhere. The Golden Hind 31 class have made many ocean crossings.'

Can be seen at Emsworth.

£28,000 SOLD




---

Sold: Riptide in Steel

'Millstream' SOLD

for more pictures click this link picasaweb.google.co.uk/adfairburn/MillstreamPhotos

Maurice Griffiths Design

"Riptide 32"

Built 2002

Asking£12.500 GBP

(Actual Photo) More photos on request.

Extra Details

Designer:

Maurice Griffiths

Builder:

Self Build

Fuel capacity:

190 lts

Water capacity:

125 lts

Mechanical

1xdiesel 38hp Peugeot (marinised)keel cooled

Tiller steering

Shaft drive 3 bladed prop

Fuel cons:1.5 lts/hr (approx)

Cruising speed 6 knotts

Electrical Systems

12 volts. 2 batteries charged by the engine.

Sails

Latest Scanes 585 sq ft junk sail

1 sheet winch

1 32.1 halyard winch

No foredeck work required as all sails accessible from cockpit.

Dimensions

LOA:

32 ft

Beam:

9.6ft

Draft Min:

39 in

Displacement:

6.5t

Headroom:

6 ft

Construction

4mm steel Hull & Deck

sand blasted and painted with 2 part epoxy paint from new.

Regularly maintained.

Triple keel 15 mm thick

Rig

Sloop junk rig

Aluminium spars.

Sunbird rig 2002

Alloy mast

Sails and rigging in good condition.

Accommodation

2 berth in forepeck

2 berth in main salon

2 burner gas cooker with grill and oven

Brass saloon light

Reflex diesel cabin heater

6ft head room throughout.

Heads with Sea W/C

Nav Equipment

Compass,

Echo sounder,

VHF,

Autopilot,(Navtex tiller pilot),

GPS (Furuno).

Deck Gear

Anchor (42lb)

Windlass & Chain(100ft)

Spray dodgers,

Sail cover,Warps,Fenders

Boathook.

Safety Equipment

2 Fire extinguishers

2 Bilge pumps (1 Elect 1 Manual)

Lying

Wisbech Mariner.

Mooring Fees Paid Until April 09(transferable to new owner)

Comments


Maurice Griffiths reputation as a yacht designer is second to none and this is a fine example. She has spacious accommodation for 4 adults, hot /cold water, cabin heating, full standing headroom, galley, including cooker with grill and oven. The general condition of the boat is very good, she has obviously been well-maintained, rigging and sails in good condition.


Reluctant Sale Due To Illness.

Contact :Alan Fairburn,

---

'Penny' Price Reduction!!! SOLD

1995 Y.M. Waterwitch Hull no. 686, Built by owner, launched in 1995 Construction: Marine ply on pitch pine framing, with glass-fibre sheathing and lead keel. The interior joinery is mainly mahogany and teak. LOA 30' (excluding davits), LWL 27', Beam 8' 6", Draught 3' 6" Accommodation, Sleeps four in two cabins, Galley fitted with two ring burner, grill and oven gas cooker, stainless steel sink unit with manual fresh water supply, dining table, chart table, 2 hanging lockers, Separate heads with Blakes Lavac WC, and hand basin.

Navigation, Plastimo Contest steering compass, Stowe Dataline Speed, Depth & Wind Instruments, Garmin 75 GPS, VHF, Shakespeare SE2500K VHF radio, with emergency aerial, Autohelm 2000 tillerpilot, Navigation lights (Masthead tri-colour, steaming light, pulpit bi-colour, stern light) Ground Tackle, Bower, 35lb CQR with 130' x 10mm chain and warp, Kedge, 10 kg Fortress 16 with 10' chain and 100ft warp.

Lawrence Simpson manual vertical axis anchor windlass Safety Equipment, Horseshoe buoy with light, Plastimo Locat Distress Beacon, XM 4 man canister life raft, 4 lifejackets (manual gas inflated), 4 harnesses & lifelines, 3 fire extinguishers, 1 fire blanket, 12v Hand held spotlight, Bilge pumps, Patey (similar to Henderson Mk.5) manual bilge pump and electric bilge pump Rig & Sails, wooden mast & boom, galvanised steel standing rigging, except stainless steel forestay, Headsail Furler, Rotostay (E-07) furling system, mainsail with slab reefing and sail cover, furling genoa, Storm Jib (unused), 2 Lewmar 30 two speed chrome self-tailing genoa winches, 2 Lewmar 8 single speed chrome halyard winches fitted with spinlocks (halyards & reefing lines lead to cockpit)

Electrics, 2 heavy duty batteries, switched and charged by engine alternator with isolator switch. 12v lighting throughout accommodation. Propulsion, Volvo Penta 2030 ( new 1999 with less than 50 running hours) coupled to conventional 1.25" shaft drive with two bladed fixed propeller (spare three bladed fixed propeller 17"x14" right handed). Cruising speed approx 6 knots Tanks, Fuel, approx 24 gals in a single stainless steel tank. Water approx 40 gals in 2 plastic collapsible tanks. Miscellaneous equipment, Various warps and fenders, Boarding ladder, Boathook Available for viewing ashore at Glasson Dock, Lancashire.

Price further reduced to £11,000! August 06.

Call Brian

---

4 Wheel, braked trailer.SOLD

This sturdy 4 wheel boat trailer will suit a boat up to boat 20 ft to 22ft and weighing approx 1 ton. It was purpose built for a Hurley 20, used recently to transport a Foxcub 18.

Pair of bilge keel supports with bow chock, and can support central keel as well. (Hurley)

All new brakes, (mini), wheel bearings and hydraulics 2008. Indespension. All new tyres 2008. No rust, all resprayed 2008. Double mudguards, steel, slight rust under one. Had been dry stored for 10 years before use this year to transport boat to Devon. Tows beautifully. Never immersed...

Now in Essex and surplus to requirements.

£550.00

contact John SOLD

11/08

sold in a week!

---

SOLD

Spinnaker for Eventide 26. Blue and White..

Used but once, years ago and forgotten when boat was sold, also years ago, now offered for sale at £75.00

Contact Jim Smith,

9/08 SOLD

---

Wanted. Sails for Eventide 24. Found on these pages!

I need a genoa and jib for my Eventide, 'Compass Rose'. Moored Alicante. Anyone got good used sails they would be willing to sell?

Please contact Conny.

Found!

8/08

---

Sold...... Oil filter to fit Lister 3 4 or 6 cylinder motor. SOLD

Purchased by mistake and offered here just for a donation to the site, by Alan Lonton.

Lister filter, Number 751-10620.

1/08

---

Eventide 24 for spares or repair. Sold
'Moonshiner'has been covered on hard standing for 20 years. She has a hole in her starboard hull where I cut back to find the extent of rot. I bought her last year to restore but have now decided to take another boat but ideally like to see someone restore. As far as I know the starboard hull is the only major repair and her topside and cockpit seem to be in good condition. A basic inventory includes; Spruce mast (in dry storage)Boom2x sailsAnchor + chainStuart Turner p66 petrol in running order last year and kept isolated.
Watermota reverse prop.
Transom hung rudder.
Lying at Gillingham on the Medway.


£350 the lot, buyer collects. Will break for spares.
All enquiries to Peter Dawson, SOLD

---

SOLD!!!: All bronze and copper 'keel cooler' assembly.

This purpose made Keel Cooler was fitted to my Eventide 26 and very successfully used for years in conjunction with a Stuart Turner 10hp. Removed when wet exhaust, indirect cooled diesel was fitted. Two lengths of approx 6ft x 1" heavy wall copper tube, with cast bronze end fittings, sufficient to cool a petrol motor of over 12 hp and a diesel of over 15. (diesels are slightly more heat efficient.)

The bronze end castings are fitted with through hull fastenings and the aft end fitted with 2 x 15mm approx supply and return. All you need to add is a plastic header tank with a radiator cap!

Lower or forward end fitted with drain plug. Designed to be filled with antifreeze solution. All you need is a plastic header tank from a car and you have enough to do the job. With it you can run the motor out of water if you need to, on the mud etc. No more mud and sand getting into the waterways of any raw water cooled motor. You simply need either a dry exhaust, suitably lagged, or a small pump to use to cool the exhaust.

£40.00, just the end castings cost a lot more than that years ago!

SOLD

---

SOLD:Eventide 26'Phoenix'

5 berth Bermudan cutter rigged sailing cruiser with pilot house, saloon heads, forward double berth cabin. LOA 28'6" Length over decks 26'

Maurice Griffiths design based on Eventide. Professionally built by G. Robson (Windermere). Two previous owners. Last surveyed 2005, prior to current owner's purchase. Current location: ashore; mast down; Humberside. Boat safety Certificate to Oct 2009

Previous owner regularly sailed from Lancashire coast to Isle of Man and Ireland with [ 2 adults and 2 children]. Under-used in last two years due to current owner's work commitments.

Hull/decks:long keel with bilge plates. Epoxy sheathed, marine ply hull. Dodgers; guard rails with safety netting; jackstays; stainless steel pulpit and pushpit; boarding ladder; 5 winches including anchor winch; bow roller; bowsprit; self-draining cockpit

Rig:rigged for short-handed sailing, including: lazy jacks and stackpack system for main; roller reefing genoa; self tacking stay sail; all reefing lines and main halyard lead to cockpit; goosewing poles for genoa and staysail

Engine:18hp Volvo 2002 diesel, fresh water cooled

Equipment:Clipper depth sounder [2005]; Brookes and Gatehouse wind vane and speed; Kelvin Hughes radar; NASA vhf; Navico auto helm; Horizon CP155 [2005] GPS; solar panel and 3 batteries;' fuel gauge; automatic bilge pump; Taylor's gimballed, twin burner cooker; Taylor's cabin heater; sea toilet; 45 gals diesel and 45 gallon water tanks; fenders; CQR and Danforth anchors, chain and warps; mooring lines

Steering:wheel steering with Morse controls; optional/ emergency tiller steering

Interior:pleasant wooden interior, fairly recently varnished and re-upholstered. Includes hot and cold pressurised water in galley and separate wash basin. Superstructure painting jobs not completed as planned; anti-fouling needs renewing; engine oil change needed.

Asking Price £5500

Contact Ian Shaw: 07801 xxxxxxxSOLD

---

SOLD:GH 31

Built 1969 By Hartwells, Plymouth

Plywood with cascover sheathing and sadly after purchase rot was found in the hull. However the yacht would make a good project for someone who is capable with their hands (I am not!) and has the time (I do not!)

The good bits - Standing rigging just renewed, sales laundered, Beta 28hp diesel, electronics including self steering, nice interior with 5 berth layout.

Lying near Poole Further details available including a copy of the recent survey highlighting the problems. (The recent survey was the second survey as the first survey against which I purchased the vessel did not detect the problems)

Offers invited....... All offers considered!

The vessel can be viewed by appointment. Enquiries to Robert.

---

SOLD. Eventide 27 'Minthami'.

Minthami, is one of 4 stretched eventide's that Kenneth Gibbs made and she is 27ft on the deck with a long centre Keel and twin bilge plates, I found her is a very sorry state in 1986, in Cumbria, purchased her and had her transported to my home in Lancashire and set about a total refit and then in 1989 set sail from the Douglas boat yard on the River Ribble for a new life, went down the French canals and spent 7 years as a live aboard cruising the Med, I returned to the UK in 1996 and settled in Cornwall my Eventide now is ashore and in need of some tlc

She will need a couple of weeks work to bring her back to sea worthy condition, full engine service etc, engine is Perkins Perama 20 hp inboard diesel. 30 ft alloy mast, 150 ft chain 15kg Bruce anchor, 2x 11 gallon water tanks and will sleep 4 was lived aboard for 7 years and has cruised all the Mediterranean now laying at St. Germans in Cornwall, and looking for a new owner with a little time to bring her back to her former glory,

The price is just £2500.00 (two thousand five hundred pounds)

please ring Paul Morris after the 8/6/09 on 01579 xxxxxxx SOLD

---

SOLD. Barbican 33 'Awake of Parkstone'.

Extensive cruising inventory, contact seller for complete list.

This Barbican 33 is a traditional sailing yacht that has been well maintained. A great cruising yacht, the long keel allows for serious passage and coastal cruising with the ability to sit in the shallows due to her telescopic legs.


The current owner is the third from new and has spent the last 10 years sailing 'Awake of Parkstone' across the Irish Sea to Ireland, South Wales and Western Scotland. She is conveniently set up for single or short handed sailing. Located in Holyhead. Reasonable expenses reimbursed to eventual purchased.

Price £30,000 Contact Colin Torry SOLD

---

SOLD: GH 31

Built 1969 By Hartwells, Plymouth SOLD

Plywood with cascover sheathing and sadly after purchase rot was found in the hull. However the yacht would make a good project for someone who is capable with their hands (I am not!) and has the time (I do not!)

The good bits - Standing rigging just renewed, sales laundered, Beta 28hp diesel, electronics including self steering, nice interior with 5 berth layout.

Lying near Poole Further details available including a copy of the recent survey highlighting the problems. (The recent survey was the second survey as the first survey against which I purchased the vessel did not detect the problems)

Offers invited....... All offers considered!

---

SOLD!: Kylix "Johanna"

Maurice Griffiths last design for himself. Several built by Bure Marine Great Yarmouth. This one is from 1979. A very strong and fine ship designed for the English east coast and the Dutch, German and Danish "Waddensea".

Iroko on oak frames, teak deck, pine mast and booms. Beautiful finish, sleeps four. Motor Lombardini 903, 3 cylinder diesel from 1995, Baby Blake toilet, two Murray winches for the yankee, and much more.

New in the last 5 years: all three sails, standing rigging, Bruce anchor, Taylor paraffin cooker and heater, ICS 6 plus navtex, ProFurl yankee reefing, staysail boom, a complete new set of cushions, bronze stoppers for staysail sheets and centreplate halyard.

This a very well maintained example of the Kylix class. See also the article in "Classic Boat" No 84 of February 2006 and MG's book "Sixty years a yacht designer". Stored inside in winter. Lying in Holland near the Ijsselmeer.

asking price is £27,500 or equivalent in Euros is 41,000.SOLD!

For more information contact: SOLD

---

SOLD: Tidewater, 'Five Farthings'.

Length Overall

34ft

10.28m

Length on Deck

30ft

9.14m

Waterline Length

26ft 6ins

8.08m

Beam

9ft 6ins

2.9m

Draft

3ft 8ins

1.12m

Displacement

6.6tons

6700kg

Ballast

2.1tons

2130kg

Thames Tonnage

10 tons

I bought 'Five Farthings' 3rd hand in 2002 and spent nearly two years renovating her before sailing her to Scotland, Ireland, Brittany, Scilly and London. She is an excellent sea boat and has a full range of cruising sails, including storm jib and trysail.

Five Farthings was built in 1969 of Pitch-Pine planks which were splined, scarfed to length rather than butted and CasCovered (a form of sheathing utilizing nylon fabric and Resorcinol glue) on steamed oak frames on 7' centers. To the best of my knowledge only one plank has been replaced, this was the starboard sheer-plank were it abuts the coach roof, I used a 10' plank of Douglas Fir A1 grade (tight grain, no knots) and used butt-straps to fix to the good parts of the old plank. The forward bulkhead at the foredeck was replaced as it failed at the outboard ends (a universal problem on Maurice Griffiths designs and a consequence of the split sheer line that gives such good headroom.

I checked three keel-bolts and found them not too seriously corroded and judged them to be alright for another 10 years (that would be 4 from now).

The engine was replaced with a brand new Lombardini 903M 28HP and an extra fuel tank fitted to give a total of 150l capacity. I fitted a Newport diesel heater that can make you open the door when it is minus 5C.

I replaced the old bermudan rig with a Falmouth workboat mainsail (these are a large fleet of racing Gaffers in Falmouth and good second hand sails for cruising are always available. The mast is new seated in the original steel tabernacle and built of five planks of Douglas Fir, glued with Resorcinol with an internal wire channel but otherwise solid for strength. The wire rigging and much of the running rigging was replaced at the same time.

The sails are a bit of a mixed bag with red, white and green (no she's not Italian) but provide a well balanced weatherly rig which can be reefed to suit all conditions and are what you might call 'Cruising Grade'. The topsail can be flown above the reefed main, increasing the leading edge length to improve up wind ability in windy weather and is flown on a separate jackstay which also flies the trysail in very strong winds.

The deck is pine tongue and groove, under 10mm marine ply, under polyester resin and glass cloth, it doesn't leak at all even though (perhaps because) it's not traditional. The cooker was new in 2004 and we have several regulators for the differing gas bottles around the British Isles and France....Full Inventory on request..

Moored in Falmouth, Cornwall.

SOLD

---

Withdrawn from Sale:"SAFREL"

GOLDEN HIND 31 ketch, designed by Maurice Griffiths and built by Terry Erskine in 1976. L.O.A: 35 ft (including bowsprit), L.O.D. 31 ft 6 ins, Beam: 9 ft, Draft: 4 ft. Displacement 6.5 tons. Part One register No. 366540

Hull: GRP, epoxied below waterline. GRP self-draining cockpit. Deck: Epoxy sheathed ply. Coach roof: mahogany sides, ply top, epoxy sheathed. Other woodwork is largely teak, oiled for smartness and easy maintenance. Keel: encapsulated cast iron, with steel bilge plates.

Asking Price: £38,500

"Safrel"is a well-built and well-maintained example of this famous type. She was very substantially refitted in 1999/2001, with the addition of much new equipment, including engine, electrics, upholstery, cooker, instruments, and much else, at a cost of about £20,000, plus two years of time and a great deal of thought. Receipts and maintenance schedules are available for all work done in my ownership."Safrel" is a very capable cruising boat, and in all weather conditions she inspires her crew with confidence. She is comfortable to live on, with quality fabric upholstery and over 6 ft headroom. Five good berths in two cabins – one double and three singles. Her long keel and substantial bilge plates enable her to dry out level.

Engine

Beta 37.5 bhp four-cylinder diesel (new in 2000), heat exchanger cooled. Fully sound-insulated, smooth, powerful and surprisingly economical. Shaft drive to 3-blade prop. 20 gallon fuel capacity. Both start batteries new in 2008.

Domestic

Taylor's paraffin cooker (new in 2000), with oven, coolbox, manual pumped water (20 gallons), separate heads with basin and Baby Blake sea toilet, Taylor's paraffin cabin heater.

Rig

A taller (36 ft) mainmast was fitted in 1991, with new boom, genoa and mainsail, giving improved sailing performance. The mainsail has single-line reefing from the cockpit (2001), the genoa is roller-furling. Two-speed self-tailing Antal chrome sheet winches (2001), two-speed Girdlestone reefing and halyard winches. Both main and mizzen have lazyjacks and zip-up stac-pacs for easy stowage (n.b. - added after the picture was taken).

Equipment

NASA log, Seafarer echosounder, Plastimo bulkhead steering compass, Garmin GPS, Autohelm, all new in 2001. 35 lbs CQR anchor with all chain, 35 lbs fisherman kedge with warp and chain, S.L. Hyspeed anchor winch. Fitted cockpit cushions, sprayhood, stac-pacs, lazyjacks, all 2001. Warps, fenders, lifebuoy, danbuoy etc. new in 2001

Location- Afloat in Cornwall

More Information -

"Safrel" is featured, with more pictures, in the 'Photo Gallery' section of this website, on the 'Golden Hinds' page.

Asking Price: £38,500

---

For Sale. Senior 'Lapwing'

These two pics taken about 10 years ago shows what she can look like!

Lapwing is a 2 berth Yachting Monthly Senior. 16' LOA, 3' draft, fin keel, Bermudian sloop rig - roller reefing main. Her inventory includes: Sails made 1994 by Suffolk Sails, still in good condition. Bilge pump. Chemical toilet. Berth cushions 1999 by Jeckells, in excellent clean condition, Fitted varnished mahogany lockers with space for cooker. Mud weight and fenders. Road trailer, lighting board, ladder.

We do not know when she was built or by whom, but her sail number 473 suggests the 1960s.

Most Seniors have either bilge keels or centre boards, but Lapwing has a fin keel and sails very well indeed. Her keel is made of solid mahogany with a cast lead ballast, and is held on by massive bronze bolts. She is planked in very nice mahogany marine ply over mahogany frames. Her spars are spruce.

Lapwing is part way through a re-fit and will need some work done by a competent carpenter or boat builder: The joint between coachroof and foredeck was not good. Therefore, a deck beam and the tabernacle have been taken off in preparation for re-fixing along with an additional beam (provided) to give increased mast support. There are also some more minor repairs that will need doing.

Price £595 including road trailer.

---

Removed from Sale: MG Bawley

'Taloa'is a 1950 Thames Bawley built by James Cook at Wivenhoe. She is 25' long, 30' overall including bowsprit and bumpkin. Beam 7' 11", displacement 4.5 tons approx. Draft 3'6".

Carvel construction, inch mahogany planking on oak frames, copper rove fastened with an iron ballast keel. Bermudan cutter rig. Aft cockpit with tiller steering. 2 Cylinder sole diesel engine.

I have owned the boat for 10 years. In the last 3 years I have not had much time to do much to her. Now looking for a new owner who can give her some love and attention plus a refit as I do not have the time. Mostly cosmetic attention, varnish and paint.

Now out of the water, (Canvey Island) for new rigging, total repaint, keel bolts to be checked.


This boat needs an enthusiastic owner, I just have no time, all the fittings are there, the boat is sound, just need time and patience to bring her back to sailing condition.. I have too many boats!


Withdrawn from sale by Roger Galley to be refurbished! and Sailed!! Later sold..

6/09

---
SOLD
Tao - £7,950 Lying River Dee - Viewing By Appointment
Eventide 26' 3/4 berth Cruiser:
Tiller Steering, Cast Iron Centre Keel + Steel Bilge Keels Marine Ply on Iroko Frames, Fibreglass Sheathed to Water Line Built 1970–71 (home build by late owner– one owner from new) launched 1972LOA 26' LWL 21' Beam 8' Draft 3' (approx) Sail No. YME 768Sails: Main, No.1 Genoa, No. 2 Genoa, Spinnaker, Mainsail Cover Engine: Petter 659cc PHRM Air Cooled Diesel Shaft Drive– Cruising Speed 5 knots Inventory: Dodgers, Cockpit Storage Cover, Compass, Sounder, G.P.S., V.H.F., Log, Auto Pilot, Wind Instrument, Avon Rubber Dinghy, Fibreglass Dinghy, Plotter, Cabin Heater.
---
SOLD: 1.5 KVA Generators.


Villiers F15 motor, 4 stroke petrol. All parts still available, spares book with motor. Good runner, was a standby genny unused for years. For the last 5 years I have used it only at fitting out time for a few hours a year, just to run power tools. Will run any 240 volt power tools up to and over 1 kw! Kept in case of power cuts at home... last used for 2 hours Christmas 2008 powercuts!
£65.00
Also a second generator, same motor slightly different generator, 'Allam' Make. This one switchable between 110 and 240 volt. output 1.5 KVA. Motor needs valves grinding in or changing. All spares available I'm told. Was generating fine till the valves went.....
No time to sort, thus £20. Good as spares?
£80 for both.
10/09
---
SOLD: Eventide 26 'Serenity'

launched 1972, sail number 1113.
LOA 26 ft, LWL 23 ft, Beam 8 ft, Draught 2 ft 3ins.
Serenity has had 3 owners from new and is a much-admired, attractive example of Maurice Griffiths' classic bilge keel design. Over the past two years she has had an extensive re-fit with new sails, new rudder, new navigation and safety equipment and a complete repaint and re-varnish to bring her up to a very smart condition.
Accommodation: main saloon with single berth to port and dinette table arrangement to starboard which converts to a full-length double berth. Fore cabin with 2 full length single berths. Recent "Houdini" fore hatch. Generous sized hanging locker to starboard. There are dry storage areas under all berths (screwed and glued hard chine ply construction means the bilges remain quite dry).
Domestic: Saloon to port, two burner butane gas cooker with grill and oven. The gas system is untested, but gas pipes are of copper and the bottle is stored in a separate cockpit locker. An electric chiller box can be plugged into the 12v battery supply or shore power. Stainless steel sink and draining board to starboard. Ample lockers, bottle rack, cupboards and shelves for storage of food, cooking equipment, and portable items. Marine WC in separate heads to port – pump replaced 2008.
Cockpit: Freshly varnished seats with ample storage under. Large lazarette locker with storage for fenders, spare fuel cans, etc. Handy cockpit tool locker and battery locker (2 batteries and switch). Cockpit is not self-draining, hence cockpit cover.
Electrics: 2 batteries (one new 2008). Lights - Tricolour mast head, steaming lights, deck flood (bulb gone), anchor light. Many cabin lights, including new halogen lamps, plus lights in heads, hanging locker & fore cabin. Cigarette-lighter socket for additional items (e.g. GPS, radio).
Instrumentation: Plastimo compass, NASA log (2008), NASA echo sounder (2008), DSC VHF (2008) with potential connection to chart plotter or GPS.
Safety: 25 lb. CQR anchor with 10 fathoms chain through hawse pipe to chain locker. Stainless steel pulpit & stern rail. Horseshoe lifebuoy loosely attached to cockpit guardrails. 3 fire extinguishers (engine, cooker, fore cabin). Various out of date flares. Fog horn. Guard lines run along cabin top for safety line attachment. New (2008) encapsulated stainless steel guardrails. Spray dodgers with boat name.
Rigging: Standing - stainless steel shrouds and stays, all replayed a few years ago. Running – main halyard and spare (spinnaker?) replaced 2009. Short bowsprit. Main and jib sheets new 2007. Jib furling line new 2008. Assorted ropes and fenders.
Sails: New 2008 tan-coloured furling genoa (with burgundy UV strip) and mainsail (with reef points, roller reefing, downhaul and kicking strap). The new sails were computer designed and laser cut by Advantage Sails of Brightlingsea using original plans plus measurements taken on board. New burgundy sail cover. Total cost £1700. Older but strong cockpit cover and fore hatch cover. Jib sheet winches.
Mechanical: Original Stuart Turner P66 10 h.p. petrol engine, raw water cooled. A well-maintained "classic" engine which runs very sweetly and reliably giving max speed of 5.5 knots, cruising speed 4 knots. Separate gear and throttle controls. "Dry exhaust" with separate water outlet. 6-gallon fuel tank plus 20 litre jerrycan. N.B. A complete second "spare" engine is also available. This was rebuilt by Fairways Marine about 20 years ago (cost over £1000) and has never run since as the existing engine continues to give trouble-free service. It is stored separately. Original user manual and associated documents available. N.B. Should any problems arise, all Stuart Turner parts are currently available from Marlex Marine, Cambridgeshire who have taken over from Fairways Marine.
Location: Serenity is currently afloat at Brightlingsea, Essex.
Price £3950....... for quick sale.
Contact details:
Richard Barton-Wood,
Eventide free to a good home.

'Seawitch' Eventide 26. seen above leaving Devon a few years back, now ashore on blocks at Tollesbury. She needs extensive repairs to topsides, deck and hull, but is repairable, if someone is prepared to take her on.
Free to a willing restorer, but be quick she will have to go very soon.
Enquiries to John Stevens
01/10
---
For Sale: "Taloa" an MG Thames Bawley
A pic of 'Taloa' in her heyday. She does not look like this at the moment!!
She needs a lot of work to bring her back, but a lot has already been done

This is as she is now..... but with a bit of effort....
built 1950 by J Cook Wivenhoe LOA 31 ft
I have owned 'Taloa' since 1998. She was refurbished in 2002. Since then she has been sailing up and down the east coast where she is well known. In the last couple of years she has not been sailed much and I have done little to her due to personal problems. I decided to start a re-fit over the winter months, and she now has new keel bolts, new epoxy sheath deck, re-caulked where necessary. Structurally she is sound. Only a couple of small scarfs topsides, then just paint and varnish and putting back together. Unfortunately, I am going back into hospital so everything has been put on hold again. So I have decided to let her go. If anybody is interested in carrying on with the work and would like to make me an offer for this super classic little boat please get in touch.
£2,000
Roger Galley
May be sold.. May 2010
---
For Sale: Eventide 26 'Serenity'

Much admired example of Maurice Griffiths' classic design in very good condition. 'Serenity' has had a major refit over the past 3 years including new tan mainsail, furling genoa & cover (cost £1700), new s/s guardrails, new sheets & halyards, new NASA log & sounder, new rudder, etc plus a lot of TLC such as gleaming Epifanes varnish work and re-paint inside and out.
Internally the saloon is spacious but homely with dinette table converting to double berth plus single. Max 5'9" headroom. Galley with gas cooker, grill and oven, s/s sink and draining board. Loads of storage lockers, bookshelves, chart racks and cupboards. Separate heads with marine WC (new pump), hanging locker, fore cabin with 2 berths and Houdini hatch and fire extinguishers.
Comprehensive cruising inventory includes tricolour masthead and steaming lights; deck, anchor and cockpit lights. VHF radio, 25lb CQR anchor with 10 fathoms chains. S/s pulpit and stern rail with boarding ladder. Lifelines. New horseshoe lifebuoy.
Original and very reliable Stuart Turner twin cylinder P66 10hp engine with original manual and documentation. The Stuart starts and runs very sweetly (and quietly). Max speed 5.5 knots, cruising speed 4.5. Charging to 2 batteries. 6 Gallon tank plus 20 litre jerrycan'
Marine ply construction on oak frames, all in good condition with dry bilges. The original Yachting Monthly plans and builders notes come with the boat. Anodised metal mast and boom with roller reefing (plus reef points in mainsail) Furling genoa. Stainless steel stays and shrouds replaced a few years ago. Two excellent past survey reports available.
Hull type: Hard chine, marine ply on oak.
Serenity is a solid boat with a surprising turn of speed (6 knots+) capable of serious cruising or just pottering through the creeks and swatchways.
Photos ex seat cushions for better view of internal structure. Cushions are covered in blue vinyl.


£4,000.00
Call to arrange viewing. Currently ashore in Essex. SOLD
---
SOLD: Brand new, unused, Nanni diesel 2.45 ECO 10hp.
New and unused in anger, just tested, Nanni 10hp twin cylinder diesel inboard, with full electrical panel with rev counter. Indirect cooled with heat exchanger. Winterised for storage.
Complete with all heavy battery wiring and rotary switch for 2 battery installation.
New, remote control Teleflex, single lever control and cables.
New, matched 3 blade propeller, machined for 25mm shaft.
With new flexible exhaust and Vetus water trap.
Complete package was fitted but never used in an Eventide 24.
cost today over £3,200 plus VAT for motor alone. Accessories another £400!
SOLD
---
Eventide 24, restoration project needs completion.
Sold 1.12.10
I have for sale Eventide 24 number 473. 'Everjoy'.
She is partially restored with upgraded with approx 1000lb ballast keel and new galvanised bilge plates. New laminated skeg, (needs shaping), includes new s/s prop shaft and fitted bronze stern tube.
The deck has been GRP covered, including the toe rails and down as far as the main gunwhale position. Finish is workmanlike and not as cosmetically pleasing as it could be, but with work.. Sliding hatch and washboards in place. Beneath the main gunwhale all new GRP cloth and epoxy. New large Perspex fore hatch and all s/s window frames fitted to cabin top and s/s ports to raised topsides.
Fore cabin has framing for double Vee berth, with room for a portapotti underneath. Main cabin is empty to fit out as you please. There is work to be done internally to the hull ply. Most woodwork stripped ready for repainting.
There is a sink and a cooker with it, electrical switch panel, all the chain plates, compass, set of Stainless guard rail stanchions, anchor and all the timber and bronze rudder fittings for the transom hung rudder. (The former owner has this in store at the moment and it is promised, as is the timber and fittings for the bowsprit). Large quantity of paints also with boat.... plus sundry fittings...
New engine bearers and stern shaft in place. (No prop or motor). Basic framing in cockpit, but needs finishing.
Wooden mast in very good order with boat, needs revarnishing, also set of tan sails, likewise in good order. Newly galvanised Tabernacle fitted on cabin top.
If you are interested in restoring an Eventide 24 and have the time and wherewithal to commit, this is an excellent opportunity.
Asking £450 ono. ashore Tillingham, Essex.
Sold 1.12.10
---
SOLD: Part built Golden Hind 31'6'' (number 251)
GRP Hull and Cockpit.
Sidedecks, coach roof beams, cabin sides and bulkheads fitted in solid timber or marine ply as appropriate.
Ballast fitted also Bilge plates are fitted.
The timber work was completed by an ex Terry Erskin employee at Terry's yard in Wadebridge.
We also have Stainless steel pushpit and two aluminum fuel tanks included in the sale.
The boat has been laid up for about 15 years ashore, covered and regularly visited in a yard near Itchenor (South of Chichester).
My intention was always to finish her for myself, but a car accident left me with a back problem and I have finally decided that she will have to go.
I am selling her at many thousands of pounds under replacement cost.
Price £8000. ono
For further information please contact Colin Skinner
Telephone:- 01243 xxxxxxx
or email:- ch.skinner
07/10
---
SOLD Myosotis Maurice Griffiths designed 'Blue Water' class.
The hull was professionally built in ferro cement at Burnham by Ferro Cement Marine Services and she was launched in 1976. The boat is in excellent condition with one careful owner since new. The boat has been based on the East Coast (originally at Woolverstone on the Orwell) and is now at Fox's Marina, Ipswich, Suffolk. The boat has voyaged to the near continent and as far north as Sweden and Denmark and has also made several voyages through the French canals and as far South as Italy and Spain. Reluctantly, she is now up for sale and the family are keen for her to go to a good home. She is all ready for this seasons sailing.
Details & Inventory
Maurice Griffiths Design 206, Blue Water (Ferro Cement)
(Tidewater Class is the wooden version)
LOA: 9.14m
Breadth: 2.80m
Depth: 1.58m
Registered Tonnage: 7.15
Year of build: 1976
Name of builder: Ferro Cement Marine Services
Sails 1x Mainsail (Rotating Boom Furling), 1x Staysail (Furling), 1x Jib (Furling), 1x Storm Jib (Unused).
35lb CQR main anchor, 25lb CQR kedge anchor, 210ft galvanised chain, Anchor Winch, 2 Staysail / Jib winches, 2 Halyard winches (on mast), Ensign & staff, Cockpit table.
Navigation. Ships Compass, Apelco GPS, Garmin 120XL GPS, NASA Navtex Pro, Huson 55 VHF, Fog Horn, Depth Sounder, Autohelm ST4000 autopilot.
Electrical. 2x 70AH 12v batteries, 240v shorepower, Lights (navigation and cabins)
Propulsion. Diesel engine (Volvo Penta MD2040) 1995, New Gear box 2003, New water pump 2002
Safety. Lifeguard Solent 5 (5 man) liferaft in valise, Avon inflatable dinghy + oars, Various flares, Fire extinguishers, Jackstays, Lifebuoy, Dan Buoy, Man Overboard Rescue sling, Anchor ball, Motor-sailing cone, Henderson bilge pump
Galley. Sink and Tap, Taylor Paraffin Cooker (2x hob + oven), Cooking utensils, crockery & cutlery, 12v electric cool box
Main Cabin. 2 bunks with leecloths, Taylors Diesel Cabin Heater, Radio/Cassette player, Portable radio
Miscellaneous Items. Mooring Pick up Buoy, Spares (Pipes, Engine parts, Toilet parts, Electrical, Bilge Pump, Rigging). Cockpit lamp, Anchor lantern, Boathooks, Warps, 8 fenders, Boarding ladder, Paraffin & Methylated Spirits (for cooker), Ships Plans & letter from Maurice Griffiths
For Sale £17,000 ono
To arrange a viewing, please contact Fiona
06/10
---
SOLD : 50 NiCad sealed Boat battery Cells.
These 50 cells are at present in 5 banks of 10 cells giving 5 x 60 amp hour NiCad batteries, nominal 12volt.
They can charge at 30 amps and can also stay idle, charged all winter. Cells are ex RAF Aircraft cells, they can be inverted, if you feel the need to loop the loop! Government defence contract quality of course.
They can be 4 x 60 amp to use and 1 set of 10 cells to split up as spares, probably good for the next 10 years.... I have loads of spare link straps and fixings...
I will also throw in a TWC/Adverc alternator controller set for the correct voltage 15.5,for free. Controller removed from 'fiddler's Green', November 09, along with complete wiring loom and full instructions for refitting. Has battery temperature sensor, voltage sensor and alternator connections.
I have used this type of cell for 20 years and am only switching to lead acid as I can no longer get anymore identical spare cells. However I normally only ever replace one duff cell a year, sometimes none, so if your electrical need is for 4 x 60 amp hours, these may well suit you.
So for 4 x 60 amp hour and 10 spare cells inc alternator controller £100 the lot..
John Williams 01621 778859 or via enquiries@eventides.org.uk
Need more AMPS! In addition I have access to similar near new cells, the same physical size but only 40 amp hours, so if you needed more storage than the above and have the room, you could buy more. Each additional 40 amp 12v bank of cells approx £50.. Over 7 sets available.
10/10
---
Sold: Sail for Eventide.
White, Yankee Jib, Luff 24 ft foot 9ft, leach 20ft 6 inches, so high cut. Designed to be flown from the mast head on a 24 or a 26, could be in addition to a roller genoa if not hanked on maybe.
This sail is as new, never flown in anger, stored in dry and has piston hanks and selling for a fraction of new price.
£60.00
Contact John 01621 778859
2/11
---
Sold: YM Eventide 26, Mistress II
To the astute observer, yes it is John, the coordinator, hanging off her bowsprit! September 5 years or so back enjoying a trip from the Blackwater to the Crouch aboard her!
Sadly this Eventide has had a survey that has revealed repairs are needed to part of the deck and raised topsides. She has had attention lavished on her over the years, with a New Yanmar and new guard rail rigging, however it needs someone who is willing to get her into the dry and save her... No punches pulled here, she will need work, but after that you have a great boat with Ali mast, roller genoa and new motor!
There is rot in the stbd side from the break of the deck forward to about 6 ft from the bow, with 2 soft spots in the main gunwale and the deck carline. All repairable with a little effort and time.

The port side has less damage but a 6ft section of raised topsides needs replacing. Having crawled all over her today I think the rest is sound, so any restorers out there want to take on this challenge?
Due to monies spent, asking £2,500. or close sensible offers, No jokers!
Contact Andrew
Or myself, John Williams 01621 778859.
---
Sold??: YACHTING MONTHLY SENIOR Virtually brand new.

YMS 1627.MK 1 VERSION WITH GALVANIZED CENTREPLATE.

A unique opportunity to purchase a near brand new Senior which has been built of the last few years and is ready to sail. Launched once, briefly.

The hull is of Marine ply on mahogany and is constructed using conventional fastenings, clenched copper nails and brass screws. Although the boat has been amateur built, it is to professional/expert standards.

In addition, West system epoxy has been used throughout the build process. The deck is sheathed with glass cloth applied with west epoxy and the chines are covered in glass tape. International paint has been used with two pack polyurethane paint and varnish on the exterior and conventional polyurethane inside. The outside was primed with epoxy. The deck is finished in non-slip "Interdeck".

The boat comes with a suit of sails consisting of genoa and mainsail. These are by Rockall and are beautifully made. The main having slab reefing points and the genoa attaches to a Plastimo roller reefing spar. Gunter rig is used with an alloy mast, alloy furling spar, Douglas fir boom and gaff. All new standing and running rigging is employed.

In addition there are cabin seat cushions, a new cockpit tent etc.
The road trailer has been tailor made and is hot dip galvanized. It is fitted with a winch, rollers, jockey wheel and has a spare wheel.

Everything on the boat has been purchased brand new including all materials, fastenings and fittings as well as sails etc etc. the only used parts are the mast gooseneck and mast attachments for the standing rigging, everything else is new including the sails.

A new canvas overall winter cover . Build cost exceeds £6500. For sale due to change of plans and purchase of a larger yacht.

October 2010, further drastic price reduction to
£2950.
Please email Stewart Moxham
---
Date:
03 Jan 2005
SOLD

Eventide 26 'Kinsman'
Commissioned 1966, registered no. 19. Unusual stepped coach roof design, giving greater headroom. Bilge keel version with 4 berths in 2 cabins. Yanmar GM10, 9hp diesel engine installed 1990, galley rebuilt 2001 with new, Plastimo gimballed, 2 burner cooker and grill, new sea toilet '99, standing rigging replaced '00, new Plastimo 608S Furler Reefing end '02, auto bilge pump '03. It has Garmin GPS 128, B&G Focus Log, Sestrel steering compass, Navico CX3000 tiller pilot and Swiftech M168 VHF radio. Sail set consists of Mainsail, Genoa, No.1 & 2 Staysail and small spinnaker with pole.
Asking Price just reduced, March 2006 to £6,500
Contact Chichester Harbour Brokerage on 01243 387390
June 2008 a further price reduction to a very realistic £ 3,995, however she is in need a a little TLC now.
(If sold through our pages a small donation to the EOG! So please mention where you saw her.)
This boat once owned and so well sailed by our late friend John Perrin. The only check we would advise is on the weight of the ballast, as it possibly had the earlier, 1200lb keel!
6/08
---
SOLD!!!: Complete cutter rig for 26ft Eventide,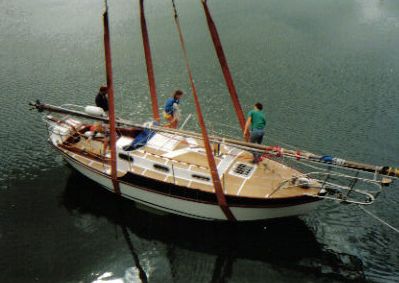 I have for sale a complete kit for someone to turn a completed hull into a very well equipped sailing boat .
The mast is 32ft in a sturdy ally section, on a s/s tabernacle, a combined s/s pulpit/bowsprit gives a very powerful rig which works well with a self tacking staysail and large genoa on Plastimo roller reefing. Other sails include Slab reefing main, storm jib and trysail all in tan. All control lines are led back via halyard winch to a bank of jammers. There are also two sheet winches with brackets (s/s) for mounting on cockpit sides. All standing and running rigging and chain plates are also available as well as various turning blocks etc etc.
It would be a wonderful opportunity for someone in the process of building or renovating an Eventide or even a similar sized boat but if this doesn't happen then items may have to be sold individually.
£1250 !!!!!!
Also a 14" x 10" 3 bladed L.H. prop that was used with a Yanmar YSM12hp single cylinder horizontal. Now a new larger motor fitted as boat has now been converted for canal cruising in France!
Offers?
Spars etc in Plymouth.
Contact Bob Bryan
---
Believed Sold:
Coronet 27 -
"Briarose"
Dimensions
-
Length 27 ft; Beam 10 ft; Draft 18 ins; Air Draft 8 ft 3 in.
Construction
-
GRP complete with Ladder and rear swim platform
Engine
-
Perkins 4108 Diesel
Drive
-
Enfield "Z" Drive
Berth
-
4/6 berth in Fore & Aft Cabins
Galley
-
Gas Oven & Hob plus 2 Cold Boxes
Electrics
-
Wired for both 12 V and 240 V
Head
-
Self Pump out Sea Toilet.
BW Licence
-
Licensed to March 2009??????
C of C
-
Certificate of Compliance to 31st Jan 2010??????
Extras Include -
-
V.H.F Radio -
Aqua Marine 5600
-
C.B. Radio "Hariex"
-
Echo Sounder "Ecro Marine Digital"
-
Radio Antennas both Long & Short
-
Alarmed
-
Knot Counter?
-
Fenders, Ropes, Windlass
Location....
South Pennine boat club based at Mirfield NR Huddersfield West Yorkshire
P
rice...
£2000
Contact...... Angela....... mobile on 07528252231
---
SOLD Sailspar boom, new, with internal control lines and jammers for 4 reefs. This is maybe a foot shorter than standard for E26, but with altered or different sail (help prevent weatherhelm!) would do the job, approx 11'6" long 4 " depth.
£100.00.
---
Was Free To a Good Home! Eventide 26 'Quiet Waters'
sadly now broken up.
Friends of mine in Wiltshire have an Eventide 26(?) sitting in their yard and would like to find a new owner who is willing to take her. She is free. She has been in the open for a couple of years, and needs work on a new fore deck, and starboard bow. Her hull seems sound and she could be a lovely boat again with some hard graft. Her mast and sails are available. Even if someone took her for spare parts she would be worth the transport costs. She sits in the country, outside Calne. This is an urgent message as, if no-one takes her she will be broken up. Her name is Quiet Waters and sail number YM 1245.
I do hope you can help, as she is a sweet boat.
Yours sincerely

Victoria Dickenson
6/11
---
SOLD: Eventide 26' 'Kedidi'
Regrettably, I am forced to abandon the restoration of our extensively sailed family Eventide, Kedidi, (E1001), built very solidly and professionally in 1966 in a Singapore yard. Chengal frames with cabin, cockpit, decking and trim in local teak. Tannalised marine ply hull was completely coated in West system 2-part epoxy some 10 years ago, is very sound and ready to paint. Mast is aluminium with fitted Firdell reflector and stainless steel rigging. In addition to twin bilge keels, main keel has extra ballast and extends to form substantial skeg that houses the prop shaft. The original Volvo Penta 7 was replaced with a Lister Petter 14 in 1989 and has less than 200 hours running time. Sails are by Cheong Lee of Hong Kong and include main, and 3 foresails. Other equipment includes S/S pulpit, pushpit and guard rails, Navico wind, log and depth instruments, Plastimo bulkhead compass and hand-pumping heads, 6kg Danforth anchor with about 50m of chain, various spars and fittings. Kedidi has been laid up since 1999 in a dry barn near Huntingdon. Will restore to a very pretty boat.
Contact: Mik Flood
09/11
---
SOLD: GH 31 'Gallinula'
I am nearing completion of the restoration of Golden Hind 31 "Gallinula"
She has been completely stripped inside and is now virtually as new including bilge paint and all lockers. The cockpit has also been brought back to new condition (She has a gorgeous teak after deck and cockpit).
Gallinula has a nearly new engine (300 hours) Beta 29hp with a new loom and control panel. She also has a nearly new fully battened main with roller ball cars (the sail is still so stiff it's impossible to get in the bag. The genoa is also in good condition with new UV strip. (There is a spare main and spare genoa which is also in good condition). She also has new lazy jacks (never fitted) and an over boom cockpit cover. The deck paint is also new October last year. All new stainless standing and running rigging including all new bottle screws - never used - the mast was raised to check all fitted (see photo) and lowered again
The pulpit and stern rail, stanchions are stainless not galvanised. She also includes a charcoal burner stove in the main cabin and original oil lamps
She also has a beautiful cherry and whitewood cabin sole in the forepeak and main cabin
The bad bits - There is only one battery and really requires at least doubling up with isolator switch which unfortunately is beyond my capability and requires rewiring and new switch panel. I may commission someone to do this if I have time
The bits left to do, which I am doing now as quickly as the weather allows are all niff naff and trivia:
Cockpit locker tops hinges need attaching to the cockpit
Same with the new fore hatch
Navigation lights need attaching to cabin sides, stern rail and pulpit
One internal locker top to be made and fitted
Starboard side requires final gloss
The chain plates pass through the deck and bolt through onto one of the frames close to the forward bulkhead. Gallinula is encapsulated ply. The areas that I have renewed have been epoxied and encapsulated in 200 gram woven matt, but the rest is cascover I think it was called.
She comes with log, depth, wind speed and direction, all fenders, ropes, anchor etc. The cooker is gas with three burner and oven, and electric operated water. She also has a charcoal hearer and oil lamps.
I will provide a suitable hard tender. The nameplate confirms she is Hartwell built.
Copy of recent survey available which shows she is sound with some minor task to be undertaken.
I'm looking for around £14,000.
Paul Williams
09/11
---
SOLD.....
: EVENTIDE 24 'Otteau '


'Otteau ' is a very nice example of this classic Maurice Griffiths design . A very solid and seaworthy bilge keel cruising yacht, capable of exploring the swatchways and creeks, and taking the ground when required . 'Otteau ' performs well , in part due to the extended keel arrangement (3'3'' draught) . Currently lying on the River Blackwater, Essex.
'Otteau' benefited from a major refit in 2000/2001 which included a new Yanmar engine, and has been carefully maintained and improved since .
Specifications :
Constructed in Marine Ply (sheathed in epoxy and fiberglass) on oak frames
4 berths – 2 in main cabin and 2 in forward cabin.
Tiller steering to transom mounted rudder.
Triple keel (long centre keel and twin bilge plates). Draught 3'3''.
Lavac Sea Toilet.
Plastimo cooker and grill .
Yanmar 1GM10 diesel engine ( 2000) driving 3 blade prop.
Aluminium spars, stainless steel standing rigging (rigging 2002)
Tan Main ( new 2007) plus spare Main.
Roller reefing Genoa on Harken roller reefing gear
2 hanked Staysails and small jib / storm sail.
Cockpit and cabin cover in canvas (new 2007), sail cover.
Stainless steel pulpit (new 2008).
Autopilot 800 Autohelm.
B & G Log / Speed / Depth.
We are only selling ' Otteau ' as we have bought a larger Maurice Griffiths design .
Price reduced to £4,995 SOLD!
Nigel Seary
10/11
---
SOLD: New Nasa Log and depth, plus mounting Pod.
All Brand new, in boxes, purchased to replace my old VDO speedo, but then I found replacement VDO parts, so these now surplus to requirements.
I will sell Depth and Log for £99.00 each, saving of over £50.00 on retail on each and the mounting pod £30.
Clipper Depth System
If you are looking for cockpit instruments that feature cutting edge technology yet are intuitively simple to operate, look no further. The outstanding Clipper range of instruments incorporate technically advanced electronics in an industry standard 110mm square case. Ease of use and display clarity were top of the design brief. All Clipper instruments have giant digits and multilevel backlighting. As with all Nasa instruments - they are excellent value too.

Technical Specifications
• 40mm high digits
• Depth below transducer / below keel / below surface
• Deep and shallow alarms (audible and visual)
• User selectable Feet or Metres.
• Intelligent gain control + manual overide
• Selectable display rate and depth averaging rate
• Depth trend indicator
• No echo indicator
• High transmit power
• All settings stored in non volatile memory
• Tactile keypad
• Output for repeater
• Complete with weather cover and transducer
• Consumption 20mA + 25Ma for backlight (max)
Price: £129.17 ( £155.00 Inc. VAT)
Clipper Speed & Distance System
If you are looking for cockpit instruments that feature cutting edge technology yet are intuitively simple to operate, look no further. The outstanding Clipper range of instruments incorporate technically advanced electronics in an industry standard 110mm square case. Ease of use and display clarity were top of the design brief. All Clipper instruments have giant digits and multilevel backlighting. As with all Nasa instruments - they are excellent value too.

Technical Specifications
• 40mm high digits
• Speed (Knots/m.p.h.)
• Trip Distance (N.Miles / Miles)
• Total Distance (N.Miles / Miles)
• Trend indicator shows acceleration / deceleration
• Selectable speed averaging
• Tactile keypad
• Complete with weather cover and paddlewheel unit.
Price: £129.17 ( £155.00 Inc. VAT)

CLIPPER POD
Robust POD moulding to suit 2 x Clipper Cockpit display units. Suitable for open cockpit mounting.
Price: £34.17 ( £41.00 Inc. VAT)
Apologies to Nasa for using their adverts!
Contact John on 01621 778859 or e-mail at 'bluebell.cottage at virgin.net'
10/11 SOLD
---
Eventide 26 Head Sails SOLD:
Genoa. Taylors Maldon, White, Mitre cut. Bronze piston hanks. Slight stains near bronze piston hanks. No patches or repairs.
Luff 28'
Foot 12'6"
Leech 27'
£75.00
No 2. Foresail. Taylors Maldon, White, Mitre cut, Bronze piston hanks. 3 x 1" patches near head, some small slight stains.
Luff 24'
Foot 9'
£45.00
Staysail. Taylors Maldon, White, Mitre cut. Bronze piston hanks. Slight stains, watermarks near head and tack. No patches
Luff 17'
Foot 3'9"
Leech 14'
£35.00
Essex. Contact John
Contact us at enquiries@eventides.org.uk
10/11
---
Antal Winches SOLD.
Pair of 16:1 two speed 'Antal' winches, unused. Black Heavy Alloy and bronze, quality sheet winches!
Retail at £225 each. These are unused (though were fitted) and still have the remains of a price ticket on them.
For sale at £200.00 for the pair!
Collect from Essex or will post, £12.50 UK.
Contact John
Contact us at enquiries@eventides.org.uk
10/11
---
SOLD: brass/bronze fittings from wooden mast, suitable for Eventide 24.
Tangs for shrouds, and masthead fitting, gooseneck fitting. No track. will post photo soon.
Can be seen and collected from Essex. or posted at cost.
£10.00
Contact John.
01621 778859 or enquiries@eventides.org.uk
Sold 11/11
---
SOLD. Partially restored 4 berth Waterwitch sloop, built in Portchester in 1963

Construction:

Hull: 13mm (½ inch) marine ply on mahogany frames. Recently professionally sheathed with fibreglass up to waterline using epoxy resin. Epoxied from waterline to gunwale. Decks 13mm marine ply. Bilge plates galvanised. Traditional bronze oval port holes.

Tan sails: Main, genoa and jib (Lucas Sails). Spare suit white sails: main, genoa, No 1, No 2, & No 3 jib (Jeckells)

Engine 16/18 HP Sabb 2 HSP (sailing propeller, ie variable pitch) twin cylinder diesel. Aluminium mast.

Barton winches.

Anchor: 35 lb plough (K.L.I.) Kedges: 1 plough and 1 Danforth.

2 berths in forecabin, 2 in saloon

Chart table to starboard

Heads roomy. Baby Blake toilet can be overhauled and re-installed

Cooker: Mariner 2 burner gas

Heater: Copper solid fuel heater, not installed but will go with the boat.

Dorade vents: 2 bronze vents, not installed but will go with the boat.

Compass; radio (Seafarer Seavoice 550); Echo sounder (Seafarer 3); Avon Redcrest inflatable dinghy; Seagull outboard; ropes; fenders.

The boat is lying in a boatyard in Portland, Weymouth

Price: £5,000 ONO

Contact:

sold
11/11
---
SOLD: 1970'S SEAFARER 18 FAMILY STABLE DAY BOAT.

·

Room for 6 persons in the 9 feet cockpit plus 2 camping berths in the cabin.

·
Loo space, camping stove space & shelter space in the small cabin.

·
5.25 cwt of ballast in external stub keel & steel centre plate.

·
Easy to lower & raise the centre plate. Draft 4 feet 9 inches down & 18 inches up.

·
Easy to raise & lower the mast. Alloy spars. Stainless rigging.

·
Very good windward sailing performance & on all other points of sailing.

·
All up weight 15cwt. Trailer included with spare wheel.

·
Seagull 5hp long shaft outboard.

·
Blue sails. Mainsail 105 sq feet. Jib 50 sq feet. Genoa 85 sq feet.

·
LOA 18 feet3 inches. LWL 16 feet 7 inches. Beam 7 feet 2 inches.

·
1970's heavy fibre glass construction with 2 : 1 resin ratio to fibre glass.

·
Used by sailing schools as a very stable day boat. 5 crew plus instructor.

·
Designed by Alan Buchanan.

·
Suitable for large lakes/lochs & enclosed/sheltered coastal waters.

Price £2500 . Can deliver UK for fuel/expenses.

Dave Hart. Blairmore, Argyll, Scotland. PA238TL.
11/11 This boat has been sold, the new owner has enrolled.
---
Sold: 31ft 11inch, Unused Ali mast.
Sailspar of Brightlingsea, quality mast, approx 6 inch by 4 inch oval. Unused. Would suit Eventide 26 or similar, bought for smaller boat and unsuitable. Has stainless mast steps fitted above the spreaders, did have some lower down, but they have been removed add a few of the ali mast steps advertised on this page to complete the job!. Was originally designed to fit to Cox 27, but boat discontinued. (1" shorter than plan for Eventide 26, but near enough!).
£500. ono lying Essex.
Sold 11/11
---
SOLD: Pair of Ali portholes.
Two Cast Ali portholes 5 inch diameter glass 7 inch overall. Sure they will polish up! Glass appears to be 'marine grade' laminated glass. 6 countersunk holes for machine screws or screws.
£15.00 the pair.
sold Jan 2012 for donation to EOG
03/11
---
SOLD: Pair of new 'Gebo' make, Ali framed windows. Non opening with inner frame.
Glass about 13 inches by 5 inches, smokey tinted, looks like glass not Perspex.
Overall size 15 inches x 8 inches.
Unused, slight soiling from storage only, cost about £50.00 each 10 years ago!
Sold for £45 the pair! donation to EOG
2/12
---
Sold: 'Mayna' Eventide 24ft


Maurice Griffiths , Cutter Rigged, shoal draft with bilge keels. Professionally built in 1963. A very well looked after example of type.
Length overall 7.32 metres
Beam 2.44 metres
Draft 0.61 metres
Hull marine ply on oak, single chine wooden hull, Rewired 2009, New Diesel engine 2009 / Faryman 7 HP. Engine just 50hrs use. Maximum speed 6 kts , Cruising speed 5 kts
Number of cabins 2, Number of berths 4. Heads forward. Double ring burner with Grill. Electric cool box / inside cupboard. Fire extinguisher/Fire Blanket. Bathing Steps, Anchor/Warps, Cockpit cover.
New VHF 2010, NASA Depth/Speed/Windspeed log
New Furling Fear 2010, New Mainsail 2010
Location Heybridge, Essex, United Kingdom
SOLD.........£1250.
Thankyou to Tim and Frances for the donation
2/12
---
Sold: Boom Claw
Suit 4 inch max diameter boom with roller reefing, enables kicking strap to be fitted whilst sail reefed!
Sold for £20.00. (Collect from Essex, or can post £5.00)
Contact John on 01621 778859 or via enquiries@eventides.org.uk
3/12
---
Sold: GH 31 'La Corbeau'
Golden Hind ketch, registered Guernsey (still using the blue book), construction plywood, fully fibre glassed using Epoxy resin at time of construction, cockpit and stern clad in half inch teak for full protection.

Roller reefing on headsail, 'sailtainer' on main, reefing points on mizzen (i.e. all sails can be managed from cockpit). Engine Sabb 18 bhp three blade prop overhauled 2002, never been any trouble, two fuel tanks 18 gallons, consumption about 1/3 rd of a gallon to ½ gallon per hour.

Winch, Bruce anchor and chain, 2nd Bruce anchor in cockpit locker, self-tailing winches. 5 berths, (quarter berth under chart table which folds down), chart table to starboard, the two berths in the forepeak have a sliding door to separate them from the main cabin. Taylor gas oven feed from bottles in the port hand locker, Taylor diesel heater fed from tank in the port locker, Baby Blake toilet in heads and a hand wash basin and electric bilge pump 20 gallons of water in two tanks under the port and starboard bunks.

Brookes and Gatehouse instruments, B and G fluxgate compass serviced 2007, Garmin gps purchased August 2007, car radio and a 12v accessory socket, auto helm, Avon dinghy, life-raft.

I intend to leave all pots, pans cutlery plates etc., electric, pump for dingy, anchor light, searchlight, etc. I have sailed the boat for 24 years and other than oilskins, pilotage books, a magnifying glass bought by my children and a test meter my father gave me I am leaving the rest. I have had the boat for over twenty years.
The boat has been lifted and is on the hard at Glasson Marina.

PRICE reduction to £20,000 ONO.
February 2011, further reduction to £15,000......... Sold for far less......
James May
5/12
---
Withdrawn from sale
Lone Gull Mk II, "Jubilee Rose"
moulded 1977
.
pictures awaits
MkII Lone Gull, part built, that was being completed by my Father. Sadly he is no longer able to complete the project and I would like to sell it. He named her and I think it would be a fitting tribute for her to keep that name.
Items include:
Bronze Port Light Frames, Bowsprit, Stainless Steel Bowsprit Fitting & Bob Stay Fitting, Davits, 20HP Bukh Diesel, Stainless Steel Fuel Tanks (Pressure Tested with Certificate), Saloon Cupboard Fronts – Doors Fitted & seal coat applied, Fore Hatch Coaming, Cupboard Front Port Amidships, Cupboard Front Stbd Forepeak, Rudder, 4 Teak faced Panels for Cockpit Seats, Bukh Instruments, GRP Throttle Control Recess, Main Companionway Grab Handles, Full Set of Drawings.
Many items have been made and dry fitted and removed for storage prior to final fitting. The hull is lying near Chichester, West Sussex, and available for viewing by arrangement.
No longer For Sale reduced to £10,000.00 ONO
There are a number of other items that had been bought by my Father which might also be wanted by any purchaser for a price to be negotiated separately at the time.
Cooker – Twin Gas Hob, Grill & Oven – Originally from Pumpkin Marine, Baby Blake, Stainless Steel Sink, rectangular, Garage Loft, White Plastic Sink, Cabin Lights, Compass, Lewmar Winches, 2 CQR Anchors, 35 KG & Windlass, 24" Stanchions & Bases
Andrew W Arthur
07703 - 321875
---
SOLD!!! Uffa Fox designed 'Foxcub' 18.
'Beachcomber' is a pretty, 18ft long, fast, stable twin keel sailing cruiser. This is the boat I presented my daughter on her wedding day. Sadly she is now up for sale, Jenny has sailed her but due to overseas commitments, she organise treks all over the world, the boat has been laid up in a dry modern shed now for 2 years in Devon and it is time for her to part with her. Photos above show her much as she is now, but were taken in Brixham harbour 3 or 4 years ago.
Roller reefing genoa and mainsail as seen in picture, both freshly valeted by Lonton and Gray in Burnham on Crouch, Spring 2011. 4 hp Mercury Longshaft 'sail power' with integral and remote tank, properly winterised and stored in dry.
Following equipment
all
new
5 years ago, includes VHF DSC radio and masthead aerial, Compass, 20w solar panel and 12v leisure battery, (may now need replacing... but in 2011 was still showing charged, due to nearby skylight and solar panel!) All new navigation lamps , fire extinguisher, lifebelt and man overboard light, set matching fenders , plus spares, warps, all bunk cushions, recovered, portable galley stove, switch panel with voltage meter and 12v socket, bilge pump. New swing down bracket. Even rudder replaced and tiller refurbished. New cockpit tidy bags for halyards, new halyards. Teak bulkhead stowage locker.
Also on board, hand held GPS, Nasa Echo sounder on teak swing out bracket, Porta Potti type loo forward under bunks, portable boarding ladder. Even a copy of Uffa Fox's book on board. Self draining cockpit, all drains renewed. 2 main berths that convert to a double, but also has 2 children's berths aft... at a pinch. With it's large cockpit makes a great day sailer or occasional weekender.
Boat is on purpose made, heavy duty, 2 wheel trailer with new tyres and two spare wheels, tyres and wheels new 2 years ago. Trailer in top condition. Even got a trailer board! You just add your number plate!!!

Boat lovingly restored and fitted out 6 years ago to highest standard I could achieve, as it was to be my crew's wedding present! Hull cleaned back to bare and checked for damage/osmosis then painted with Toplac on topsides. My daughter has looked after her and she has given them some fun, but she has to go.
Ashore in Torquay, Devon in locked secure store. The owner lives in Brixham, Devon, where most of the gear is in store. Inflatable tender available.
Instant boating, just add water, OK she will need antifouling too, but there is a can of that on board!
Asking £2,000 or very near offer.
Contact me, dad, here in Essex !
7/12
---
SOLD: Eight brass port hole rings for fixed ports.
Size....
I also have one Perspex disc as template for glass and 4 turned wooden backing plates so the 4 in the main cabin can look tiddly on the inside. Need polishing, but otherwise sound.
SOLD for £40.00 That's just £5.00 each!
Contact John on 01621 778859 or
Contact us at enquiries@eventides.org.uk
7/12
---
Was offered Free to a good home and restorer... no takers

Eventide Magog, sadly since these pictures were taken she was sunk on her mooring in France when the river she was moored on went into flood. She has since been raised but she has damage to her ply deck . The hull is double diagonal built and OK. She is repairable. Sadly Tony the owner is not up to is and offers her free to anyone willing to come to France with a trailer and tow her away. He has a motor, which was not in her when she sank, in fact she was bare inside, all the kit stored ashore.
Even sadder Tony had no takers and the boat eventually had to be broken up. Sept 2012.
---
SOLD: Mollymawk of Minehead. Golden Hind 31

(Note. The picture above was taken after we'd just come back in from a month's cruise this summer. Since then she's been lifted, antifouled, and had her hull re-polished ready to re-launch.)
Hull 1980. Completed and launched 1987. Impeccable 2009 survey available on request.

Molly is an immaculate Golden Hind 31, maintained and updated regularly.

Her engine is a Yanmar 2GM20 (2001). Scrupulously maintained and serviced.

She comes with all the usual pieces of cruising kit - including a Norvane servo-pendulum self steering system and Rutland 513 charger with Marlec control unit.

We're selling Molly with very mixed feelings. We'll be sad to see her go, but she's given us the cruising bug and we're off long term - and with two growing children we're looking for something with an aft cabin they can call their own.

In the time we've owned her Molly has been a delight to own and sail. A real head turner in the age of Jen/Bav white things, and the tidiest GH 31 we've seen.

She was for sale via Deacons on the Hamble and their website (http://www.deaconsboatyard.co.uk/) had full pictures and details.
.(asking £29k)


---
Sold:
24ft Eventide, - Jeopardy
These pictures taken some time ago show her with a fin keel, she has now had this removed, and is back as a normal bilge keeler. Ballast weight increased and new bilge keels fitted.
These 4 pictures were gleaned from the net and are more recent You can see the addition of large dog house ......
Modified to bilge keel in 2009/10 by current owner. This 24ft eventide is built of marine ply. Built in 1966.
She needs repainting inside and out, Full set of sails (various types - 7 in total) - modern material Vetus twin cylinder Diesel inboard engine (Type M205 - 11hp) - very low hours.
Assorted engine spares, tools etc life belt, Sea toilet, interior lighting Two-ring cooker and grill (needs attention), with gas bottle. Barometer, Auto bilge (needs attention) + manual whale bilge pump, Echo sounder, Navigation lights, sleeps 3/4 - lots of space inside and out. I can email you plenty of pictures - call or email me for more details or to arrange to view.
Sheet winches need to be refitted. Deck has been sheathed. Bowsprit removed, but available.
She has been unused for 2 years (have bought a bigger boat, and all my attention is being devoted to her!!)
Hope someone will take on this nice boat as not too much work required to go sailing, can be motored away....
I would be happy to get £1,900 for her, willing to listen to offers SOLD
SYD 07591xxxxxx
We now know this boat may be sold, as the new owner has joined.
11/12
---
SOLD: Maurice Griffiths "Solani" Class, 'India of Poole'
Description Classic centreboard Bermudan ketch built entirely of teak in Mazagon Shipyard (Bombay, India) in 1946. She was first named Zoraya then Sea Pie and now India of Poole. She has had 7 owners in 53 years - one of them being Maurice Griffiths himself. As a shipwright I can confirm that structurally she is as sound as a copper-bottomed boat - which she is. The most important matter to be attended to for the next owner are the seacock's, which although serviceable really need replacing AND the 2nd port mizzen chain plate (a new one would be best). I am in the process of varnishing, oiling and painting the topsides but weather has not been kind.
Dimensions Length (LOA) 38.8 feet Length (Waterline) 28.4 feet Beam 10.5 feet Draught 4.5 feet (extending to 7 with the centerboard lowered)
Accommodation Full headroom throughout with a total of seven berths. Forward cabin separate - double berth. Saloon table (seating 4 comfortably) collapses into a double berth with a single berth opposite - doubling as a bench. Another double berth over the engine box starboard of the port companionway is well suited to the more lithe and younger crew. Fair-sized galley with cooker. Heads amidships with basin emptying into centerboard case - ingenious! Very pragmatic layout.

Sail, Engine and capacities Masthead Genoa, main and mizzen staysail, cruising chute and storm jib and other sails - at least 600sq ft of sail. Galvanized wire rigging. 2 mast winches and 2 sheet winches - loads of spares. Marinised Volkswagen Passat - head gasket and cam belt recently replaced and engine serviced. 50 gallon diesel stowed in twin 25 gallon stainless tanks. 50 gallon freshwater tank.
Navigation equipment & miscellaneous Garmin 235 GPS with fish finder option, NASA Clipper Duet (depth & log), SIMRAD RD68 VHF, Auto helm for both wheel and tiller autopilots, Plastimo 4 man life raft, 240V shore power with Sterling twin bank 20amp marine battery charger, twin 110amp hour batteries fitted with Vetus 3-way selector/isolator switch, wind charger provides trickle charge, 2 12v bilge pumps and a large capacity manual, new SMEV 4-hob cooker and LPG system compliant to British and USA/European standards, 2 Bruce's and 1 fishermen's anchor, newly fitted solid fuel Davey stove etc....
Owners comments I have gone some way to improving living conditions on India as we are a live aboard. Sadly I never got round to sorting out the shower - but that's another story....
SOLD
Price and location £42,000 Cornwall

Contact Jeremy Seeber

Many years ago, I had the belaying pin from 'India of Poole' given to me by MG. We made it into a trophy, sadly lost upon the demise of the old assoc. John
---
SOLD: Senior 'Avocet'
Avocet is 16 feet x 6 feet beam and was built in the 1970's of marine ply on mahogany frames, to a good spec. She is regarded as a mini cruiser - 2 berth with cushions (mattresses). Swing keel, with main sail, working jib and storm foresail, anchors and fenders, and boarding ladder, plus extras.
Selling her complete with everything you need to go sailing, including a road trailer. She is a very stable boat - quite fast with a crew of two. I also have the original plans if required.
SOLD to a friend and now kept in South Lincolnshire on her trailer so
with a simple 2-3 hour journey allows us to cruise on the Norfolk Broads, Blackwater, Soar, Orwell without the 3 day passages to get there.
As we live in South Lincolnshire, her home waters are the Wash , Humber and North Norfolk.
Alan Stacey
---
SOLD
: 2 pairs galvanised fairleads.
New, just dirty, 2 pairs.
£10.00 for both pairs! SOLD
Contact John on 01621 778859 or via enquiries@eventides.org.uk
Collect Essex or can post.
---
SOLD: job lot of mainly Tuphnol blocks.
mixture of double and single, ratchet and plain blocks, couple of plastic ones in there as well.
£20.00 sold
Contact John on 01621 778859 or via enquiries@eventides.org.uk
Collect Essex or can post.
---
SOLD:
Waterwitch Sail No. W 132

'TAMAHA'

Designer Maurice Griffiths
Builder Hartwell Ltd. Plymouth in 1963
Construction Marine Ply Cascover Sheathed
Registered Tonnage 6.11
Lying Gosport Marina

Description:- 20 years with present owner, now too old to give her the attention she deserves. Completed Cross Channel Cruise July 2010. Bilge Keels and Skeg with Draught of 1m allow drying out away from Marinas.
Bukh 36 Diesel rebuilt 2005. New Mainsail 2008, and Genoa 2007.
Survey due 2011. Full inventory.

Price £5000
Charles Fremantle
1/13 sold.......
---
Eventide 24 "Niarbyl"
This vessel is in commission, fully functional and fully insured. Built in 1963 of beautifully durable pitch pine strip planking, cascover sheathed below the waterline at build. Fitted with reliable, modern Beta Marine 13.5 HP diesel, new in 2000. Bermudan cutter rigged with all 3 sails in very good condition. Has cruised Bristol Channel extensively over last decade, from Gloucester/Lydney/Sharpness at one end to Ilfracombe/Milford Haven at the other and numerous harbours, creeks and marinas in between. People often stop to comment on the prettiness of this character-ful little yacht. Lying Portishead.
Length on Deck 24 feet
Beam 8 feet
Draft 2 foot 10 inches
Displacement 3300 kg
Ballast - cast Iron ballast keel (386 kg) plus twin 35 kg steel bilge plates plus 268 kg internal lead ingot ballast secured below cabin sole boards.
Rig
Aluminium mast and wooden boom. 3 sails, all tan, all made by Jeckells and all in very good condition:
1. 121 sq ft main sail with 2 rows of reefing points

2. 126 sq ft genoa on roller reefing

3. 70 sq ft staysail on Wykeham Martin furling gear
Main halyard, topping lift and reefing lines led back to cockpit.
Accommodation
Accommodation comprises two berths in v-shape in cosy forecabin. This has one porthole either side and port light in forehatch to provide plenty of light. A planked bulkhead provides a feeling of separation from main cabin. In the main cabin there are two further berths; one each side. At the after end is a galley to port with twin ring and grill gas cooker. Opposite this, to starboard, it a chart table with stowage for charts and other paperwork below.
Electrical System
Electrical system comprises two lead acid batteries charged through splitter diodes. Separate circuits feed navigation equipment, navigation lights, cabin lights and "always on" circuit which feeds stereo/radio and electric bilge pump.
Other Equipment Includes:
Echo sounder, steering compass and VHF radio with sockets for GPS and autohelm.
CQR bower anchor; 8 kg on 30m 5/16 inch galvanised chain + 30m 16 mm nylon warp.
Fenders, warps, etc.
No longer for Sale. The owner is using all the gear and building a new hull!
---
SOLD: Bronze mainsheet horse
Suit traditional dinghy or light cruiser. Used but in good order, 26 inches across.
£25.00
Contact John on 01621 778859 or via enquiries@eventides.org.uk
Posted to new owner.
---
SOLD: Eventide 26 'Camelot.
26ft Eventide 'CAMELOT'.
Built throughout with marine ply and hardwood. Cascover sheathed to waterline and on deck.
4 Berths. Headroom in cabin approx. 5ft 8ins and 5ft 10ins between beams.
Bukh 10 diesel inboard. Overhauled 6 years ago with new big ends fitted. Morse engine controls.
Sea toilet, navigation lights, gimballed Taylors paraffin 2 burner stove, Clipper echo sounder and log and Bosun compass, electric bilge pump.
Bruce anchor and 90ft 5/16 galvanized chain. Approx 200ft of 14mm 3 strand nylon anchor line.
Gaff cutter rigged. s/s rigging, Tan sails in good condition, hinged tiller.
Main hatch and galley needs some work. Paint work ok, but varnish needs some work.
Afloat Bradwell
Price reduction to £950.00 Roy is anxious for his boat to go to a new, caring owner, thus the dramatic drop in price!!
(8ft 6ins Fibreglass dinghy also for sale, offers. )
Phone . 01708 xxxxxx
(Boat has sailed extensively, in Mediterranean and on east coast.)
8/12
May 2013, understand sold, new owner has been spoken to..... awaits confirmation.
---
SOLD: Karená, Jeanneau Merry Fisher 8.05 motorboat.
This is an immaculate, luxurious 27ft Motor cruiser, with all bells and whistles. Brand new in 2008 and not launched till the end of 2009 and laid up after just two seasons use, due to new arrival, baby Carter!
Equipped with everything, I will list as many as I can recall. All spotless, and I mean spotless! Interior teak work and GRP polished and loved to bits. Double berth forward, separate heads with shower. Holding tank with pump out. Fitted wardrobe and storage spaces in forward cabin. Fully lined and curtained.
Dinette converts to two forward facing passage seats and also to double berth. Very clever. Storage spaces beneath. Fridge with separate battery. Again fully curtained.
Toyota 200hp turbocharged diesel inboard, just 40 hours logged, not yet run in. Top speed potential 22knots, cruises at 17. Wonderful soundproofing. Huge under cockpit storage area, and storage lockers in cockpit under waterproof seat covers. Self draining. Remotely triggered fire extinguisher in engine bay, plus hand held near galley.
Bow thruster for effortless manoeuvring. Separate battery. Dinghy on davits with aux outboard bracket for emergency motor or use on tender. Extra stainless handholds on cabin top for safety. Swim platform has stainless folding boarding ladder, cleverly stored beneath teak grating. Extra horizontal s/s handrail on cockpit coaming.
Fitted with Raymarine A60 GPS plotter, at helm position, with full chart folio for East coast. Also with integral Echo sounder and Log fitted. Full DSC VHF. Self launching anchor with electric anchor chain winch with counter. Foredeck hatch with winch concealed inside and chain and warp stowage. Control by helm and on deck. Battery monitor and fully fitted automatic battery charging. Mains electricity fitted. Hot water heated my mains or engine. Full navigation lights etc. Fully automatic bilge pump, as well as manual pump.
Remote controlled search lamp, controls by helm. Full engine instrumentation.
Hot and cold running water, shower, neat galley with spare Gaz bottle. Lifebelt, warps, fenders all in excellent order with fender socks.... Flat screen TV with digital omni directional aerial, DVD player. Fitted stereo Radio CD.
Full aft canopy and covers for all 'glass' windows, inside and out, unused. Upholstery unmarked. Sun deck on top reached by ladder and hatch.
Underwater there is a sensible protected rudder and prop, with substantial galvanised steel grounding plate.
Presently ashore Brightlingsea.
For sale at almost half new price, £59,995.......
contact Michael on 01245 xxxxxx
or mail John at enquiries@eventides.org.uk for more information (My lad's boat.)
10/12
May 2013, deposit taken, sale imminent.....
SOLD
---
SOLD. GH 31 'Golden Crest'.
See clip of her under way, albeit by engine, with dolphins alongside!
http://youtu.be/hsn_U3KB1dI
Golden Hind 31 No 212
Marine ply, sheathed, built Terry Erskine 1980.
Displacement 6.59 ton, Length 31' 6", Beam 9', draft 4 ft (1.17m) bilge keels
Sloop rigged, in-mast mainsail furling. Roller reefing Genoa. Storm jib on board
6 berths, galley with twin burner and oven, sink etc and Lavac toilet in heads. Heater.
2 x 12v batteries, tiller pilot, wind generator.
Bukh DV 20 inboard diesel with 3 blade prop and rope cutter. £1,000 spent on servicing last year.
1. Fit new water pump
2. Fit new Alternator
3. Fit new Key Switch
4. Fit new exhaust Manifold
5. Fit new Oil Filter
6. Fit new Fuel Filter
7. Change the engine Oil
8. Fit new rubber belt to alternator

Water tank 2 x 16.5 gallons
Fuel tank 2 x 16.5 gallons
(no dinghy or outboard nor VHF (died!))
Surveyed 2009.
Lying Fowey
She was commissioned by my Great Uncle who sailed her extensively around the UK then across to the Azores and then to Portugal where he kept her for some years. Sadly ill health has meant he is no longer able to sail her and so we have been sailing her for the last 3 years and she is currently based in Fowey.
However, work and a young family [although they absolutely love the her!] mean that I just don't have the time required for the ongoing maintenance and upkeep on a boat of this vintage, which as I am sure you know is fairly demanding.
The result is reluctantly we have decided to sell her, we have put her on the market at what we feel a very reasonable price given the size and quality of the Golden Hinds. For someone with time she would be fantastic boat.
Vessel sold in 'end of season' condition, needs painting and varnishing and gear updating maybe.
But sold at a very realistic price of £7,500!
Sold
07776xxxxxxx
or e mail
oliver_tattersall at btinternet.com
---
SOLD: Kedge Anchor.

Light Kedge anchor, approx 6lb, steel, painted. (suit heavy dinghy as main anchor.)
Clever sliding ring and slotted shank to help release it if fouled.
£15.00 xxxx sold
Contact John on 01621 778859 or via enquiries@eventides.org.uk
Collect Essex or can post.
---
SOLD: Eventide 26 'Funky Floater', ex 'Kinsman'
'FUNKY FLOATER' is a 26 foot Eventide auxiliary yacht, sail number YME638, built by Jones and Teague at Saundersfoot, Pembroke, in 1965, and registered at Grimsby as 'Kinsman'. She is British Part One registered with official number 304799. Her registered tonnage is 2.76. Air Vice-Marshal Sir Alan Boxer, her first owner, apparently fitted out some parts of the saloon and cockpit. She was registered as number 19 in 1966 at Grimsby. The Certificate of Registry shows that she was sold to Mr. C. J. Stokes of Shirley, Southampton, in November 1973, and again in January 1974 to Mr. J. F. W. Perrin, of Westcliff on Sea, Essex, the renown East coast Sailor. Sold on when John became visually impaired subsequently owned by the man responsible for the break up of the old assoc and the formation of this group. He did fit a diesel and maintained her well though.
The Funky Floater comes equipped with the following:

• Garman GPS • Navman Autohelm • Fishfinder • Diesel heater • Fenders • Spare ropes • 2No. storm jibs • Spinnaker and pole • 2No. anchors • 3No. decent batteries (new last season and have been well maintained) • Boom cover • Cockpit tent • Sea toilet • Bilge Pump • Loads of spare parts/gaskets for the engine. • Engine Manual • Log of work done inc. receipts and items purchased
• Gas hob and grill • 2No. Sinks with foot pumps - diesel heater
Deep water mooring in Langstone harbour until the end of March.
SOLD
Nicholas Harvey
1/12
July 2013 we have heard this boat is sold, but the seller has not contacted us to inform us...?
---
Launched 1993, Ply with Bilge keels, bowsprit, Ali spars, new mainsail, new upholstery, good inventory, inboard Kubuto diesel. Hank on Genoa, pictures show mast head tricolour, anemometer, pulpit navigation lights, full guard rails, fenders, mooring warps, spray hood, masthead vhf aerial, CQR anchor, stainless pulpit and stanchions, stern rail.
Has cruised to France many times. Berthed at Haslar Hampshire.
Was Asking £6,000 ono sold for far less!!!
---
Sold: Bronze mainsheet horse.
Suit traditional cruiser
Used but in good order, beefy near 3/4 inch thick and 22 inches long approx, suit Eventide 24 if you want to be really traditional!

£20.00
Sold
Contact John on 01621 778859 or via enquiries@eventides.org.uk
Collect Essex or can post.
---
SOLD: Golden Hind 31, Golden Dawn of Kent.
Golden Dawn of Kent, Golden Hind 31
Custom built November 1979 by Terry Erskine Yachts, Plymouth. Last insurance survey refers to it being "a substantially and well built yacht", in current ownership and much- loved for the last 14 years.
Equipped for extended cruising with freshwater capacity c270litres (60gallons), fuel capacity c160litres (35 gallons) and provision in gas locker for five 4.5 kg gas bottles. Twin forestays for down-wind sailing and storm jib. Storm trysail track.
Lister STW2M engine. Equipment includes recent Raymarine Smart Tiller Pilot, also Yeoman Navigator Pro Chart Plotter and Koden radar. Sheer legs for raising/lowering mast. Wired for shore power. Reupholstered.
Fowey, Cornwall
Sold
for less than
£12,500.
8/13
---
Sold: GH 26. Lady of Lockerley

1981 Golden Hind 26 Lady of Lockerley – Ashore Hamble Point, UK

Designed by the famous Maurice Griffiths and built by Terry Erskine Yachts of Plymouth.

Cutter rig. Long keel with bilge plates. 10hp Bukh Inboard diesel engine. GRP hull. Teak decks, bowsprit, cockpit, fixtures and rubrail.

Attractive varnished hardwood beams in cabin Comprehensive inventory. Part 1 registered. Full ownership history

Length 26.0'

LWL 20' 4"

Beam 8' 2"

Draft 2'6"

Lady of Lockerley is a handsome, seaworthy yacht. She was the last of 11 of her design to be made.

Her design makes her exceptionally sturdy and comfortable as evidenced by her voyages as far as Russia and Finland, while her shallow keel allows access to anchorages most boats can't access. She has been much loved and restored since we purchased her including a full engine overhaul and new rigging and proved herself a safe comfortable cruiser. Since our children arrived we have had no time for her and she is in need of some fairly significant TLC.
Full survey 2012 available on request.

She is such a lovely boat we would love her to go to an enthusiast.



Inventory of Lady of Lockerley, Golden Hind 26

Deck gear

New rigging (Spencer Rigging, Southampton 2007). Teak tiller. Teak self-steering pegboard with pegs. Self draining cockpit .1 yellow horseshoe buoy + new bracket 2008. 1 red horseshoe buoy + light + bracket. Red ensign and wooden flagpole 2007. Throwing line in bracket 2008. Compass with light (light replaced 2008). GPS repeater.Depth/log repeater. Windex. Tillerpilot. Autohelm ST2000 (new hull mounted socket 2007). Mount for trailing log (see extras). 25lb CQR anchor + 85ft ¼" galvanised chain (26m). Manual windlass with handle. 20lb kedge anchor with 12ft chain/60ft nylon rope (20m). Manual bilge pump. 2 Gibb self tailing cockpit winches .2 mast winches. 2 winch handles. Wooden outboard bracket. Boathook 8 Fenders (2 large blue, 6 standard white). Mooring lines. Butane gas locker/regulator/hose. Boarding ladder. Bosuns chair. Bucket x2 Deck brush. Day shapes cone/ball. Bolt cutters. Spares kit. and a partridge in a pear tree! phew! White mainsail Sail no.GH6562Y. Original tan mainsail. Tan furling genoa. Tan Jib no.1. Tan Jib no.2. Tan Staysail. Storm jib. Tan mainsail cover. New shockcord 2007. Tan
cockpit awning. Tan sprayhood. Tan cockpit dodgers "Lady"
Accommodation

Comfortable cabin with attractive varnished beams. Tan curtains on wooden curtain rails. 5 adult berths – 2 in saloon, 2 in forepeak and 1 pilot berth. Taylors diesel cabin heater professionally installed 2006 (RRP £1500+). Upholstered seat cushions. Brass barometer. Two brass electric cabin lamps. Red cabin nightlamp. Stowable cabin table . Separate heads cabin starboard side towards forepeak with Jabsco manual toilet (New Jabsco pump 2008). Oilskin hanging locker. Galley to port with gimballed gas oven/grill and two burners. Sink with manual pump. Coolbox. Kettle, assorted pans/plates/bowls/mugs/cutlery.

Navigation

Stowable chart table to starboard. GPS. Depth/log. New Icom DSC fixed VHF radio 2008. 2 100Ah batteries 2007/8. Battery 1/2/both/off switch


100litre Flexible water tank 2006. 20 litre fuel tank 2 Fire extinguishers 2007. Fire blanket 2007.

Negotiable Extras

Plastimo inflatable dinghy in canvas bag (New 2007). Suzuki 2.5hp 4 stroke outboard engine (New 2007). ICOM handheld VHF (New 2007). Classic Walker trailing log in original box (rare - worth in region of £200). Charts for Solent, South Coast and North Coast of France. Lifejackets



Sold July 2013

7/13
---
SOLD
: YACHTING MONTHLY SENIOR 'Dabbler'
This boat is in very good condition, the hull has no leaks, the sails are fairly new and the bilge keels are fabricated in steel. The boat comes complete with a serviceable road trailer and spare sails.
It is presently lying ashore at Rutland Water.
£1200.00 Sold!
For further details contact Tony Dobson on 01529 xxxxxx
---
Sold: GH 32 'Right E Oh'
most recent pic.
Golden Hind 32 'Right E Oh'. A beautifully kept timber boat built by Terry Erskine in 1979 Sail number 148.
Only 2 owners from new. Reluctantly for sale due to ill health.
Maintained to an incredibly high standard (Editors comment!). Fitted with full set of new navigational instruments installed 2010/11 including Garmin 4008 chart Plotter, Radar, AIS, VHF with DSC. (virtually unused!) Also fitted wind generator, see centre picture above taken September 2012.
Boat fitted with Factnor in mast reefing and roller reefing genoa.
Fitted with 20hp Beta inboard. Quiet, multi cylinder, freshwater cooled and economic.
Galley with fridge and large Neptune cooker.
Heads fitted with holding tank. Sigmar diesel heater.
All maintained to highest standard...
Full survey available dated 2012. Moored Walton on Naze
Asking price further reduced to £12,500
SOLD
Please telephone Brian and Mavis
Sept 13, sold,
---
Sold by a broker in Walton on Naze: Kylix 29, Rigsa.

Kylix Class a larger 29ft version of a the family cruiser, commissioned by a professor in 1981. Built to Lloyds A1 standard by Bure Marine of iroko planking on oak frames. She was actually launched in 1990. She carries a Bermudan Cutter rig. Her design is from Maurice Griffith's portfolio of shoal draught centreboard cruisers. Draft with board down extends to 6ft 6inchs. A stable sea kindly vessel.
She has led a very charmed life and is in excellent condition. Her extra 2ft length from the standard design and 1ft 6ins extra on her beam, makes for a very roomy interior with a good 6ft headroom

£28,000
---
SOLD: Tuphnol snubbing winch.

New, but grubby and needs stripping, washing and cleaning!!
£10.00
Contact John
10/13
---
SOLD: pair of Clam Cleat Clam Bollards
A good scrub will have them like new, just shop soiled, unused.
£5.00 the pair
Contact John
10/13
---
SOLD: Tuphnol Cam cleat with fairlead
Grubby but cleanable, ,new and unused. I use one just like this for my motor-sailing cone hoist! And another for my single boomed staysail sheet.
£5.00
Contact John
10/13
---

SOLD....Imray Y9 The Wash. (unused) Retail £16.00 sell for £9.00 corrected to Spring 2013.
10/13
---
SOLD: 'Golden Morn'. Golden Hind 31.

A fine example of this proven well known class of cruising yacht, from the drawing board of the distinguished Mr. Maurice Griffiths. This Golden Hind 31 is in exceptionally good condition throughout and has been beautifully maintained by owners who really know traditional boats. The equipment on board has been kept up to date and the electronics and navigation equipment has been renewed during recent years. 'Golden Morn' is a very spacious yacht with good social accommodation. This yacht contains all the necessary equipment for a livaboard, or distance cruising. This Golden Hind 31 is substantially built from plywood on Iroko and Teak. Internal joinery is of mahogany, varnished ply and also wipe-clean surfaces. The yacht benefits from many layout features resulting from good engineering and ease of running the boat. This yacht has been well maintained by it's owners with a comprehensive range of extras specified below. An impressive 2011 survey is also available!
LOA:31' 6 Max Draft: 1.35 metres LWL: 26' 9 Beam: 9' Weight: 9 tonnes.
Depthsounder: Raymarine ST400 Bidata Log-Speedometer: Raymarine ST400
Wind Speed and Direction: Raymarine ST40 Navigation Centre: ICS Nav4, navtex plus. Garmin 3006C with charts for UK, North Europe and Danish Baltic. Autohelm 2000+ Plastimo Sestrel compass and Sowester Bosun steering compass and Plastimo Iris 50 hand bearing compass. Garmin 3006C GPS. Entel submersible hand-held VHF. Radar: Garmin 3006C. Radar Detector: Echomax. Garmin 3006C AIS, Barigo barometer, Barigi quartz clock, Brass Bell. Cockpit Speakers
Sails Fully Battened Mainsail, Furling Mainsail, Furling Genoa, Storm Jib. Cruising chute. Mainsail washed and checked over in 2013. Mainsail Overhauled in 2010. Washed and restitched genoa with new tack webbing in 2010.
Standing Rigging: 2006. MastHead. Material of Spars: Aluminum
Tiller Steering
Taylors diesel-fired heater. Electric Bilge Pump, Manual Bilge Pump, Oven, Marine Head, Refrigerator, Battery Charger
Par marine head new 2000. Taylors gas cooker with two burners, hot plate, grill, oven, fiddle and safety bar.
Electrical Equipment Shore Power Inlet, Inverter. Wind Generator: Solar Panel: 55-watt
Tender: with 2.5hp Outboard -Optional extra. Liferaft: Cruiser 4 man
Windlass: Manual. New windlass chain in 2013 3 anchors
Cockpit Cushions, Swimming Ladder, Davit(s), Radar Reflector
3 x boat hooks, numerous fenders and warps, bow ladder for box moorings, cabin table mounts in cockpit.
Bimini Top: Cockpit Cover: Spray Hood: All over winter cover.
Safety Equipment: Life Raft, Number of Persons: 4. Life Rings, Number of Persons: 2 , Dan Buoy, EPIRB, Gas alarm and carbon monoxide alarm.
Cruising Speed: 5 kn Max Speed:7 kn
Steel Fuel Tank, Capacity: 35 litres (total)
2 Plastic Fresh Water Tanks
Holding Tank: Capacity: 112 litres
Accommodation 3 Single Berths: 1 Twin Berth. New Upholstery in 2011.
Lister Twin Cylinder 15 Horsepower, last service: 2012. Fixed 2 Blade prop.
Built 1970 by Hartwell Boat Builders Ltd, Plymouth. Registration: Part I
Batteries 4, 2012 Amp Hours: (2 x 110 Ah) (1 x 85 Ah) (1 x 100Ah)
Double chine marine ply on Iroko and Teak, Epoxy sheathed.
Deck Material: Sheathed ply Superstructure Material: Timber
SOLD : was asking GBP 12,850 Walton-on-the-Naze, Essex
Foundry Reach Yacht Sales & Services
Frank Halls & Son Yard
29 -31 Mill Lane
Walton on the Naze
Essex
CO14 8PF
Telephone : 01255 679506
Mobile : 07725 006686
Email: sales@foundryreach.co.uk
---
SOLD: 30ft Waterwitch 'Dougaljo'.
Timber and ply, 30ft Waterwitch, sloop rigged. The owner/builder, Doug is swallowing the anchor and is looking for a new, caring owner for his boat.
She has 4 berths, 2 forward and 2 in the main cabin. There is another short berth /settee in the saloon to port, that was used as a storage place for an electric fridge. (may be available to purchaser by agreement ...) Robust, strong, yet attractive, drop leaf cabin table. Full standing headroom at least 5'9". Decorative, turned cabin and table support poles as hand holds. Large wardrobe space opposite heads. Huge storage lockers and shelving areas.
Galley, well equipped, with twin burner Optimist cooker, oven and grill, pressurised hot water with the added option of heating via a radiator and fan. A bronze manual pump also fitted. Stainless sink and drainer. Water storage tank approx 30 gallons.
Chart table to starboard with storage drawer. Autohelm repeaters and Navtext, VHF New, DSC Icom. Hand bearing compass in holder.
Garmin GPS plotter, Autohelm log and Echo sounder, additional Hummingbird fish finder with log. Navtext. All approx 15 to 20 years old but working. (Though navtext may need attention as it was reading gobbledegook last I looked!)
Heads, proper Baby Blake, good sized compartment with washbasin. Well ventilated.
Electric lighting throughout, all in working order. Full navigation lights. Proper switch panel in navigation area. 3 x 12v batteries with isolator/changeover switch. Electric auto bilge pump.
Wet hanging locker, just inside companionway, also containing fold up cockpit table.
On deck. Bulkhead mounted compass. CQR main anchor and chain. Anchor winch. Chain chute, with opening door, in fore cabin, to storage aft of bow. Two Dorade Vents and Tannoy vents on cabin top. MG designed double coaming fore hatch on cabin top, forward of mast. Jackstay attachment points.
Pulpit, lifelines around cockpit. Mainsheet horse. Vertical axis can type wind generator mounted on stern rail. Davits for dinghy. Dinghy and outboard
Tabernacle mounted, wooden varnished mast with bronze sail track. Steaming light, Windex, VHF ant (new 3 years ago) and 'Firdell Blipper' radar reflector. All rigging Stainless.
Roller Reefing Genoa. Slab reef mainsail. Both sails in good order. Mainsail cover. Also Storm jib, new and Cruising chute, very light use only.
Engine, twin cylinder Lister 20hp, fully serviced and checked by local engineer.. Fuel tank approx 30 gallons capacity.
Self draining cockpit with self draining gas locker. Lockers with 6 fenders and mooring warps. Tiller can be 'pegged'.
Hull painted with 2 pot poly and in excellent condition, keels wire brushed and primed, just needs antifouling before launch.
Other equipment includes a full length rain/sun cover for summer use,
She is being offered at a very realistic sum of £6,500, with all gear, ready to be safely sailed away.
There is a small amount of work to be done on her to alleviate an annoying deck and cabintop leaks.
Doug is keen just to see her go to a good home. She has taken Doug to the Netherlands, Belgium and France, west as far as Fowey in Cornwall and south to the Channel Isles and also through France to the Med. She is a robust and sturdy example of the class, extremely well built and sailed.
She is on the hard at Bradwell, Essex and only needs a coat of antifouling and can be launched and sailed/motored away.
Please contact John as he is acting on behalf of Doug.
01621 778859 or enquiries@eventides.org.uk
November 2013, SOLD! for asking price, From these pages!
9/13
---
Sold: Rudder fittings.
For 2 inch wide rudders, large dinghy or pocket cruiser 4 sets,
can split £5.00 set or £25 the lot. Reduced to £20 as I have sold 1 set.
Contact John on 01621 778859 or via enquiries@eventides.org.uk
Collect Essex or can post.
All sold!
---
All Sold from these pages

Tidal Atlas for North Sea North Western part. Used on the first half of my circumnavigation.
New price £10.00 Sell for £5.00.
Can post for £2.00 UK
Also!!! All charts from Harwich to Scotland, includes the waters at both ends of the Caledonian and to the northern end of the Crinan.
Used once, so one route only marked in pencil, marks easily rub out. Water resistant paper. Good usable condition! (With corrections sheet, corrections done, and in protective sleeve.)
Imray C29 Harwich to Whitby. Retails £18, sell for £10, corrected to Spring 2013.
Imray C24 Flamborough head to Fife Ness. Retails £18, sell for £10, corrected to Spring 2013.
Imray C27 Firth of Forth. Retails £18, sell for £10, corrected to Spring 2013.

Imray C23 Fife Ness to Moray Firth. Retails £18, sell for £10, corrected to Spring 2013.
Imray C65 Crinan to Mallaig and Barra, Western Scotland. Covers Fort William, the western end of the Caledonian to the entrance to the northern end of the Crinan! Retails £18, sell for £10, corrected to Spring 2013.
Can post for £2.00 UK, each chart or book.
Will sell all charts and atlases as job lot for £50.00 P&P on the lot £4.50.
---
FOR SALE: Folding bike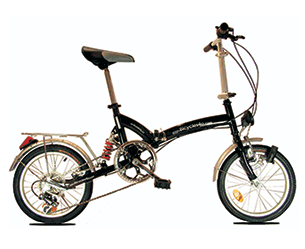 Complete in new black waterproof bag, near new, bought for round UK trip, but boat too small to fit it on. Cost £160 including bag.
Has dynamo lights, carrier, good brakes and Shimano twistgrip gears, built in adjustable suspension. Fully adjustable for most adults or youths. folds small, even the pedals fold up!
SOLD £50.00
Contact John 01621 778859 or enquiries@eventides.org.uk
Available Essex, ride it away or pop it in your boot!
10/13
---
SOLD: GH 31 Moondancer.

Golden Hind 31 "Moondancer"
L.O.A 31.6"
L.W.L 26.9"
Beam 9.0'
Draft 3.8"
Construction Fibre glassed sheathed marine ply. Built in 1974.
Engine 28hp Perkins Perama (fitted 1996) Brunton Folding prop.
With Aqua drive.
Fuel 18 gallons, Water 35 gallons
Anchors 35lb CQR, Danforth and Fisherman's. Anchor windlass.
Interior Approx. 6'3" headroom. Teak/Mahogany and white paint finish. Fore cabin with 2 large single berths (converts to double) stowage under. Deck heads are insulated and lined with carpet, as are hull sides. In this cabin are a separate clock and barometer. Separate heads, Jabsco toilet (holding tank), washbasin to starboard. Large storage space. To port, there is a large shelved locker.. Main cabin with 2 single berths, Taylor's diesel heater in alcove to starboard. Teak saloon table with 2 drop leaves, storage inside. Storage below berths, cave lockers. Mounted on starboard bulkhead is a holder for six wine glasses. Barometer and clock are also on this side. .All berth cushions were professionally replaced and upholstered in 2002. Revamped galley is to port incorporating a 65 litre fridge, Plastimo Atlantic gas cooker and oven. Storage under and behind galley. Large S/S sink, fresh water supplied via Whale Gusher foot pump. . Aft of the galley is the wet locker with handy box over and volt meter. Opposite is the rear facing chart table with stowage inside and under. There is also stowage under the chart table seat. The two 95ah house batteries are housed under the companionway over the engine box, behind louvered doors and were rewired in 2011. Throughout there are electric lights and paraffin lamps. Perspex windowed wash boards.
Sails and Spars S/S standing rigging replaced in 1999. Two Gibb28 self-tailing Genoa sheet winches. Two Gibb halyard sheet winches. Slab reefing to Mainsail with all control lines led aft. Plastimo head sail furling system.
Mainsail and cover
Furling Genoa and spare
Cruising Chute and snuffer
Storm Jib
Sprayhood Boarding ladder Cockpit cushions
Fitted Cockpit tent with windows Bimini
cockpit table
Outside on the aft deck there are two seats incorporated on the mainsheet track with a double seat with cushions against the stern rail. On this deck are a hawse pipe and roller for the kedge anchor.
Navigation equipment AIS, GPS, NAVTEX, VHF RADIO, DEPTHSOUNDER, WINDSPEED AND DIRECTION, LOG, AUTOPILOT WITH REMOTE, PLASTIMO
CONTEST COMPASS, SESTRAL COMPASS. 350 WATT INVERTER. 2 HOUSE BATTERIES (2011). 1 ENGINE START BATTERY (2010). STERLING IN-LINE BATTERY CHARGER. SHORE POWER.
Safety Equipment Fire extinguishers, Life raft and flares (2011). Fire blanket, Various harnesses. Lifebuoy and Dan buoy, MOB rescue sling. Firdell Blipper. Henderson bilge pump and Electric bilge pump with float switch.
SUZUKI 2.2HP OUTBOARD. AVON REDSTART DINGHY with Oars. Many fenders, various mooring lines, S/S springs x 4.
HULL PAINTED AND ANTIFOULED 2012
SOLD!!!
further reduced to £16,500.00
. Lying Newhaven Marina
12/13
---
Believed Sold: 30ft Waterwitch 'Shanty Sails'
Maurice Griffith, Timber built Waterwitch for sale, in excellent condition.

It has had a wheel house installed with polycarbonate windows and glass which adds extra storage space for coats, shoes and a whole other room, insulated and has low energy down lights for nice lighting. Tiller Steering.

Engine 1x diesel 20hp, Bukh DV20 Dynastart Fuel Capacity 2x 41.0ltr (9.0G) Engine Raw Water Cooled, Shaft Drive, Prop 3 blade bronze. Fuel consumption (approx) 2.2 ltr (0.5 G) /hour At 5 knots Cruising Speed.

Dimensions
LOA 9.20m (30'2")
LWL 8.00m (26'3")
Beam 2.50m (8'2")
Draft 0.90m (2'11")
Displacement 3,500kg (7,717.5lbs)
Headroom 1.80m (5'11")

Ketch rigged, Proctor Aluminium spars, with stainless steel standing rigging

Sails
Mainsail Roller boom
Headsail Hank on
Halyard winches 3
Sheet winches 2
Other sails mizzen

Spacious accommodation with 4 single berths which have the potential to become 2 doubles, new bed installed of 4inch foam. New wood burner stove with double flue pipe. Water Capacity 1 Gallon container.

Extra Equipment:
Navigation Lights
Compass
Sail covers
2 anchors (Plough and Danforth) 31.00m (101'9") of chain
11 Fenders

2 new 12V batteries

2 Life buoys
2 Bilge pumps (1 manual, 1 electric)
2 Fire extinguishers

Includes: Cooker, Grill, Oven, Sink, , new 12v energy efficient spotlights in cabin and forepeak, new 4 inch foam mattress and led strip lighting in wheelhouse, 2 new 12V batteries and new galley re-fit.
lying in half tidal mooring, North Devon
reasonable offers accepted......

Contact Francesca Owen via http://brixham.boatshed.com/maurice_griffiths_waterwitch_30-boat-156406.html
Removed from our listings as apparently no longer for sale....
---
Withdrawn from Sale: Golden Hind 31 'Tiger Lily'.
Golden Hind 31 - Serial no. 167
Commissioned - 1982
LOA - 31ft. 6ins. LWL - 26ft. 9ins. Beam - 9ft. Draft - 3ft. 7ins. Displ. - 11,600lbs
If you are looking for a 'go anywhere' boat, 'Tiger Lily' is for you. Fitted out very professionally by an engineer from an Erskine GRP hull between 1976 and 1982, she was obviously intended to be self reliant and independent of the pampered South Coast marina lifestyle. The minimum of shiny bits, wood or metal, she has a tough, almost working boat feel to her. Cruised extensively in the Irish Sea and the Channel Islands she will take you to places fin keelers fear to tread. Priced competitively but open to offers as I have had to reluctantly swallow the anchor due to health issues. What will remain will be the memories of those days and nights at the helm heading out for each season's new adventures – sob!
Construction
GRP hull by Terry Erskine Yachts, Gelshield epoxy coated. Epoxy fibreglassed sheathed 10mm marine ply deck. Encapsulated cast iron keel with galvanised steel plate bilge keels.
Accommodation
6 berths: - Double and single settee berths in saloon. Quarter berth. V-berth in forecabin. Galley and chart table in saloon. Standing headroom. Heads compartment.
Domestic equipment
Gimballed Taylor's paraffin cooker. Electric twin hotplate hob. Electric kettle. Full set of cutlery, crockery, bowls, plates, mugs and glasses. S/steel sink with fresh and sea water via foot operated pumps. Plastimo toilet and Porta Potti. Wash basin with fresh water via hand pump. 130ltr. flexible water tank.
Engine
Lister 15hp SW2M twin cylinder diesel with manual gearbox. Electric and hand start. Two 42ltr. s/steel fuel tanks.
Equipment
Henderson manual bilge pump. 12v. battery with isolation switch.
Electronics
Autohelm 2000 self steering. Aquamarine 5600 VHF. Stowe Micro 210 Log. Echo sounder. Garmin 120 GPS. Plastimo Contest bulkhead compass. Seafarer handheld compass.
Safety Equipment
Two horseshoe lifebelts in s/steel guardrail holders. Various lifejackets. Harnesses. Two tape jackstays. Fire extinguishers. Fire blanket. Danbouy. Navigation lights. Anchor shape. Radar reflector.
Miscellaneous equipment
35lb. Plough anchor. 30 fathoms 3/8in anchor chain, plus spare 12 fathoms of same.
CQR anchor. Vetus windlass. Cockpit cover. Plastimo 8ft. inflatable dinghy. Assorted fenders. Boathook. Numerous warps. Boarding ladder. Bosun's chair. Galvanised pulpit, pushpit and stanchions with twin Norselay galvanised guard rails.
Rigging and Sails
S/steel forestay with Norselay galvanised remainder. Rotostay headsail reefing. IYE anodised aluminium mast. Pine boom fitted with Kemp Packaway combined lazyjack/sailcover for two point slab reefing. Mainsail, furling Genoa, light weather
Genoa and small jib. Pine whisker pole. Two Harken 16 Genoa winches and handles. Halyard and reefing winches on mast and boom.
Was Looking for approx. £20,000 but open to offers from someone able to provide a good home for a much loved boat. 2014 boat withdrawn from sale and the owners hope to enjoy using her for some time!
Moored in Poole Harbour.
Contact no.
8/11
---
SOLD: Sailor VHF radio.
You know the big green robust radio of commercial fame. Recently serviced, boxed with new handset.
Will receive channel '0'.
Offers,
contact: Tony Nelson
01/11
---
S
old: Emergency VHF antenna.
An emergency VHF aerial, sealed in tube for use if and when main masthead antenna fails or is lost.
A good bit of safety kit for the serious cruising sailor. Tie to broom handle or boat hook to gain height and thus range! Comes with standard VHF plug to fit all main set VHF sets. (i.e. Not for hand held radios.)
New and unused, £35.00
Collect from Essex or can post to UK address for £4.00
contact john
1/14
---
Sold: Ali mast steps
Ali mast steps, 'D' shape, to fit side of mast. I have approx 40left, they were made for me. I have used some and a friend has more on his boat, these are surplus to requirements. For anyone 'reef spotting', a must! £6.00 each, spaced at approx 2 ft intervals alternately, either side of mast, makes mast climbing easy!
Contact Tony Nelson Lincolnshire
01/11
---
Sold: 'Elver' Goosander 23, junk rigged
An unusual junk rigged derivative of the Goosander 23'. I have attached photos of her but basically the only difference to the standard Goosander is the fact that the mast is seated further toward the bows.

The boat is plywood constructed with a chine hull. Three years ago she underwent a full strip down and epoxy resin from top to bottom. The hull is copper coated. She is in good condition but in places the finish could do with some touching up. The engine is a Vire 7hp inboard two stroke in good condition with a full rebuild two years ago. All engine bearings and consumables were renewed. The sail and rigging (no need for standing rigging as junk) is in as new condition. There is an older spare sail.

I would like to sell the boat as we have now bought another boat. After doing so much work my main concern is that she goes to a good home so I am not too concerned about making a lot of money. £1500 would make me happy.

The boat is ashore adjacent to Ardoran marine, Argyll & Bute, PA34 4SE. She sits on a serviceable launching trailer but could not be towed by road.

If possible I would like to let your members know that the boat is for sale. She is very unusual and extremely pretty, she deserves a good home.

Contact Andrew Hodge
Believed sold, can anyone confirm???? Yes Andrew has been on, a member of his family has taken it on, more for the Goosander site page when I get it.
4/14
---
SOLD: Golden hind 31,
"Ceilidhe II"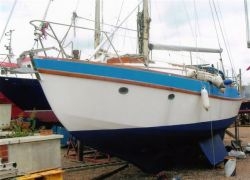 Built 1970 by Hartwells, hull number 114
Construction: Marine ply, GRP sheathed, long keel with bilge plates
LOA: 9.6M
Depth: 1.37M
Beam: 2.74 M
Rig: Sloop
Engine: Lister SW 15hp 2 cylinder

Accommodation:
5 berth in two cabins including 2 V berths in fore cabin and 3 in the saloon. Headroom 6'2". Twin burner cooker and grill (space for full size cooker). SS sink with manual water system. Fridge. Taylor's diesel cabin heater. 240v ring main.
Separate heads compartment with new Baby Blake to be fitted. FM radio.

Navigation:
Wind direction at masthead. Raymarine auto pilot (new 2007). Sestrel steering compass plus new Plastimo Conquest bulkhead compass to be fitted. GPS. Full navigation lights. Sailormat Windvane self-steering gear. VHF Radio.

Safety Gear:
Life raft. Jack stays. Electric and manual bilge pumps.

Deck Gear:
Stainless Steel push pit, pulpit and guard wires. Spray-hood. Spray dodgers. Full cockpit tent, zips to sprayhood. Life raft stowage platform to be fitted. Sheet winches. Halyard winches and clutches. CQR anchor, Kedge anchor and chain, manual windlass.

Fuel and Water:
Fuel capacity 40 gallons, water 30 gallons.

Engine:
Lister SW 2 cylinder 15 HP inboard diesel (1970) with raw water cooling. Consumption approximately half a gallon per hr at a cruising speed of 5 knots. Shaft drive to two blade fixed propeller. Alternator charging 3 x 12 volt batteries (all new 2011)
Engine re-built 2006, recently removed (2013), serviced, repainted, all bilges cleaned and re-painted, and engine reinstalled.

Sails & Rig:
Slab reefing main (Wilkinson 2007) with mainsail cover and lazy-jacks. genoa roller-reefing system with furling No 1 genoa, No 2 genoa, No 1 jib, No 2 Jib, No 3 Jib, Storm jib (new), Spinnaker. Alloy mast and spars (new boom 2010 with stainless steel 7mm standing rigging (new 2009). All lines led aft to cockpit

Ceilidhe II has had only 4 owners from new. She has cruised the Mediterranean extensively, passing through the French canals in both directions. The previous owner started a refit in preparation for a long cruise but was not able to realise that ambition. His 2010 survey is available. I acquired Ceilidhe II in July 2010, sailed her for a couple of seasons and then continued the refit; "Anno domini" dictates I no longer have the ability to complete the job. She lies ashore, can be launched and sailed as she is but really needs cosmetic completion and the fitting of the new toilet and compass, plus a repaint. Priced to sell, including a 10ft classic style double diagonal dinghy in need of some restoration, with a serviceable but old road trailer & a Seagull o/b.


Price: £8750
Lying: North Kent

Sold 4/14
---
Sold???
"GREBE", YACHTING MONTHLY 3 TONNER.

Built at Wyatts of West Mersea, Essex in 1955 to special order of customer with special modifications designed by Alan Buchanan himself.
Modifications include through cabin with no lower foredeck, raised after coach roof, bulkhead forward of mast position to give two berth separate cabin forward intended for children.

Boat is in a reasonable condition and includes a Volvo 1MD diesel engine (c1971), two berth main cabin, Bermudan rig (three quarter) plus usual equipment: anchor (CQR), chain, warps, fenders etc.
The hull needs attention and is in the process of having a topside plank replaced. Also comes with drawings for the original.


Laying afloat at St. Osyth Boatyard in Essex. £3000 ono.


Please contact John Bloom on 0778922769 or via email simon.bloom3 at ntlworld.com these contact details no longer work so we are assuming SOLD and owner moved on.

1/08

4/14
---
STEEL BUILT EVENTIDE 26 FIRST LAUNCHED AUG 2004
· The hull decks and superstructure were constructed from steel, grit blasted to SA 2.5 standard inside and out ie white metal. then painted with 2pack epoxy.
· The underwater profile is a deep box section centre keel filled with lead blocks. twin bilge keels, and a large skeg. Transom hung rudder. (This profile practically eliminates weather helm)
· The engine is a 1gm YANMAR and has logged less than one hundred and fifty hours running time.
· The sails mast and rigging came from an earlier eventide which sailed from Lytham, and consist of aluminium mast, mainsail, genoa, working jib, and spinnaker all well used but still in decent condition.
· NASA sounder, NASA compass. MIDLAND VHF. CQR anchor and chain. spare cqr anchor, prop shaft deep sea seal.
· After 10 seasons on the water the paint work has stood up to its task very well and there is no corrosion whatsoever on the hull which is as sound as the day she was built. However a new coat of paint would look nice.
· Because of my age (now 77 and the reason for selling her) the boat has been fitted out as simply as possible just for day sailing, so for any serious cruising, further fitting out would advantageous. However there is absolutely no structural work required, and she could be sailed now.
· The boat is currently on winter storage ashore at Beaumaris Anglesey, and is now up for sale. She has been deliberately left in "End of season condition" to avoid any interested purchaser thinking that the boat has been "tarted up" to conceal any problems.
· Offered for sale for a bargain price of £2,000 to a good home.
· Ray Royds
5/14
---
Sold or rather Donated....... FREE to a good home. Eventide 24, ex 'Spirit of Liverpool' ex 'Shuay Sing'.

I h

ave an EVENTIDE 1957 24FT. Now like me suffering a bit from old age .Timber built in Singapore ,mostly Teak AND Mahogany with a Ducati inboard engine (in sound condition ). At 85 and registered disabled I have to reluctantly get rid.

She is in need of restoration as she has some soft rot. I'm willing to give away free of charge as I no longer whish to pay mooring fee's .

I will let the first person who can collect, take her. She' s berthed at Liverpool Marina, but is without road trailer.

Contact Bill

6/14
---
SOLD:

Eventide 24 mainsail Tan!

Sail number YME 251 on sail, (removable!)

'Windward' make

Luff 23'9"

leech 25'6"

Foot 10'3"

Fitted luff slides for track approx 3/4 inch and foot has bolt rope.

Batten pockets, no damage very good condition .

£60

6/14
---
Sold:-
Mainsail cover for above
12ft long blue heavy PVC no holes or tears but a few rope scuff marks
---
Sold: Rudders for Senior.
Choice of two, both with ali drop plates, a snip at £20.00 each
Proceeds to EOG funds, donated by John Stevens, collect from Essex.
Contact John on 01621 778859
Or mail Contact us at enquiries@eventides.org.uk
5/12
---
Sold: 'Athaena', 26ft Athaena Class
'Athaena' is in full service, everything works, she is sailed regularly and ready to undertake any voyage!
'Athaena' was designed for and built in 1979, marine ply on Iroko, by Allan Solly, a professional cabinet maker and amateur boat builder. She was the first example (and as far as I'm aware only) of the Athaena class. However, because of the cooperation between Maurice Griffiths, Allan Solly and Terry Erskine, she was effectively the "pre production prototype" for the Golden Hind 26, hence the sail number 'GH 0'. We are now not sure she actually has any sail number....
The deck and most of the cockpit are made of teak, the cabin sides in mahogany and the interior in mahogany or mahogany faced marine ply. She has the more attractive stepped coach roof. Athaena is rigged as a cutter sloop with a mast taller than the standard for her class and a 3 foot fixed plank bowsprit. LOD is 26 feet and LOA with the bowsprit is approximately 30 feet. With her traditional tan sails and extensive woodwork (Treated with Coelan) she is admired as an attractive boat by all who see her. With standing room, a fixed galley, fixed chart table, enclosed heads and fully usable v-berth in the fore cabin, Athaena offers a level accommodation that shames modern boats of a similar length.
She has recently completed a voyage from Hull to the Exe during which she proved herself to be an very capable and reliable cruising yacht.
A
thaena is being sold 'ready to go' with a full inventory (too numerous to list everything) of equipment including: Recently 'factory' refurbished Bukh DV10M engine, Full suite of sails and storm jib, Gimballed Taylors brass cooker, Taylors Brass Cabin Heater, Sestrel Compass, Fully integrated Raymarine electronics including C Series plotter, ST40 Wind, ST40 Speed, ST40 Compass and ST40 Depth, B744 Hull Transducer, ST2000 Autohelm (fully integrated with plotter), Raymarine DSC VHF, Digital Yacht AIS receiver (fully integrated with plotter)
Safety equipment: Seago ISO 9650 4 Man valise Liferaft, 2 x Ocean Safety Commodore Lifejacket (auto), Ocean Safety RORC Spec Horseshoe, XM Oscar Man Overboard Recovery System, RORC spec Dan bouy, In-date Coastal Flare pack + 2 x White anti-collision flares.
2 x Numax (purchased 2013) 110Ah dual purpose batteries, 60W Semi flexible solar panel and twin battery solar charge regulator, CQR Main anchor and kedge, Full set of fenders, mooring lines, boat hook, deck brushes, buckets, cover etc, Hull fittings for Hydrovane self steering.
She is currently in full service and moored on the River Exe and is available to view. Mooring can be included in the sale price if required.
Christian Skeels
7/14
---
Sold: Steel Riptide hull, newly built. 'Ayesha'
32ft STEEL RIPTIDE HULL FOR SALE.
Length on deck, 32ft
Waterline length 26ft
Beam, 9ft 6 inch
Draught 3ft.8inch
She is built as follows,
KEEL BOTTOM, 12mm plate.
KEEL SIDES, 4mm plate,
HULL, 4mm plate to first chine.
TOP SIDES, DECK, AND COACH ROOF, 3mm plate.
FRAMES, 6mm x 50mm flat bar.
CHINES, 18mm solid bar.
She was build using grade 40B mild steel, mig welded fully inside and out, frames stitch welded to hull. All weld seams below the water line were dye-pen tested for porosity and any remedial work done, (there were 2 very small areas which were ground out and re-welded).
She was then grit blasted and immediately coated with an epoxy based blast primer. The main paint system was then applied which consisted of 2 coats of epoxy primer, 3 coats of epoxy under coat. She was then well keyed and top coats applied which were 2 oil based undercoats then 1oil based gloss top coat, she still requires further oil based finished coats, the decision to use oil base finish coat is so that it will be much easier to maintain where ever you are and it does not fade and go chalky in tropical sun as epoxies do, you can also obtain and apply oil based paint anywhere in the world.
She is a long keel cruising boat but she also has the option to have bilge keels fitted if you wanted to keep her on a mooring that dries.
There is a bowmar deck hatch fitted in the fwd end of the coach roof, and a traditional custom made opening hatch in the middle of the coach roof above the saloon area.
There is some of the internal joiner work fitted but this could easily be removed to give you a blank canvass to create your own lay out should you wish.
The engine beds are fitted as is the stern tube, rudder tube and rudder bearings, the rudder is also completed but requires painting, the steering is made to be via a wheel, and provision is made to fit an emergency tiller but the steering system could be changed to permanent tiller if you wished.
The cockpit has yet to be finished and was planned to be done in timber, but could also be done in steel if wished.
She is sitting in a purpose made cradle that will come with her.
'Ayesha' was not built to be a gin palace, she was built to be a strong live-aboard cruising boat that will take you anywhere you wish, she is the perfect size for a couple wishing to live aboard, and she could be sailed single handed if needed.
She has not yet had any ballast fitted and as such only weighs about 2 3/4 tons so you will be able to move her on a large trailer. I will be in the UK and available to help you move her for 10 days after the auction has finished, and she would need to be moved in that time as the property is being sold, I may be able to get the new owners of the property to extend that time frame for a short period but I will not be here to assist.
Please feel free to contact me to arrange viewing, which I recommend if you are serious about buying her.
The reason I am selling "Ayesha" is due to me now living in France and sadly will not be able to finish her.
Offers invited..... Should be worth £5,000 or more.....
I can be contacted on 07739260499
cash payment would be the preferred method of payment
please contact me if you would like more pics of the build.
5/12
1/13, may have sold can Rachael confirm???? October 14, Yes confirmed sold, will the new owner step forward please!
---
Sold – Yachting Monthly Senior, 'Polly'
16ft plywood pocket cruiser. Good condition. Built 1974 and carefully maintained. Aluminium mast, wooden boom. Bermudan rig. Jib on furling gear. Sails well and has proper fittings for rowing. Lifting metal centreboard. Mast in tabernacle for easy raising and lowering. Lifting outboard bracket (but motor not included in sale). Double axle trailer. All-over professionally made acrylic cover. Cushions, warps, fenders, clock, barometer, oars etc all included.
I have owned Polly for four years and cruised her on the South Coast. Regretfully selling as insufficient time to use her.
Sold was asking £1500
Located ashore Lymington, Hampshire.
Brian Marsh
10/14.
---
SOLD: Roller reefing genoa.
Red Roller reefing Genoa. Sacrificial strip, luff tape and rope for roller spar.
Luff 23'9"
Leech 22'
Foot 10'9"
Sail maker 'Austin Farrar' No tears, little grubby, could do with wash. grubby at clew
Very good condition overall, heavy cloth
£50.00
Contact john 01621 778859 (Essex)
10/14
---
SOLD!!!!: Waterwitch 30 'Blackwater Witch'
formerly 'Dougaljo'.
This Waterwitch has suddenly come back on the market unexpectedly, she was only sold last spring.
Full details can be seen here. http://www.foundryreach.co.uk/viewvessel.asp?id=175
She is now for sale at.... wait for it......
£15450 October 2014 dropped a little to £12,000.... sold for £10.k realistic
Those who saw her on these pages last winter may be rather surprised at the apparent doubling of value, I am!!!
List of surveyors on our Links pages!
10/14
---
SOLD:- 70 amp Diode splitter.
One 70 amp capacity diode splitter left now, one sold. Shure Power make. 2 way and used to split the charge between 2 battery banks. Was used in conjunction with alternator controller to keep banks of batteries charged, 300amp hour, using a 35 amp alternator. So not pushed to the limit ever!
Will sell for £10.00.
Used, but in perfect working order, removed from 'Fiddler's Green', replaced with 'X-Split' to suit new 'X-Alt' charge regulator.
Contact John on 01621 778859 or enquiries@eventides.org.uk
11/14
---
Sold:- Kestrel 90 Alternator controller
similar unit.
Used 'Kestrel 90' alternator controller, with full instructions. A few years old and not 100% certain that it works, but it did when it was removed by an electrician from Doug's WW., just because he did not know how to reconnect it! I have downloaded all the instructions. A simple device with no frills, but it will get the charge in the batteries and can be used with a diode splitter.
£10.00. Collect from Essex or can post in the UK for £6.00
01621 778859 or enquiries@eventides.org.uk
10/14
---
SOLD
: Mercury 4.5hp outboard

Approx 1980 4.5 hp Mercury 2T motor, Long shaft, Forward Neutral and Reverse gear shift! 50:1 mix. Test tank tested, runs, have video clip of it running in tub as above I can send.
Belongs to friend Richard, who has swallowed the anchor.
Spent last 20 years laid up in a barn, think it may need the waterways de-scaling, have checked pump, that is OK, pumps water fine but seems a little warm. Gearbox oil changed, whilst inspecting pump!
Paint work, as you can see in very good order. Remote tank, fittings, tank may need replacing, as it is an old steel one.
£250.00
sold instantly!!!
Collect from Tillingham Essex.
contact John on 01621 778859 or via the website mail, enquiries@eventides.org.uk
10/14
---
SOLD: job lot of gooseneck fittings
Suit large dinghy or maybe boomed staysail? 3 different fittings.
£15.00 the lot
Contact John on 01621 778859 or via enquiries@eventides.org.uk
posted.
1/14
---
Believed sold no answer to mail.....
: Instrument panel. removed from Eventide

fully populated with the following -
Saisho all band receiver (AM/FM. LW/MW/SW/VHFFM)
SAE Echo sounder (no transducer, but any standard model OK)
Smiths impeller log
230V 50Hz inverter about 100Watts
Dancom RT408 VHF all international channel radio telephone
Barometer, aneroid "tap-it" type
Volts and amps meter for a solar panel (not supplied)
Map light, 12Volts
Star aft bulk-head fitting for Eventide 24/26
Be reasonable and offer me £95.
Can be picked up from central London or Gloucestershire.
I also have a boxed sailing compass, fully gimballed.
Contact Trev on 07717434428 or email trev45 at hotmail.com

Regards
Trevor Haydu-Jones
7/12
---
SOLD: Pair of new STAINLESS STEEL Bilge Keels for Eventide 26
Standard shape and length fore and aft.. 59 inches, (same fore and aft length as the ones on F.G. ) However depth 18", a couple of inches shorter than mine, (as I deepened the main keel!) or I would have kept them for the day I needed to replace mine! (Foot length 34 inches) Made from 8mm thick Stainless.
And yes I did say Stainless Steel!
These new plates were fitted to an Eventide but never immersed! Boat was sadly broken up. rotted from the top down... Coated black antifouling but the stainless is visible and obvious. Knowing how much a pair of mild steel ones cost over 20 years ago, these must have cost a packet!
These are a snip at £175.00 for the pair. 10% donation to EOG from sale.
SOLD
Collected from Essex. (Got both in the back of my Moggy van OK, just!!)
12
/14
---
SOLD, Eventide 26, 'Merrywake'

She was built by professional boat builder, Johnson & Jago in 1974.
'Merrywake' sails beautifully and is a very safe sea boat, triple keel 'Merrywake' has been built to the 1960 Maurice Griffiths design.
Overall Length - 26 feet
Beam - 8ft 4in
Draught 2 ft 6in
Originally cutter rigged presently rigged as sloop, it would be easy to convert back if required. Slab reefing main and roller furling genoa. the sails are in excellent condition.
The engine is a Volvo Penta MD 2010 marine diesel. This engine was new in 1998 and has done 300 hours approx.
'Merrywake' has been completely stripped back to bare wood, sanded and made good where necessary. Completely repainted with Joton paint.
All new marine LED navigation lights fitted, also all new interior marine LED lights fitted.
New bespoke hatches made and fitted this summer. Keel bolts withdrawn for inspection last year.
Full equipment list on request items include :-
VHF Radio, Garmin GPS152, Clipper duo log and depth, Plough anchor with chain, Mooring warps
Cockpit cover - new this season, Sail Cover - new this season
Presently moored at Axmouth in East Devon
SOLD for around £4000.00 ?
12/14
---
SOLD : GOLDEN HIND 31 "Adienne"
Excellent example of this popular cruising yacht, build 1968 of marine ply on mahogany by Hartwell Marine, and rigged as a cutter with rolling Genoa plus inner jib.
Hull & deck Cascover sheaved. Volvo MDB30 engine in 1994. Substantial refit in 2005 including new mast, sails, rigging, electrics, galley etc etc.
Full inventory of good and recent kit. Sails valeted by Suffolk Sails each winter.
Sailed each summer between Biscay and Holland, stored ashore under winter-cover during the dark months. Carefully maintained and ready to launch now for 2014 season, and will be cruising in the Netherlands unless sold. Based S E England.
Sold for less than this drastic price reduction autumn 2014.... £ 12,950
Ken Marsden
12/14
---
Sold: Swing up/down outboard bracket.
V

ery well made 316 stainless outboard bracket. Locks both up and down, spring loaded. Sold for friend Richard along with a few other items on this page!

Collect from Tillingham Essex. could be posted....
sold for £30
via the website mail, enquiries@eventides.org.uk
02/15
---
SOLD: 8 Gallon (36 litre) approx. Heavy stainless fuel tank.
A stainless steel, heavy quality, fuel tank. Fitted to 'Fiddler's Green' 24 years ago to supply a Stuart Turner petrol engine. 20 years ago converted for diesel with the addition of a Tee fitting so the top fitting could double as bleed back as well as air vent.
Has been in continuous use aboard for 24 years and inside still shiny! (Replacing with a 16 gallon tank under cockpit sole!)
Filler extends down to near bottom of tank. 1 & 1/2 inch or 38mm
Drain and vent/bleed back. 3/8 or 10mm
Measurements:- 24 inch x 10 inch x 10 inch
collect from Essex.
Sold for £40.00
02/15
---
Sold: New and unused set of bronze toilet sea-cocks.
Set of 2 Bronze Sea-cocks, inlet and outlet , quality make SWMF. Unmarked.
Sold at half price at £150 pair. includes 10% donation to EOG by seller.
Contact John on 01621 778859 or via enquiries@eventides.org.uk
Collect Essex or can post.
2/15
---
Sold, Tidal Atlas, Thames Estuary
Found I had 2 copies of this one on board, this is the older one and still valid, (streams have not changed!) A few pencil marks inside shows it has been valued and used!
Sold to a serious sailors!
New price £10.00 Sell for £5.00. can post UK for £2.00
Contact John, 01621 778859 (Essex)
Or mail at enquiries@eventides.org.uk
2/15
---
Sold: Pair of oars.

Ex Mirror dinghy Oars, need a tidy up and coat of varnish.
£10.00.Sold
collect from Tillingham Essex.
Contact John on 01621 778859
or mail on enquiries@eventides.org.uk
02/15
---
Sold: Whale Gusher Urchin bilge pump.
Brand new in box. With handle and through the deck fitting kit.
£35.00 sold
collect from Essex or can post, in UK £8.00
Contact John on 01621 778859 or via enquiries@eventides.org.uk
02/15
---
SOLD: Cruising chute for Eventide 26.

Only used a handful of times, but a joy to see flying and makes all the difference in F2 and 3's! Made by Kemp sails. Blue and pale blue. The green fiddle has since been removed!!
Reason for sale? I now have a new green and cream cruising chute with larger fiddle, all the colours to match our boat! (Fiddler's Green)
No tears, no damage, still all crisp and new feeling!
Sold
for £199

, a fraction of it's cost.

contact John Williams 01621 778859 Essex

or mail at enquiries@eventides.org.uk

3/15
---
Sold: Avon Redcrest , inflatable thwart, seat and bracket

Seat Sold
Bracket Sold
Inflatable thwart sold
Contact john 01621 778859 (Essex)
3/15
---
SOLD: 'IVORY GULL' Unusual junk rigged Lone Gull II
GRP Lone Gull 2, designed by Maurice Griffiths rigged as Junk Schooner
32' LOA, 28' LOD, 9' maximum beam, 3' 3" draft, 5 tons displacement
Long keel with bilge plates, Encapsulated iron ballast
Built 1991 by Brue Yachts
Fitted out by David Tyler (former chairman of the Junk Rig Association) 1995
17 hp Beta diesel
Double berth plus Two single berths in saloon
Galley, Chart table, Spacious heads, Refleks diesel cabin heater
Equipped for day/weekend/holiday coastal sailing
The interior is beautifully designed as a comfortable two person live-aboard
Lying - River Hamble, Hampshire, UK
Ivory Gull's convenient mid-river pontoon mooring is available for immediate transfer with the vessel
SOLD after drastic price reduction.....to £15,000
If Carlsberg did junk schooners...
For full details and to arrange viewing please contact:
Gerry O'Brien
Tel: xxx xxx xxxxx
3/15
---
<![if !supportLineBreakNewLine]> SOLD

:- 'Lady Gertrude', Eventide 24.


<![endif]>





Many hours spent renovating this fine cruising yacht in 2011.


This Plywood boat has been completely scraped and professionally re-sprayed, aluminium plates used to strengthen upper deck and around portholes. Upper Deck strengthened with epoxy resin and non-slip grit.


Steel bilge keels, powered by a recently overhauled inboard diesel Lister motor with a three blade prop.


Full serviceable rigging complete with main and a choice of three jib's, storm, stay and a cruising chute all in good condition.
This boat was on a swing mooring in Anglesey, close to the shoreline, however the boat comes with a full steel towing trailer, so is able to be transported anywhere in the country.


The boat is now back in Lancashire, on its trailer



This boat has been sailed around the British Isles by the previous owner and still carries the full log.

(We want to see that!!!) Andy has sent in a couple of logs for Dave Green, and they will appear on the Logs page.

£1850.00 (Open to reasonable offers.!!

) SOLD

!!

Contact: Andy

Telephone (Daytime)

4/15
---
SOLD: Wykeham Martin Furling gear
Size 2 B, good for up to 100square foot, ideal Eventide or WW staysail.
Nice heavy quality bronze with both parts , top and bottom drum and all pins.
£30.00 SOLD to Albert in the Netherlands
Contact John 01621 778859 or mail
enquiries@eventides.org.uk
4/15
---
Sail SOLD:-
Tan Jib staysail. for E24.
Wire luff 18'3"
Leech 16'
Foot 8'4"
Slight hole with tell-tale covering it! Dusty, no repairs, no other damage, some sun fading on leech
SOLD for £20.00
Contact john 01621 778859 (Essex)
4/15
---
SOLD- High cut Yankee Jib, small, Tan. 'Windward sails'.
Luff 14'3"
leech 10'9"
Foot 5'6"
Little used, no damage just a little grubby, will wash clean. fitted piston hanks.
Sold for £20.00
Contact john 01621 778859 (Essex)
4/15
---
GH 31 'Old Cataract' free to a good home!!!!!
Last year I bought the Golden Hind 31, Old Cataract, she needs extensive restoration and unfortunately I have not found the time to do so. The Old Cataract was built in 1967 and has Sail no. 18.. The Old Cataract still has its original rigging (with a modification for lowering the mast) and onboard Volvo diesel engine. She comes with a full set of sails (including spinnaker and storm sails) in good condition. Deck and Cabin need extensive repairs.

Available for free pickup. Ashore in the Netherlands

Contact Johan Vermij johan at vermij.org or +31 (0) 6-50 621 245

5/15 gone to our Netherlands rep Chris!
---
SOLD : Lone Gull II 'Gooney Bird'.
Lone Gull 2

'GOONEY BIRD'

This boat has an amazing history, traditional, very roomy, comfortable and at times fast. Lots of gear.

Lister diesel, jib, genoa, main, storm jib, trysail, ghoster, 4 anchors, Aires self steering, 4 berths double in saloon, double fwd, vhf, tools, charts, warps, stainless tanks, etc etc

Ashore Falmouth

ready to sail but in need of some tlc hence price

£12,500 reduced price to £8500.00 October 14. further reduction to £5,000!!! SOLD!!!!
5/15
---
<![if !supportLineBreakNewLine]>

SOLD:

<![endif]>
Eventide 26 'Camelot'
<![if !supportLineBreakNewLine]>
<![endif]>
Camelot is an Eventide 26, gunter rigged and restored by a former owner Roy after years in the Mediterranean.
Current owner is forced to sell after only having owned her a few months, as he is moving north.
She is presently ashore at North Fambridge, Essex.
Anti fouling done 4mths ago & all painted up to decks, decks & roof need a touch up. Engine is 10hp Bukh & runs well.
Sails have been laundered.
I have a 4 ring hob & a small separate oven & a 12v fridge I bought to go aboard.
Price for quick sale
£800. SOLD
5/15
---
SOLD: Golden Hind 31 'Verulamia'



This 1971 Hartwell's [sail no 116] 4 berth is sheathed marine ply. Only had 2 owners & now back in original family ownership Part 1 Registered


£10,000 spent since 2007 including new sails, rewiring, winter cover, timber restoration, new upholstery, toilet, New Genoa, mainsail, jib, receipts available. Auxiliary power is from a Lister Blackstone 18hp diesel.




B&G Harrier log, echo sounder with cockpit repeater, steering compass ,Sestrel H/B compass, VHF radio,2 burner cooker, s/s sink with fresh domestic water, cold box. 6ft + headroom, separate heads .Plough anchor, chain, windlass, fenders warps etc


Valued with 2007 survey at £13,000, before all new equipment & refurbishing work was carried out.




A good solid sea boat, selling due to family commitments.

This boat must be sold so come and make me an offer. More photos available.
Ashore nr. Emsworth Hampshire
'Reduced to £14,950 SOLD we understand, some time back......
reg stacey
6/15
---
SOLD: 'Everjoy' Eventide 24.
Eventide 24, sail no 473, bilge keels, cutter rigged with bow sprit, new s/s rigging and bottle screws
Refitted over last three years, weight added to ballast keel, transom hung rudder fitted.
Tan main and staysail, orange jib.
Yanmar 8 hp diesel, rubber mounts, new prop and shaft, 10 gallon tank in transom, two batteries, .
New two burner stove with grill, propane gas bottle in cockpit, new s/s sink with pump ,20 gallon water tank in bilge.
New Suunto bulkhead compass, Nasa digital log and sounder.
New whale bilge pump fitted in cockpit, New electric bilge pump in bilge.
Cabin fitted out to good standard, three berths and one child's .
And much more please contact me for more info, owner retiring from sailing,
Boat afloat on pontoon mooring at Fosdyke Yacht Haven , on the River Welland , Fosdyke Lincs,
£2,500 or vno,
SOLD!!
5/15
---
SOLD:- Golden Hind 31, 'Charisma'. sold as a project.
Photos show the need for cosmetic work... Can we find a loving home for this much loved, much travelled craft?
31 footer 'Charisma', building nr. 198.
Built in Plymouth, UK, by Terry Erskine in 1979.
I bought her one year ago in Holland.
Bought her from a Mr. Korthals, who worked before in the yacht business in the USA, Florida.
He sailed her solo from Miami over the Atlantic Ocean into the North Sea and Baltic to Scandinavia: Norway, Sweden, Denmark and Germany. Then to the Netherlands.
He lived on her for a while here, but then met a lady and sailed away with her, selling the boat.
When I saw the boat in a declining state, it hurt my heart. I had a carpenter with me to check the structural construction. "Fine", he said, but the shining appearance had gone.
So I shipped her by road on a truck to Belgium and gave her a warm and dry nest in good old Antwerp.
The engine is in the front of the Charisma. It is a Lister STW. Too rusty to be repaired, the technicians said. The two bilge keels are cut off. Another specialist job. But I had to spend nearly no money for restoration of the boat, she needs paint and sweat and of course a new motor. About 500 to 1000 hours to restore her to her originality. But she is still strong.
The masts, sails and all the gear, anchors are still in good shape. But the deck needs two layers of laminated polyester or epoxy and a finish of poly paint.
I cleaned her inside and stripped all the valuable bits, as lamps, cushions, Baby Blake toilet etc. Have it all in my cottage, outside Antwerp, except of course the hull and Lister engine, it is under the roof of the Royal Yacht Club.
She is now a project with a sound hull, epoxied under the waterline, no osmosis and no hidden problems.
She is ashore in Antwerp/Belgium at the Royal Yacht Club, in a protected hangar.
I'm 72 years old and was a sailor and later a Belgian State river pilot on the Sea Scheldt River for 30 years.
My price is about 2000 English Pounds to sell her. SOLD and now in the UK being restored!
Helmut Schimek
Belgium.
6/15
---
SOLD (Eventide 24?) 'Sans Elan'

This vessel is currently in commission, moored on a trot mooring on the river Frome at Wareham, Dorset, The vessel is for sale due to the owners concern that at 76 he will not be able to continue sailing her single handed for much longer.
As can be seen from the photographs she is sloop rigged with a single long keel and transom hung rudder.
Built of 1/2 inch marine ply over a hardwood frame, she has been sheathed in fibreglass below the waterline and over all the decking.
She is equipped for channel cruising, having a sea toilet. Calor Gas oven with grill and two burner hob. navigation and steaming lights.
Nasa log and depth sounder, electric cabin lights, chart table, sink, two bilge pumps, 9hp Yanmar inboard diesel engine.
Two almost new 12v batteries, fenders, two anchors [with 100ft chain on main], halliards, sheets etc, warps, and cockpit cover.
The two main bunks and two cockpit seats are fitted with foam cushions with washable covers.
Included in the sale are a custom built road trailer and a fibreglass sailing rowing dinghy The owner is happy to arrange a short cruise in Poole bay, in order to show any prospective purchaser what she is capable of before purchase if required.
Editors note. I have added a pic of her on a trailer now and from that I can say she may be similar in general hull shape, but not like any Eventide I have ever seen. the raked transom and rudder is totally wrong for an Eventide. Were she double chine she would have been more like a Goosander 23! Could she be a Yachting World People's boat?
All the above is available for £3,000 or near offer
Please note that the photograph is not a recent one and that the hull is in need of repainting
SOLD
6/15
---
Believed SOLD: GOLDEN HIND 31 'Winfarthing'
CUTTER RIGGED OCEAN GOING SLOOP WITH FULL INVENTORY
Built in 1980 by Terry Erskine. Winfarthing is of GRP hull construction with timber coachroof and a beautiful wooden interior, finished to a very high standard. She has an impressive sailing history having visited, amongst others, the Azores, Spain, France and cruised extensively through the Irish sea in all weathers.
Winfarthing is a very stable and forgiving sea boat, able to continue where many other boats would not. She is ideal for nervous beginners and extended cruising. Regularly sailed single handed, she is very easy for a couple and can accommodate five people comfortably.
She has a full suit of sails including cruising chute and storm sails, Lister 20hp engine, fully automated battery management systems, shore power, radar, chart plotter, GPS, DSC radio, paraffin cooking and heating, autopilot, many spares and much more to be included in the sale.
Lying at Network Yacht Brokers, Conwy, North Wales.
The accommodation consists of a two-berth forward cabin, then going aft a hanging locker to port and an enclosed heads compartment opposite. The saloon with a single settee to port and to starboard a dinette arrangement. Aft and to port is the linear galley with navigation station opposite.

The furniture is constructed from Iroko/mahogany/teak. The upholstery is covered in a tan/beige leatherette cloth. The deck head is painted white, the beams varnished; the cabin sides are varnished mahogany, the hull sides lined with plywood and painted white, the saloon lined out with lockers.
The cabin sole boards are of teak and holly faced plywood.

Galley:
Plastimo 2-burner gas stove with oven and grill
Fridge
Sink

Heads:
Blakes Lavac sea toilet
Hand basin.

Eberspacher diesel heating + Taylors Paraffin heating
£26,000
For further details please contact Network Yacht Brokers
Tel: (+44) (0) 1492 580001
Email: info@nybconwy.co.uk
Web: http://www.nybconwy.co.uk
6/15. May be sold, now in Preston, can someone confirm, ex owner or new owner, to save people wasting your time, (seller).
---
SOLD: 4 man Liferaft.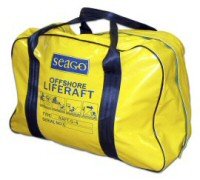 This is 11 years old and serviced every 3 years, last serviced 2 years back.
Good till spring 2016 and can be serviced for another 3 years after that, but would be out of warranty.
Reason for sale, I will be away sailing when it is due to be serviced so bought another one, identical, but only 2 years old and therefore does not need servicing till after I hopefully complete my round UK trip. Good for 10 years to see my sailing days out!
Selling for £125.00 ovno. Collect from Essex or can be couriered for £25.00 to mainland UK.
cont John on 01621 778859
8/15
---
SOLD Plastimo Neptune 2000 Gimbals and fiddle rail set.

Brand new still wrapped, complete, cost £65.
Bought to use on different make of cooker, (Nelson), but decided to use supplied ones,
so this is now surplus to requirements.
Will fit Standard width Plastimo Neptune cookers.
Contact John 01621 778859 or mail enquiries@eventides.org.uk
---
Sold...... Narwhal K-2.50 inflatable dinghy.
2.5metre long Narwhal dinghy, with original instruction sheet, pump, repair kit and oars, (not shown, but ali with plastic blades, as new.)
Excellent condition, stored last 20 years or more.
Takes 3hp outboard.
collect from Essex.
Reduced to clear SOLD for £100.00
---
SOLD: Very heavy lorry tarp, boat cover.
I can take a photo but it will not show much as it is all folded up on a wheel barrow!
Enough very heavy duty blue plastic vinyl tarp, to cover a 30ft boat.
This is so heavy it takes 2 people to open it out or fold it up!
Donated by a member after he sold his boat, to raise pennies for the group.
Collect from Tillingham, £60.00 SOLD!! donation for EOG!
Contact me, John on 10621 778859 or mail enquiries@eventides.org.uk
---
SOLD: Eventide 26 'Parami'
Parami / Eventide 26 - is for sale,
Located in Brielle – Netherlands
Inside changed a bit and some work to do..
Furthermore, complete and running engine, Volvo Penta 36 hp
By any reasonable € ............ offer
Contact Frank L Barufe
f.l.barufe68 at outlook.com

<![if !supportLineBreakNewLine]>Believed SOLD August 2015 <![endif]>
---
SOLD:- Anchor lamp.
Galvanised with paraffin burner. Very old but working! More of an ornament if I'm honest!
Approx 15inches tall, 5inches round.
Reduced to clear £10.00 SOLD
Contact john 01621 778859 (Essex)
6/14
---
SOLD Seagull Forty Plus with Seagull safety dome recoil starter fitted.

Good runner,

SOLD

collect from Essex.

Tele 01621 778859

or mail enquiries@eventides.co.uk

10/14
---
SOLD: Avon Typhoon 2.7 m inflatable
This is the tender from Fiddler's Green. New 1998 and very carefully looked after. No patches no tears, always kept out of sun, except on long passages, when stowed rolled on deck. (dark marks on tubes are muddy marks from the grass, they should have been wiped off!)
Has slat floor, so rolls up easily but has good stability when in use. Large tubes, means dry ride. Very light at 44lb!
Blue nylon storage bag, pump, repair kit, (unused!), painter, Ali and plastic oars, two part and with captive rowlocks, so they cannot be lost. All in top condition.
Only fault is the two inflatable chambers have leaked internally and are now one? Means you need only use one of the two valves to inflate it. Does not leak. The thwart is a separate inflatable part.
Replacing with smaller inflatable.
collect Essex.
SOLD for £70
9/15
---
SOLD: Steel Eventide 26 'Xercia'.
• 1995 Eventide 26' 26 Bermudan Sloop E 1952
• Steel Hull built to latest Eventide Steel drawings.
• Long keel and bilge keels
• Raised coach roof providing good head room
• separate heads with sea loo and holding tank (good for the Broads etc.)
• Saloon with galley
• Gas cooker (Plastimo) and sink
• I settee berth
• 1 well berth
• Drop down table and fold up chart table
• 10 hp Yanmar (low hours)
• NASA target depth sounder and log
• Nav Star radio
• Raytheon compass with auto helm
• Deck stepped aluminium mast with st. st rigging
• 3 sails, head sail roller reefing, main slab reefing with lazy jacks, all halyard's to cockpit.
• Vetus fuel tank
• Anchor and chain with deck mounted hand operated winch.
• Full boat cover with cockpit cover (cockpit cover tatty but would provide template for new one.)
• Life ring, fenders and warps
• Lots of bits and pieces

I also have a 10' tender and 2hp Yamaha outboard available by separate negotiation.

Due to my lack of mobility following orthopaedic surgery 'Xercia' has not been sailed for the last few years. She was built by a local professional engineer and is extremely sound and well equipped. I am very much an amateur sailor but I am told she sails extremely well and is very suited to the coastal waters of Suffolk.

She has been stored on land at Aldeburgh for the past five years and has obviously suffered from superficial corrosion. She needs tidying up but serious remedial work would not be needed.

Sold £3500.

---
SOLD: pair of Motorola radios.
Pair of small working pocket radios, claimed will transmit and receive up to 1 mile in open countryside or on the water. 22 channels. Takes 3 x AA batteries. Just over 6inch high including antenna and 2 inches wide, tiny.
No license required in UK. Kids on camping trips, off in the dinghy, (if they can keep them dry!) or for groups out sailing, walking or the like and need to keep in contact occassionally.
£10.00
will post UK for £3.50.
Contact John on 01621 778859
---
SOLD: Jabsco marine toilet.
Fitted, but never used in anger! Removed from boat when it was scrapped. Sadly the seat hinge fitting broken so needs new hinges... (listed at £7.50 at Marinestores site..)
Has a few paint drips on it in places, that seem to come off OK. Complete with all instructions.
Sell new for about £115!, asking £45.00
Contact john on 01621 778859 Essex.
or mail enquiries@eventides.org.uk
Collect from Essex.
02/15
---
SOLD:Eight
cast iron and steel ballast ingots, approx 35 to 40lb each, (will weigh one later).
Ideal to add weight to your keel or as interior trim ballast, just need cleaning and painting.
£20 the lot, collect from Essex.
01621 778859.
---
SOLD: Sail-makers Palm.

Just 1 available now, £2.00
Contact John on 01621 778859 or via enquiries@eventides.org.uk
Collect Essex or can post. UK £2.50
1/14
---
SOLD
:- Sails!
Found in loft, new in bags, were left in there by sellers father 25 years ago!
Believed made for his Eventide 26 'Tamareve' but the sizes may be suitable for an Eventide 24 as well.
Genoa, luff 23' 6" x foot £14' 3" Offers around £185
Jib, (fore staysail) luff 18'6" x foot 9' 1 & 1/2 Offers around £105
Made by Rockall, White with bronze sail hanks.
Collect from Rainham, Kent.
SOLD
12/15
---
SOLD: Atlantic Clipper 'Existence'
I make no excuses for showing every one of these great pics of her, Ed.
'Existence' is an Atlantic clipper prepared by victor and Olga and family over the course of several years and sailed by them from their home in Serbia across the Mediterranean and then across the Atlantic. the preparation for this trip can be viewed on the Restorers pages, click here.
We have just completed a check list for the brokers here in the West Indies with the most full description of the boat.
The most wonderful thing about her is that she is just ready to go right now, because we were preparing her for ourselves and did not yet use even a fraction of her potential. That's why, as we've mentioned, we don't want to leave her unattended for a long time, because everything that is new today, will not be that new in some years. She has to sail on!


Serge R.B. Dauvillier
serge@dauvillieryachting.com
www.dauvillieryachting.com
www.caribbeanyachtsales.net
+5999 670 10 70
<![if !supportLineBreakNewLine]>
<![endif]>
SOLD
our asking price was. USD 39,000.



12/15
---
SOLD: Senior 'Moonfleet'

Yachting Monthly Senior - YM1627 - Mk1 version with galvanised centreplate.
A unique opportunity to purchase Yachting Monthly Senior in superb condition.
Amateur built, to professional/expert standard. The hull is of Marine ply on mahogany and is constructed using conventional fastenings, clenched copper nails and brass screws. In addition, West system epoxy has been used throughout the build process. The deck is sheathed with glass cloth applied with west epoxy and the chines are covered in glass tape. International paint has been used with two pack polyurethane paint and varnish on the exterior and conventional polyurethane inside. The outside was primed with epoxy. The deck is finished in non-slip "Interdeck".
The boat comes with a suit of sails consisting of genoa and mainsail. These are by Rockall and are beautifully made. The main having slab reefing points and the genoa attaches to a Plastimo roller reefing spar. Gunter rig is used with an alloy mast, alloy furling spar, Douglas fir boom and gaff.
The recently fitted electrical system consists: Two "golf trolly batteries". 10 watt solar panel and controller. Battery isolator and switch panel supplying - instruments (Nasa depth gauge), LED masthead navigation and anchor/steaming lights, 12v socket.
The road trailer has been tailor made and is hot dip galvanized. It is fitted with a winch, rollers, jockey wheel new tyres and comes with a spare wheel. Included in the sale is a light board.
She has only been on the water four or five times (less than 15 days) since completion, and has been stored under cover most of the time so everything is in excellent condition.
Fully equipped for cruising, included in the sale are: Single burner gimballed spirit stove. Small sink with pump tap. 10 litre water container. Brass clock and barometer. Cockpit cushions. Bunk cushions. Two fire extinguishers and a fire blanket. Hand bilge pump. Anchor with chain and anchorplait rode. Catering equipment (camping saucepans, kettle, mugs, bowls, cutlery etc.). Two lifejackets. Rope ladder. Fenders and mooring warps. Yamaha Malta outboard motor. Portable flushing toilet (unused!). Suunto compass. Silva handheld waterproof VHF radio. Garmin GPS60. Boat hook and deck brush. Plastimo handheld compass. Sleeping bags. Sculling oar.
She currently has an inland waterways safety certificate.
A beautiful boat in lovely condition. Much admired on my only trip of 2015 to Mylor.
For sale due to lack of time to sail.
Ashore Ross on Wye, Herefordshire.
Offers around £3,500
SOLD in 2 months!!

12/15
---
Withdrawn From SALE: Optimist dinghy. 'Lightning'.
GRP Oppie with all sailing gear up to date and checked by club. Complete with all bailers, bungee cord and other gear needed to be 'in class'. Nippy boat!
Has cover, bow bumper, carry bag, padded, for rudder and dagger board, bag for sails and spars. Burgee, toe straps, mast safety clip, painter, you name it's in there!
With brand new Oppie dismountable ali launching trolley for storage at club or goes in boot.
Fits on roof of car on small roof rack, (not included.) Unless you have a suitable Mk II Renault Scenic! In which case haggle with me!
Sailed by grandson for year or so, now outgrown, not used for 2 years. (he's a big 14!!) Suit any child from age 6 upwards.
collect from Tillingham.
Withdrawn from sale to save till my grandson Raffi is bi enough to use it!
.
---
sold: prop shaft and sterntube.
3/4 inch Stainless prop shaft, 48 inches long, flange to end nut.
In bronze stern tube 29" between flanges with both bearings.
Inner white metal bearing, outer bearing rubber cutless, both with no appreciable wear.
Fitted with good condition PSS inboard shaft seal (cost £173 alone!).
Suit up to 12hp modern diesel.
£100.00 .
SOLD
01/16
---
SOLD: Whale Flipper Galley pump.
Used Whale Flipper Mk IV.

Complete just grubby, will polish up, but in need of set of new washers and valves, that cost about £10.00

SOLD

01/16
---
SOLD: Deck vent, balanced flue heater or fridge vent.
As seen on deck, approx 7inch diameter
underside of unit with outlet offset from centre.

Underside of top cover and deck fitting.
Removed
from the deck of Fiddler's Green after 25 years, but over 20 years unused!

Was a vent for a gas fridge! (my fridge had 'Davey lamp' enclosure to make it safe) .

Balanced flue device, so air drawn in from fitting and hot gasses vent and do not mix.

After fridge was changed to electric, it was left on deck, as it acted as an

air vent with connecting flexible stainless pipes removed and had never leaked,

even when it has been awash.

Just stubbed my toe on it once too often, so it has been removed and deck sealed and repaired!

A well made bit of kit, it can also be mounted on a cabin side!
£20.00 xxxxx SOLD
Collect from Tillingham or can post, £8.50
Contact John 01621 778859 or mail
enquiries@eventides.org.uk
01/16
---
SOLD: Y.M. 3 Tonner 'Petite Fleur'

DESIGNER: A Buchanan
Built in Portsmouth over a number of years in 1950's notes of build full set of drawings, potted history plus pictures. (see pics on Eventiders site) Carvel planking mahogany topsides, and below the waterline on oak and elm framework, long keel with transom stern mounted rudder; tiller steering. Stainless steel pulpit, sternrail and stanchions.
DIMENSIONS:
LOA 22' (6.7m) Beam 7' 1" (2.26m)
LWL 17' 6" (5.35m) Draft 2' 6" (0.78m)plate up

Displacement 3 tons(2989kg) Draft 4' 3" plate down.
MECHANICAL & ELECTRICAL : 10 hp Yanmar Diesel producing 5.5 knots through three-blade propeller, Shaft driven. Engine overhauled 2009. Morse controls. 2x 12-volt batteries switched and charged .

FUEL & WATER: Fuel capacity 10 gallons in a stainless steel tank under the deckhead aft of the cockpit.

Freshwater; the small plastic water container

EQUIPMENT: Navigation-no fixed chart table NASA echo sounder; Nasa VHF . Walker Knotmaster log .

Seafarer log. Plastimo compass-bulkhead fitted. Clock and barometer mounted on main bulkhead

General: 240v power cable. Fire extinguisher, lifebuoy, Bilge pump-electric; manual, cockpit, Offshore flares and container.

Deck gear : 10kg cqr anchor and nylon warp.second cqr anchor ,chain and warp. Boathook, Sheets and halyards, Mooring lines and warps. Fenders, Boarding ladder, Gaz gas bottle in cockpit locker. Winch handles x 2

SPARS & RIGGING:

Masthead sloop rig. keel stepped silver anodised, aluminium mast and boom . Stainless steel rigging renewed in 1998; 2xLewmar winches

SAILS: Mainsail – tanbark 2007

jib headsail tanbark 2007

Storm jib-white

Mainsail cover in UV acrylic blue.
ACCOMMODATION :
Cream and varnished interior. Sleeps two comfortably. Heads compartment with Baby Blake marine toilet.
The galley is equipped with a techomplex gas cooker-twin burner and grill Sink with ample stowage and worktop space above. The boat is well equipped with cutlery and cooking utensils.
This boat was built for river and near shore cruising and has ventured further afield (Isles of Scilly) with various owners her steel centreplate makes her ideal for creek crawling. Additional pics can be sent on request.
Contact-.
MOORING:
River Tamar.
2/16
---
For Sale: Golden Hind 39.
This boat is for sale on Boat shed and we have been asked to advertise it. She is believed to be the 7th built. Built 1980. 5 berth Steel built go anywhere boat! She has a long keel but the ability to safely dry out as fitted with bilge keels.
Fitted with 85hp Bukh in 1985. Lying Hayling Island. Asking £38,000 ono....
She is partly fitted out inside and a good range of photos can be seen by visiting the site.
http://haylingisland.boatshed.com/golden_hind_39-boat-135024.html
According to the record books there were only ever 6 of these Golden Hind 39's ever made. We are now in a position to be able to offer for sale hull No7.
Ready to launch in 1987, a change of circumstances forced the project to be mothballed and it has stayed in store ever since. So, what we have here is, in effect, a "brand new" 30 year old boat.
There is still some fitting out to be completed but most of the component parts required are included in the sale.

This really is a tremendous opportunity for someone to buy one of these well-respected blue water cruisers for a very reasonable price and in a not too lengthy time frame be ready to set sail.
11/11
Though they have not let us know, we understand this boat is sold?????
2/16
---
believed SOLD: Atlantic Clipper 'Wilhelm Gruff'.
Atlantic Clipper 36
She is moored offshore at Hythe, Southampton and has the usual stuff, Autohelm, colour plotter, spare GPS, digital radio, Navtex. She has a brand new fully battened main and bag. Last winter I repainted her topsides, she looks lovely. The interior has been done beautifully (by the previous owner) and has a very comforting and warm feeling to it.
The Perkins engine is super reliable.
The best feature I think is the stern cabin which is super big and very comfortable.
yard trailer.
Also includes h
ard tender, 2.5hp 2 stroke outboard and oars.
Price is £19000
Mark Symons. mail address failed, advert removed
2/16
---
Believed SOLD
: Steel Noontide 'Water Ratty'

'Ratty' was the first Noontide 32 to be built by Bay class Yachts of Conyer in 1983. (Maybe the only one!) Built for one of the directors of the company and seen at the East coast boat show back in 1992, she resulted in the 'Riptide' design being donate to us.

Steel built, long keel, Vetus 20 inboard. Full inventory. Comfortable and capable boat. Lying Lymington.

£25,000

08/10 not heard anything re this boat for years so it may have been removed from sale or sold, if anyone finds out please let us know.
---
believed SOLD Golden Hind 31 'Henry Rose'
After 12 lovely years HENRY ROSE is offered for sale
A beautiful, solid, warm Golden Hind 31, built by Terry Erskine of Plymouth to a very high specification above and below decks, and comprehensive inventory. One double and two single berths. Sail No 226
Glass fibre hull with 38mm insulation throughout, sheathed wooden topsides, Varnished teak brightwork, cockpit lockers, rubbing strakes and toe rails. Teak cockpit boards and teak laid decks. Mahogany and Ash interior.
Hood fully battened mainsail, Hood crosscut genoa, both in Classic cloth 7.5 cloth. Spinnaker and storm jib. Henderson roller reefing genoa. Kemp/Selden aluminium spars, 6mm stainless steel standing rigging.

Large bronze fairleads throughout, with oversized mooring bollards.
Two Barlow 20 bronze genoa winches, Lewmar 16, bronze winch on coach roof for main halyard, and two slab reefing lines. Two Lewmar 6 winches to mast. 35lb CQR anchor with 70m chain to Anchorman electric windlass, and 30lb Fishermans anchor.
Garmin GPS 128, Navtex and XM DSC VHF. TackTick wireless wind speed and direction, Stowe depth sounder, Plastimo compass. ST2000 Autopilot. Admiralty charts from the Irish Sea to the North of Skye, including the Clyde.
Perkins Parama 30HP engine, two 45 litre fuel tanks, Bombard liferaft. Dinghy with TWO Seagull 40plus outboards.
Spray Hood, Sail Cover, Cockpit Cover, Boom Tent, Skylight Covers, Fender Skirt, Boarding Ladder, Horseshoe Lifebuoy, separate Lifesling.
Henry Rose is dry stored ashore every winter, beneath a full length wooden frame and heavy tarpaulins.
Interested buyers are welcome to call for a chat, to view at any time, or take a trial sail (except when winter stored) to fully appreciate the exceptional standard of this Golden Hind 31.
Price £33,000
Contact; Paul
Mail bounced 2/16 removed from sale
---
SOLD Eventide Parts!!!!
I

have been forced to break this boat up. I now just have the interior fittings, mast and sails available.... Engine sold

Sails are in very good condition.

shaft, prop, sails, mast, spars, stanchions, stainless bow rail, stern rail, steps, cockpit stainless frame and cover ,bench cushions recovered, compass. Wooden handrails, bow sprit, electronic fittings, sea cocks, toilet,

auto-pilot, lights, anchor, chain. Rope, small blocks, sail fittings, etc,etc.

All cushions have been recovered just needs some loving care which is beyond my control at this moment as work has taken all my time.

shame to

scrap

boat but had no takers.

Parts in Scotland at Kirkcudbright.

normen.parker
All sold
2/16
---
SOLD: 'Moonlight' GH31.
Golden Hind 31 Mk2 (Moonlight)
Built by Golden Hind Marine in 1994 for the Director Mark Urry as his own boat and as an example of the build and fit out quality the company were able to produce. He coined the phrase MK2 after re-designing the rudder to remove excessive weather helm, improve handling under power and by moving the engine further back also improved the galley space and nav station. She has been epoxy sheathed from new
She is fitted with the Light Airs rig being 3`4" taller giving 25% more sail area with extra ballast to support. Sailtainer in boom reefing with genoa/staysail on roller reefing.
Full set of instruments, radar, GPS, navtex ,chartplotter, tridata log, wind speed direction, DSC radio.
Calorifier with immersion hot and cold pumped water to galley and heads.
Perkins Perama 30HP rebuilt 2010.
All lines led back to cockpit.
Taylor diesel heater.
Full cockpit tent.
240v sockets.
She is probably the most attractive and well equipped GH31 built and draws lots of praise from both the sailing and non sailing fraternity. I am the third owner and have owned her for 7 years. Like the two previous owners I have maintained and kept her in first class condition as can be seen from the photographs. A much more detailed description and many more photos can be emailed to interested parties.
She is currently ashore in Essex ready for inspection/survey.
SOLD
---

SOLD: Narrowboat
6
0-foot narrowboat for sale in Hackney, East London
All steel. Very solid construction. Hull in excellent condition (2014 survey available). 1.8 BMC engine. 3kW inverter. Solar panels. Ideal live-aboard. Currently on non-residential mooring at Springfield Marina. Price: £42,000. Photos and more details at:
http://boat.joeshort.net/
SOLD
---
SOLD Eventide "Serenity"
26ft east coast family classic cruiser lying ashore in north Kent, UK.
Very good sails and spars and new berth cushions and covers, warps, inboard engine.
Owner retiring from sailing.
NO TROLLEY OR TRAILER.
Price £1,950
SOLD 2/16
---
SOLD: Golden Hind 31
'Longevity'
1976 (sail number 151) Terry Erskine Yachts Plymouth
Mitsubishi 25HP SL2 diesel engine 2005
New mast 2010
Navtex and VHF 2009
Life raft 2009
Anchor winch 2009
Sun panel 2009
Spinnaker 2003
In 2009 my family and I made a 5 month sailing trip in this ship from Holland to Norway, the Shetlands and around Great Britain, then back home.
In that year she won a prize at the Peel Traditional boat show (Isle of Man) for the boat which sailed the furthest to get to show.
The boat is still well equipped for sea sailing.
The boat has its home port in Lauwersoog (the Netherlands) and is currently on the hard for coating repairs on its underwater hull.
Reduction in price!!!! Price now : €8,500,-
Further information: mail ..... MerijnTinga at hotmail.com
website -
http://sailingrhythm.ateliertinga.nl/
www.plasticsoupsurfer.nl - Minder afval op het strand, begint op het land.

www.facebook.com/plasticsoupsurfer - like om op de hoogte te blijven.

www.twitter.com/merijntinga

www.ateliertinga.nl - Installaties en beeldhouwwerk.


Price £ 8500
Sailed her round Great Britain in 2009
Currently sailing her in the Baltic sea and Skagerrak for 5 months.
More information:
Sailingrhythm.ateliertinga.nl (photos taken from the mast of ship and horizon during 5 month sailing trip round Great Britain in 2009)
Plastichunters.org (website on current plastic awareness expedition with her through the Baltic and Skagerrak)
merijntinga@hotmail.com for further inquiries

2/16
---
SOLD: 3 Tonner 'Running Wild'
YM 3 Tonner 'Running Wild'
Built in 1975 by L T Appleton of strip planked Iroko on Oak, she is currently mid-way through a minor interior refit and will need a small amount of work to get her on the water this season. However she is basically sound, has a great exterior paint job, is very well equipped and is surprisingly fast and well balanced under sail.
Cutter rigged with Alloy mast and spars, Iron keel, sails, Main, Staysail and Jib (Approx. 2002) Vetus 11hp diesel (2002) Cobra VHF/DSC with new ariel (2010) NASA Clipper Speed/Log/Sounder(2010) Varta 115Ah battery (2010) LED masthead light (2010) Custom Bronze bow roller (2010). Down below she has 3 good sized berths, an Origo spirit stove, gimbled oil lamp, brass clock and barometer, sink with fresh water pump and plenty of stowage.
We are regrettably selling, as family commitments leave little time for enjoying this fantastic little yacht.
Currently ashore at Martlesham creek boatyard near Woodbridge.
£2795 ovno
SOLD
This boat has been sold
2/16
---
For Sale: Steel Riptide, project boat.
33ft Riptide (has been built with counter stern, Noontide?) Project for sale

Hull is 90% complete needing the cockpit constructing a small amount of welding and some snagging on frames, It is constructed from 10mm plate for keel bottom, 6mm keel sides, 4mm hull and 3 mm cabin sides it has main bulk head fitted and engine bed and has a Thorneycroft engine fitted with Henry Meadows gear box also has stern tube, prop and prop shaft all correctly calculated for size of boat.

Although my father and I were not boat builders, I am a time served Fabricator welder the boat it built to a good standard and is very fair.


It has a slightly raised cabin to allow for greater head room when fitted out it also features a lovely curved transom which I think sets it aside from similar builds, it does have its sail number and plans with it also.

The not so good bit is that it is rusty after being stood outside under cover for some time however the majority is still only surface rust and does have the advantage of removing any mill scale the inside still has mill scale on the plates

I am asking for offers over £3000.

boat ashore north Lincolnshire. Currently stood at a timber wharf so lifting and transport can be arranged on site but will need to be organised by the buyer.

contact Matthew Everitt

email:- Matevr at aol.com


telephone 07814715717
07772566061


<![if !supportLineBreakNewLine]>
<![endif]>

<![if !supportLineBreakNewLine]>We have heard this boat sold, but we have not heard from either seller or buyer???<![endif]>
2/16 advert withdrawn as no answer from seller.
---
Believed SOLD
:Eventide 26 'Susilla'
Built in 1981 and in overall very good condition. The hull deck and coach roof are GRP sheathed.
4 berth, cooker, sink, toilet, full set of anchors and ropes, echo sounder, VHF, autohelm and main compasses.
Full set of sails including furling genoa, stay sails, storm jib and spinnaker.
Kept to a very high standard and lovingly worked on for many years, this is a fine example of a classic cruiser with beautiful lines.
On the negative side - VHF is not transmitting (think it is aerial problem) port side winch is sticking - will try and have these problems resolved prior to collection.
The boat is lying in Garlieston (Dumfries and Galloway)
The boats name is 'Susilla', registered SSR. The boat was built by a Mr Hill of Westfeild Road, Barton on Humber in 1980.
The asking price is £2200.00 (also can be seen on EBay see our page.)
Dave 01988 600295 or 07734073422
or mail me :-laurawhitehead62 at yahoo.com
July 2013, we have heard this boat has sold, but as yet the seller has not informed us.
2/16 withdrawn from page
---
Believed sold????: Riptide 31 yacht project boat / Live-aboard 'MYSTIQUE'
Above pictures approx 1 year old (awaiting for up to date pictures.)
Recent pictures.
Riptide 31, This boat feels large for a 31 footer, a family of four lived aboard her comfortably. She has a new skin inside and out a new cockpit floor new cockpit seats a new double berth cabin in the aft end and bar the refitting of the mast, re rigging and the re-installing of a water cooled engine she is ready to go.
Rig: Junk Rig to Sunbirds latest design Year built: Launched 1997 Designer: Maurice Griffiths Construction material: GRP (Foam Sandwich) Colour: black and orange deck with non-slip on deck & coach roof Keel type: Triple keels with encapsulated lead ballast in centre keel Principle dimensions: L.O.A. 31'6" L.W.L.26' Beam 9'6" Draft 3'6" Displ. 12,400
Engine: None.
Nav. & Deck Lights: Port, Starboard, Stern & Steaming lights Steering: Wheel, rudder transom hung
Safety Equipment: Horseshoe lifebuoy. Life jacket 2 Fire extinguishers
Deck equipment: Lewmar 16:1 Self tailing Halyard Winch Barton Clutch cleats and blocks S/steel pulpit, stern rail & guardrails. Spray hood. Fortress & Fisherman anchors, 6 mooring warps, 4 fenders, 2 Buckets, broom, and brush Instruments: Sestrel B700 Steering Compass. Echo sounder (Clipper) at wheel.
Accommodation: 2 Single berths and 1 large double
Saloon: Settee layout 5'10" headroom. 4 Lights Solid fuel (charcoal) stove (Nelson Marine) stunning brightwork throughout sepilia wood headlining Blue cushion covers
Galley: Calor B700 2 burner cooker, with grill and oven on gimbals S/s sink, foot pump from 1 water tank Cooking utensils for four, 2 Gas bottles
Aft cabin 5' by 6'6 double bed constructed of mahogany, sepilia panelled in multiple coloured hard woods
Heads : 'Handmagic' chemical toilet. Hand basin, mahogany splash-back walls painted to a high standard.
Price: Reduced drastically to £1500.


Tel. No.0844 5988414 this is my Spanish landline and only costs 5p min to ring from a uk landline

Alternatively my English mobile which is always on is 0784 214 2101

or Spanish mobile 0034 634028892 which I carry with me at all times,

or this e mail; trtony69 at hotmail.com

May have been sold, we have not heard???
2/16 Withdrawn from page as we cannot contact seller.
---
May have SOLD: 'Awake of Parkstone', Barbican 33
I am selling my 1982 Barbican 33 named 'Awake of Parkstone', which I have sailed and lived on for last 5 years, sailed from UK to Turkey and boat is currently stored in Preveza, near Lefkas in Greece.

Heating: Ebersbacher diesel
Heads: 1 Shower
1Watertank Size: 260 Litres
Engine Make: Bukh Horsepower: 36hp Drive Type: Shaft drive
Fuel Type: Diesel Fuel Tank Size: 160 Litres
Cruise Speed: 6kt
It is Barbican 33 with lifting keel.
You can have a look on advert here:- http://www.networkyachtbrokers.co.uk/boats_for_sale/Barbican_33-2270.html/
Price: £19,950
contact:- kaspar at awake33.com
2/16, withdrawn from page as unable to contact seller.
---
May be SOLD
: Golden Hind 28'6" 'Pink Gin'.

Pink Gin for sale. I now live abroad and cannot devote the time. It is number 7 built by Hartwell's. It now has an outboard 8hp 2stroke motor. The old Swedish Olin inboard motor is still in place, but needs work or replacement.
Work is needed on the starboard hull to cut out wood rot. Probably only carpentry skills required.. I treated the rot with ethylene glycol and glassed over it so it is benign. It needs painting. Will suit someone who has the time and skills.
Inventory
2 mains, one almost unused
4 or 5 headsails including storm jib, 1 jib and Genoa practically unused.
Storm trysail
Liferaft
2 Danforth anchors, 1 Bruce, 25m chain
A rudimentary self steering as used by Moittessier. It works !
Mahogany ribs, stringers and stern, iroko bottom
Single chine Plywood sheathed hull
Large cabin 6' 3" headroom
Displacement 8 Thames tonnes
Empty weight without mast, 4.5 metric tons
Bilge keel with iron centre keel.
Beam 8ft 2ins
Sea toilet
Wind generator
30 watt solar panel
I need to sell her, unfortunately. With a bit of work she'll be valuable.
The photo is of the glassed side. The boat is in Emsworth on Chichester harbour.
The bare wood of the repair is the "before", the painted wood is the " after"

Free to a Good home, a real MG enthusiast. EBay Sharks and snakes beware we know who you are and your details have been passed to Gary!
Contact Gary 07564648701
or mail:- grjack.gj at gmail.com
Regards
Gary
2/16, withdrawn from page as we can no longer contact seller, may be sold.
---
SOLD: Senior 'Moth' Sail number 1041.
This is Moth as she is now...

And this is her a few years back...
The boat is in need of some TLC, with a few panels needing replacing. The mast also needs re-gluing and refitting. Other than that, she is the Bermuda-rigged Senior, with roller-furling forestay, stainless shrouds and bottle screws, one suit of sails, and bilge keels.

I'm open to offers for the boat. I may need to put some new brake drums on the trailer, so I would prefer to at least cover my costs, but my main wish is for her to go to someone who has the time and facilities to bring her back into order, as I don't have the covered facilities necessary (it rains a lot in Lancashire). Also, we are looking to move house, so she will have to go whatever it takes.

The boat is currently in Rochdale, Lancs.
SOLD 3/16
---
-
SOLD: approx 150ft of new 12mm nylon multi-plait anchor rope.

picture shows 2 lengths. (one length sold).
Eye spliced into one end for anchor and or chain.
This is Marlow Ropes purpose made anchor plait, retails at £2.50 plus per metre, 150ft approx, half price at £65. Suit Eventide 24 or 26, Waterwitch 30 or similar sized boats for kedge, smaller craft as main anchor warp.
Collect from Essex, or could post at cost.
SOLD, £55.00
Contact john on 01621 778859 or via enquiries@eventides.org.uk
03/16
---
For Sale: Barbican Mk II, 'Diana II'
1992 Barbican 33 Mk11
Maurice Griffith design. Designed to sail the N Sea and with its lifting centre board access the creeks of the E Coast too. Fine example with teak joinery. Velour green upholstery in good order. Lifting centre plate. V berth with infill double. Clever arrangement of doors enable the head shower to be expanded with secure closure from saloon allowing ensuite. Large hanging locker opposite heads forming connecting corridor between forward cabin and saloon. First owner ordered yard to apply additional lay-up to the hull, this already rugged craft is probably strongest of this marque! Min draft 4 feet max with centre board down 8 feet, Teak and holly striped cabin sole. Galley to starboard when entering companionway, gimballed stove with oven, twin stainless steel sinks. Pressurised hot and cold water. Chart table and quarter berth to port quarter. Comprehensive instrumentation. Large two leaf teak saloon table on centre line with linear seating to port and starboard. Stowage under with cave lockers to rear of backrests with hinged cupboards each side of saloon at deck level. Opening Lewmar ports with curtains. Large opening desk hatch in saloon just aft of mast. 3no 90 ah batteries, Adverc controller, also solar panel to keep batteries topped up. Ebersbacher warm air heating (D3) Shore power to Truecharge 20i battery charger. Golot head sail furling, fully battened main sail, sails tan colour. Primary winches are Anderson 40 st Halyard winches also Anderson, 10's. Beaching legs. Solar panel etc held in store by owner. Full engine service and new gear cables March 2015. Rope cutter –
price drop to £29,995 (Inc VAT)
Ashore Suffolk.
contact Nigel and Heidi:- nigel at peterkin.co.uk
2/16
---
SOLD: Senior Shelduck
The time has come for me to sell 'Shelduck'.
My dad, Tony, owned her for many years before passing her onto me 9 years ago.
She is now painted and antifouled, and sitting on a elderly road trailer in Titchmarsh marina.
The photos below were taking on the Orwell two years ago and last week at Titchmarsh.
'Shelduck' comes complete and ready for sailing except she needs an engine, her sails are in good condition, there is a two burner cooker, toilet and echo sounder, but her road trailer does need work, it's fine for a yard trailer.
SOLD (I was asking £1450 o.n.o. for her.)
Contact John Showell:
3/16
Editors note. We have seen and sailed alongside 'Shelduck' on many occasions over the last 20 odd years, she is really a pretty boat, Tony, John's father is the Senior Advisor!
---
SOLD: YM Senior 'Nolly'
The boat is featured in the EOG Gallery pages.
It is in its original condition and has been well maintained, and still has the original Stuart Turner inboard engine.
It is very complete and includes 3 sails, gas cooker, trailer in working order, all rigging and lots of spares
It is a lovely boat, hope you can help me to get it to a new owner,
The boat is located in Chester, Cheshire
I am asking is just £800.
SOLD
Tim Irvine
---
SOLD: Steel 36ft Spray replica! 'Silent Annie'
SILENT ANNIE – DESCRIPTION
Silent Annie is a 36ft x 12ft 4 inches x 4ft ketch rigged Bruce Roberts Spray with a centre cockpit. She was professionally built of steel in 1999. She is epoxy coated inside and outside, insulated with 2 inches of spray foam and finished inside with polished mahogany and white paint. She is double-glazed and has solid fuel heating via a charcoal briquette burning stove.
She has six berths. In the aft cabin there is a double berth with storage underneath, wardrobe and an ensuite sea toilet and wash-hand basin with storage underneath and shelving. In the main cabin there is a pilot berth with storage underneath, a double berth with storage underneath, a half-size chart table, galley with loads of storage, sink, a cooker/grill/2 ring hob, fridge, an inlaid mahogany table with seating either side and storage underneath (this drops down to form the double berth). Forward heads with a second sea toilet, basin with storage underneath and shower. In the forward cabin there is a single berth with storage underneath and a workshop with bench and vice.
On deck everything but the anchor is operated from the cockpit. She has roller reefing genoa, three slab main and mizzen sails, the sails were made by Kemp Sails Ltd. The masts, booms, rigging, vang, spinnaker pole and "Cyclops" passive radar reflector were all manufactured, supplied and fitted by Z Spars UK. There is also a cruising chute/floater.
The engine is a very economical Ford 952E 87HP Diesel. She has hydraulic steering and gearbox but with back-up emergency tiller steering. She has a Simpson & Lawrence 1895 PAT windlass, two 9 inch 3 speed Lewmar sheet winches and two 4 inch Lewmar halyard winches, Camlock cleats on halyards and slab reefing. Diesel tanks holding 300 litres and water tanks holding approximately 200 litres.
Other details include a prop knife, new sail covers in 2010, new stainless steel bow spit in 2010, 40 metres of new anchor chain in 2010, new "glass" to spray hood in 2010, new teak gunwales fitted in 2010.
Silent Annie is fully equipped with an extensive inventory and ready to go. The inventory including such items as anchors, GPS plotter, new Digital VHF Radio, wheel pilot, 2.4 metre Zodiac dinghy with 2.2hp outboard, 12ft Bonwitco dinghy with outboard, Rutland 503 wind charger, fenders, life jackets, mooring ropes and designer monogrammed crockery, glassware and placemats.
A mooring for Silent Annie is available at West Mersea, Essex for a realistic price.
7/16
---
***********************
SOLD: Set of heavy brass portholes. Davey and Co make.
2 opening ports and 2 deadlights. Approx 6 inch diameter (5 & 7/8 inch), glass opening 3 & 1/2 inch inches. Need only new rubber seals on the opening ones, easily available on line. With 4 brass rings.
One opening port, this size, new, retails at Davey and Co. at over £450!!!!!
SOLD .
£150.00 the lot, collect from Essex or can post for £10.00
01621 778859.
or
enquiries@eventides.org.uk
---
SOLD
; Golden Hind 28, 'Pink Gin'.
Pink Gin is Golden Hind number 7.
She was last sold in 2010 for £6000
She was last surveyed in 1990 by Eric Butler of Gosport.
At that time the overall condition of the hull was good, and no disturbance was found between the wood keel and the iron ballast keel.
The Through keel bolts and Twin Galvanised plate bilge keels were all new in 1990.
The rudder was completely refurbished with new fittings in 1990.
The entire deck and raised topside structure was rebuilt to a good standard in 1990.
The Mast is aluminium alloy and the extrusion and its fittings were found to be in a good condition.
Re the fit out : New aluminium alloy framed fore hatch, vents, shroud plates, cockpit coamings and good stem head fittings/push and pulpit, stanchion bases, tabernacle, wood sliding hatch, wood grab rails acrylic cabin windows, alloy toe rail and wood rubbers.
Pink Gin was refurbished " as New" laid ashore between 1980 and 1990.
In 2009 the rigging was renewed and forestay. the mast was re-roped and all cables replaced.
There are 3 sets of sails. One main and genoa are completely brand new. There are 2 storm jibs and a life raft.
Currently apart from the areas of weak plywood along the starboard aft deck and the starboard side in a strip approx. 9 inches and 10 feet long the rest of the wood is dry and strong.
The hull beneath the water line is in very good condition and is still cascovered.
The ribs and stringers are all in good condition except 12 inches of one stringer which is next to the weakest part of the plywood on the starboard side.
The coachroof appears to be in reasonable condition.
The woodwork inside the cabin is in good condition also.
I have been sailing Pink Gin in Chichester Harbour until 2 weeks ago when I became a bit too enthusiastic with a belt sander on the starboard side as seen.
A local boat builder has looked over the area needing repair and estimated 40hours of work needed.
It has a Volvo Penta 14hp 4stroke 2 cylinder petrol inboard which starts and runs but begins to overheat after about 20mins. It was reconditioned in 1990
She is currently lying in Emsworth on a slipway
A project boat.
The price is very negotiable for the right buyer
SOLD
8/16
---
SOLD: 'Pandora' 27ft Kylix Class
Kylix27
Pandora is a Kylix 27 built by Bure Marine, Great Yarmouth in 1977. After a few years in Sweden she became Danish owned. I have owned her since 1988, and am now looking for someone to take care for her in the future.

Pandora is more or less original with no major alterations. She

has been a

shore in Copenhagen under cover for 3½ years, is now re-launched, afloat in Sundkrogen, Copen
hagen.

Cabin and woodwork on foredeck has been stripped and repainted in 2015 with alkyd paint. The boat is generally sound without structural defects, but the bright work needs treatment and the interior needs a loving hand. The
Sabb engine is a reconditioned unit installed in 2010. The sails are by Jeckells, main and jib from 95. Mast and boom and rigging are in good order. Both standing and running rigging has been renewed over the years.

A set of original drawings and the former owner's correspondence with M.G is included.
Sold for £ 3.500
. The important issue for me is to find someone who will take her over with the work it means. If you are interested, contact me for more detailed
s
pecifications and additional photos.
Pleased to say a buyer has been found from Norway, a wooden boat enthusiast...
Peter Clemmesen
8/16
---
SOLD: Houdini hatch.
Ideal Eventide fore hatch!
2ft square roughly.
Good condition, with ali stay and 2 opening latches, all working, not distorted.
Sold
for £75.00,
(new they are £250 plus!), collect from me in Essex.

01621 778859.

or

enquiries@eventides.org.uk
---
SOLD: GH31 'Marschallin'
Marschallin

is a lovely 1981 GRP cutter-rigged Golden Hind 31 who gets compliments wherever she goes. Restored and extensively upgraded 2015-2016, she was launched March 2016. Currently lying afloat in Langstone Harbour, Hampshire.
Fun "selfie" video of Marschallin under full sail here: https://vimeo.com/173738668
The Golden Hind 31 is a sturdy, characterful and extremely versatile little ship: its shoal draft and bilge plates allow it to nose up shallow creeks and take the ground easily, while its proven ability to cross oceans makes it a truly unique craft.
Marschallin was sailed from the West Country to The Mediterranean for 30 years, single-handed, by a gentleman who left her to his family a few years ago. They were unable to maintain her and we bought her in a sorry state in September 2015. We started extensive work on her to bring her back to life and get her on the water again, launched her March 2016 and sailed her from Falmouth to her new home mooring in Langstone Harbour.
She is a wonderful, seaworthy boat, roomy, comfortable and easy to handle, who gets compliments wherever she goes and from all kinds of boaters.
Make/model: Golden Hind 31 Cutter
Builder:
Terry Erskine
Year: 1981
LOA:
31'6" (35'9" inc. fixed bowsprit)
Beam:
9'1"
Draft:
3'8"
Displacement:
6.59 tonnes
Berths: 5 in 2 cabins
Engine:
Lister STW 20HP (1981)
Location: Langstone Harbour, Hampshire
Surveyed 2013 (report is available for inspection); work done post-survey:
Coach house roof and side decks stripped and re-sheathed
New standing rigging
New Jabsco toilet installed
Work done September 2015 - 2016:
Engine removed, reconditioned plus:
New alternator
New starter motor
New fuel lift pump
New hoses
New loom + all electrics
Complete electrical rewiring
New gas fittings
New skin fittings
Stern gland hose replaced and stern gland re-packed
Replaced fresh water system hoses and pump taps
Completely new galley structure and surfaces/cupboards/sink/taps/gas cooker
Replaced all deck Treadmaster
Re-seated forepeak and heads lights
Installed Taylor's paraffin heater in cabin
New table built and installed
Replaced all cushions (saloon and forepeak)
Replaced foresail sheets, shackles, blocks (jib and staysail)
Added wooden rails to house inflatable dinghy or liferaft on coachroof
Repainted all exterior paintwork; name on stern repainted by hand
Brightwork re-varnished
Interior re-painted/varnished
Head flush Purytec filter installed
Jabsco water filter installed
And much more...
Construction
GRP hull
GRP-sheathed ply coach house
Encapsulated lead long keel + steel bilge plates
Tiller steering
Sails and rig
Cutter rig
Sparlight mast + wind indicator and aerial
Roller boom mainsail reefing
Hanked-on headsails
Sails are tan: jib and staysail are in excellent condition, mainsail is in useable condition
Spinnaker pole
Propulsion
Lister STW2 20hp marine diesel inboard, 1981: (reconditioned 2015 + new alternator + new starter motor + new fuel lift pump 2015)
Cruising speed: 4kn
Max speed 6kn
3 blade prop
2 x 10 gallon stainless fuel tanks
On deck
Sail cover
Sprayhood
Manual windlass
Double bow anchor roller
LED exterior and running lights
Eventides burgee, 2015!
(We like that!!)
Electrics
2 x 110Ah batteries with isolator (2015)
All interior and exterior lighting is LED.
3 x 35W solar panels (2015)
Solar Charge Controller MPPT Western WRM15 (2015)
Gas detector (2016)
Electric bilge pump (2016)
Instruments
Icom fixed DSC VHF (2016)
Nasa Clipper Echosounder (2016)
NASA Clipper SPeed/Log (2016)
Tide clock (2016)
Barometer (2016)
Nasa Target Navtex (2016)
Contest bulkhead compass
Firdell Blipper radar reflector
Interior
Light and cosy with capacious storage
Fitted out in teak, iroko and mahogany
All cushions, saloon and forepeak, new 2016
Stainless steel Taylor's paraffin heater, reconditioned 2016
LED lights
Galley (built from scratch 2015 to match existing interior)
ENO cooker - 2 burners with grill (2015)
2 x 20 gallon water tanks
Freshwater foot pump tap
Sea water pump tap
Jabsco Aquafilter on freshwater foot pump
Head
Jabsco manual pump toilet (2013)
Fresh water pump tap (2016)
Hand basin
Extras
35lb CQR anchor
50M chain
Aluminium boat hook (2016)
Various warps
Various fenders
2 fire extinguishers (2015)
Fire blanket (2015)
First aid kit
Anchor ball and triangle
Fog horn
Horseshoe life buoy
2 x manual bilge pumps
SOLD 9/16
---
---
SOLD:
Golden Hind 31 Cutter 'Thane of Lochaber'

This very well built boat has been in the current ownership for 17 years during which time the retired engineer owner has maintained her to a high standard. She is seaworthy and easy to handle with a good turn of speed and is capable of trans ocean passages, but also able to transit canals with her shallow draft, and dry out due to her bilge keels. The boat is for sale with a huge inventory, and has also in recent years had a number of upgrades.
At a glance:
| | | | |
| --- | --- | --- | --- |
| Make | Golden Hind | No of berths | 4 singles in 2 cabins |
| Model | Cutter | Displacement | 6.59T |
| LOA | 31'6" (35'9" inc bowsprit) | Reason for sale | Retiring from Sailing |
| Beam | 9'1" | Year | 1978 |
| Draft | 3'8" | No of owners | 3 |
| Propulsion | Lister STW2 20hp 1978 | Location | Creran Marine Scotland |
Details

:
Sails and Rig: Cutter rig. Sparlight mast with steps. 3 slab mainsail reefing. Roller headsail. Sails - Main, Jib, Staysail and Cruising Chute all in good condition. Storm jib.
Propulsion: Lister STW2 20hp marine diesel inboard. 1978. Cruising at 4.5kn max speed 6kn. 3 blade prop.10 gallon stainless fuel tanks (x2)
Electrics/Electronics: 2 x 110Ah batteries with isolator. All interior and exterior lighting. Contest bulkhead compass. Husun 65 VHF. Nasa Clipper Echosounder (2000). Eagle Accutrail GPS. NASA Clipper wind instrument. Barometer. Entel handheld VHF and charger. Nasa Target Navtex. Firdell radar reflector.
Galley: Taylor paraffin cooker - 2 burners with warming oven. Utensils and cutlery/crockery included. 2 x 20 gallon water tanks (1 fibreglass, 1 flexible) with Aquafilter pressurised and manual pumps. Sea water pump. 2 gallon calorifier tank 2010.
Other: Complete internal rewiring. Taylor Paraffin heater. Hull professionally spray painted with polyurethene paint (2001). Keel and bilge plates shot blasted and coated with epoxy pitch (2007). New Nasa instruments (2001). New 406 EPIRB (2007). Navtex installed. Heads, holding tank and pumpout installed (2000). Baby Blake toilet refurbished (2008). Additional forestay added (twin stays for downwind sailing) Moyle manual anchor windlass. All over winter cover. Davits. Sprayhood replaced (2008). Dodgers replaced (2003). 2 manual bilge pumps. Hatch wind scoop, over boom bimini .Surveys available for inspection.
Extras: Harbour Fast 35lb anchor. Delta 20lb anchor. Fisherman 35lb anchor. 60m of 8mm chain. Chum anchor chain weight. 10m warp-chain-warp for attaching to mooring buoy. 10m 8mm chain + 40m multiplait for kedge anchor. 2 boathooks. Ample warps. Fenders. Wetline Dinghy (2009) Johnson outboard 3hp. 4 fire extinguishers. Fire blanket. 4 lifejackets. 4 harnesses. Complete set of flags. First aid kit. Eurovinil 6 man liferaft in service. Anchor ball and triangle. Dan buoy. Life sling. Horseshoe life ring. Bolt cutters. Subrella emergency patch. Axe.
See film on Utube!
price reduced to
£22,995 ashore at Creran Marine
Sold!!
Dave Thompson
10/16
---
SOLD:- white, mitre cut Genoa
Luff 18'9"
Leech 17'3"
Foot 12'
Wire luff, hanks, light sail. no tears or repairs. slight staining at tack. No name on sail.
Cat not included!
Sold for £25.00
Contact john 01621 778859 (Essex)
11/16
---
Withdrawn from SALE: Eventide 26, 'Polly Peacham'
As she was 2 years back.....
As she is now...
'Polly Peacham' is being sold on behalf of the late owners wife, by Keith's brother in law. Gordon. sadly she is not in the best of condition and should be regarded as a project boat, but eminently salvageable.
Boat is marine ply, hull seems sound but dirty. 4 berth, galley, inboard engine.
Cabin roof is sound fibreglass.
Pulpit, guard rails and decks all sound
Mast is alloy and seemed perfect, Cutter rig. Stays are aged, may need careful checking before sailing.
Sails have been stored under a canvas cover for last 5 years, and probably weak. Foresails stored in boat cabin. Main has been out on boom for a few years under cover, will need washing at least.
Anchor, 2 burner gas stove, gas bottle, oars, paddles, buoyancy aids etc. present
VHF radio and aerial working
Depth sounder believed working
Single cylinder Volvo Penta diesel engine fitted, was working until 2 years ago, but I could not hand turn it with starting handle 2 days ago, presumably stiff from lack of use. It has electric start and alternator, plus Penta control panel. I did not have a key hence hand cranking was attempted.
Electric bilge pump and battery present, working and used regularly.
Solar battery charger present but seemed to have allowed water ingress to solar panel.
Rot to decorative cabin sides, believed non structural
Rot to floor and seats at stern, will need replacement.
(Attractive clock and barometer are not included in sale of boat, unless added at extra price.)
Keels and rudder NOT examined.
Flue for solid fuel heater, heater removed.

heads type and condition awaits.
Believed to be built about 1964 by a boatyard in Ipswich.
This boat has been taken to a nearby animal sanctuary to be used as an exhibit in memory of the late owner the Reverent Keith. As he was a frequent visitor and she was not going to be sold in a hurry a fitting place for her to gently crumble away....
December 16
---
SOLD: Optimist sailing dinghy. 'Lightning'
GRP, fully Optimist class ready and club tested with all kit to just drop in the water and sail to class specs.
Has bow fender/bumper, full cover, sail and spar bag, centreboard and rudder bag, with safe stowage for burgee and spare lines... Mast clip bailers on bungee as per specs, paddle the lot!
Even has a purpose made, new, take down Optimist launching trolley. Will stow in the car boot if boat carried on roof rack!
This was used for a year or so by my grandsons, but the older out grew it at a large 14 years old and the younger took up Karate! (The older at 16, is now my occasional crew and a good one!).
Stored securely in a dry locked garage for the past 2 years, but it is now time to let it go to a new generation of new sailors.
The perfect present for an aspiring 8 year old! Join a club and present this and he will be out sailing instantly.
Buoyancy jacket included!
Sold for £525
in weeks!
Contact me, John Williams on :- 01621 778859
or mail me at:- john at saving-old-seagulls.co.uk
1/17
---
SOLD: 16ft GRP open sea boat. 'Seagull'
I have had a firm offer from Les of Erith, who has visited and inspected her. He is to collect in January, but I will leave the advert up, for the time being. John
Replica of 1880's Thames Waterman's Wherry
A GRP, 16ft, heavy (1/2 ton) open boat. She is unsinkable but with 200lb of ballast internally for stability.. Buoyancy bags and foam filled bow tank. Under sole foam buoyancy. Painted externally with two pot poly paint in very good condition. She has been used as a demonstrator for my seagull engines. (As you can see by the self adhesive sign writing! (It will come off !)

She has wooden mast and spars and a new set of sails, tan spritsail rigged main and tan balanced lug mizzen, tan jib on bowsprit with Wykeham Martin Gear.

Has a short bowsprit and a bumpkin! Mizzen slots into fitted hoops and main mast fits in gate, easily lowered and raised. Mast stores securely on boat for towing and supporting the fitted cover. Tows behind family car.

She comes complete with a pair of 12ft long sweeps, anchor and rope, (that stows neatly under the sole), a bailer and sponge and fitted new Whale bilge pump. Set of 4 good fenders, all in green socks, bronze, self stowing captive rowlocks. Fitted with transom drain in bronze for draining whilst in storage.. Coir bow fender.

Pair of life jackets supplied.

There is a steel centreplate, yet to be fitted and a transom hung rudder to fit. Pin for pivoting the centreplate fitted in hull, blade slots in and is secured when top of box fitted. Box full of bronze cleats, dead eyes etc. to complete the sailing gear. She has never been rigged.

Outboard bracket offset on transom for long shaft British Seagull outboard.

Comes complete with very smart, clean 4.5 hp electronic ignition Seagull 75 that has only been used for 20 hours max. Maintained by me the Seagull engineer! Last used for 5 hours on the round Hayling Island Marathon, 27miles, in 2012. Before that, a day on the Blackwater and a 4 hours cruise on the Blackwater and Chelmer Canal...

A real sea boat. Really looks the part. Slips through the water easily, with just a few pulls on those sweeps she is gliding effortlessly... This design is the result of eons of development culminating in a perfect shaped boat for sailing or rowing and very suitable for a Seagull. Remarkably stable hull and a safe boat in a chop!

Moulded from the last 1880's Thames Waterman's Wherry to operate on the London river. (Now in the Science museum.).

Built in GRP in the early 1960's and used as one of 6 such boats, to train the lads of the King Edward the VII Nautical school at Deptford. Retired in about 1985 and purchased by me and converted back to it's original rig with centreboard and plate, mast and sails etc.

She is on a galvanised, braked, West Mersea Trailers, break back, easy launching trailer, with sprung loaded rear rollers to assist recovery. Wheels do not get wet! One man operation. Winch with webbing strap for recovery... spare wheel.

Fitted cover for storage and trailing. Made by Lonton and Gray, 2015.

At present in Tillingham, Essex, on very roadworthy trailer in our garden..

£2250

or very near offer.

Contact John on:- 01621 778859

or mail on:- john@saving-old-seagulls.co.uk
1/17
Boat under offer December 2016! Sold Jan 2017
---
SOLD: New Lewmar 6A sheet winch, plus new Barton winch handle.
Brand new
Lewmar 6A Ali winch, new in box.
Suit small cruiser, Senior or similar, as sheet winch or for use on mast or boom on larger craft for halyards or reefing lines.
Plus brand new Barton 8 inch handle. Star locking device so it locks in winch.
Winch retails at £130, handle at over £25 each!
Sell winch for £65.00.
Handle £12.50
SOLD Both together for £75.00
Collect Essex or can send UK by courier £8.50
Contact John on 01621 778859
or enquiries@eventides.org.uk
1/17
---
SOLD. Maurice Griffiths Golden Hind 31 'Libertine'
"LIBERTINE" Golden Hind 31 No. 72.
All timber construction. Sheathed in Divinicell and Epoxy.
Yanmar 3GM auxiliary 30 HP to 3 blade propeller.
4 berths usual layout.
Pressurised water and colorifier fitted. Shower facility in heads compartment.
Fridge, two bowl galley sink, Flavel Vanessa 2 burner Oven and Grill.
Lofrans Royal winch, Furlex Roller, Genoa and Spinnaker, plus main all overhauled, valeted etc. New UV strip fitted to Genoa, not used.
New Halyards etc. Autohelm, Garmin Sat nav, Compass, other electrical equipment to be fitted.
Owned 6/7 years, much work carried out in my ownership and previous too much to itemise here.
In commission and regularly used. Sadly must sell owing to ill health.
Some work to be completed mainly electrical and plumbing.
Afloat Cardiff Bay, photographs are recent and as is.
Enormous Price Reduction to:
£8,000
negotiable, come and see. Would like to see her go to a good home.

Contact Clive Woodman:

Tel: xxxxxx

1/17
---
SOLD
: Buchanon designed Halcyon 23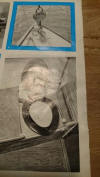 4 berth cabin sailboat built in 1970 from fibreglass.
Fitted with a Volvo Penta 10 HP diesel engine.
Overall length 710 cm
Length over waterline 640 cm
Width 180 cm
Depth (with fin keel) 110 cm
Displacement 1300 kg
Headroom 150 cm
Mainsail 12.1 m2
Genoa 12 m2
Delivered with:
Depth gauge VDO Compact
Speedometer VDO Compact
battery Meter
winter cover
cabin Tent
Mainsail
headsail furling
cooker
sea toilet
Flexible water tank (still needs to be installed)
radio with speakers
Starter battery and battery
including jog wheels and mooring
Mast device
anchor
SOLD
the boat is on the wall at leeuwarden in Friesland
See this site in the Netherlands or contact us here on enquiries@eventides.org.uk and we will forward your mail on.
http://www.marktplaats.nl/z/watersport-en-boten/kajuitzeilboten-en-zeiljachten/halcyon.html?query=halcyon&categoryId=985
1/17
---
SOLD: Eventide 24 Cris Hawk.
24ft Eventide Classic – for sale as project.
SOLD
After 8 years of service, it's time for me to move "Cris Hawk" onto an owner who has the skills to ensure it stays up to scratch. Professionally built of Iroka planks on Oak frames (Gibbs & Sons, 1973), I've been renewing kit & trying to keep abreast of the work. But this is a hobby of life, and I think it's time I bought something plastic. When I bought the boat I replaced the standing rigging. Since then I have had all the bearings in the saildrive renewed, the top end of the single cylinder air-cooled diesel (by Ducati!) has been reconditioned, the water pump & two bilge pumps have been replaced,
and three years ago I splurged out on a new mast by Collars, and new sails from Downers (euro 2k each for those).
The boat can sleep 3, has a separate heads, a mast that can be lowered single-handed (and raised single-handed if your up for hard graft). Moored in Waterford city, currently sitting on a trailer at my house – so easy inspection. I usually sail her single-handed down-river, then between Dunmore East & Hook, but have enjoyed multiple trips to Dungarvin & Kilmore Quay (also made it to Ballycotton once).
So why a project ?
Unfortunately, I hit a rock a few weeks back, and while no planking was cracked, my garboards need to be re-caulked on both sides. Also the surveyor who looked at it for me advised that it's time the keel bolts were renewed. This sort of work is beyond me (& my purse), so I am open to all reasonable offers.
If you'd like to see Cris Hawk sailing, have a look on YouTube, where she can be seen off Hook Head.
I live in Waterford on the South Coast - about 1 hour from Rosslare ferry-port.
Link to boat photos: https://1drv.ms/f/s!AoeNUIWAKYgklzkBam0j2D9RCGVE
Link to damage photos: https://1drv.ms/f/s!AoeNUIWAKYgkgnt_b1m3kJMl72Oq
I can be contacted by email: LIAM_O_CONNOR,
or by phone
I will record all reasonable offers, and pick the winner who I feel will do best for Cris
4/17
---
SOLD:- GH 31 GRP project boat...'Charisma'

Golden Hind 31 GRP

'Charisma'.

This is a project opportunity for someone a little younger than myself.

She is one of three ketch rigged Hinds that Terry Erskine built.

I have had a lot of experience sailing these wonderful boats and intended to rig her as a sloop; no need to move the mainmast chain plates. I have the main mast but no boom.

Some idiot has painted the original Treadmaster with gloss paint; obviously had a death wish, so that needs sorting out.

I have the pulpit and guardrail stanchions along with the stainless wire and old standing rigging. There is no cooker or sink or toilet and all the old plumbing has been taken out. She needs rewiring. All the seacocks are good and free.

The old Lister engine has gone to the noisy diesel graveyard and I have a brand new Beta 30 still on its pallet complete with oil cooled gearbox, shaft coupling, mounting feet, galvanised mounting brackets to fit onto the original mounts, and engine control panel. It also has the larger alternator.

Charisma has crossed the Atlantic no less than six times and has been as far east as the Black Sea. She deserves another chance to show what she's made of. I have photos of her with her first owners. Her sail number is 198 and she was completed in September 1978.

She is currently in my yard near Stranraer SW Scotland.

If you promise to take me sailing on her one day, you can have her with the engine for

£3500.

Mike Clarke

4/17 Sold on EBay and the new owner has joined us!
---
SOLD: Golden Hind No 114, a repair project!

T

he pictures all taken after salvage and clean up.

After being lovingly restored, painted and polished she was launched and placed on a mooring at Tollesbury a year or so back, only to sink a few days later on the mooring.

She spent a week on the bottom at the tidal mooring and a week up on the hard after we moved her full of plastic drums. She was towed in on a high tide and recovered back to the yard she had just left.

She lost a bilge keel. The bottom of the hull needs repair and a new plate fitted. Or the old bilge plate could be salvaged, it is still stuck on the bottom near the mooring at Tollesbury.

Has full Rig, sails, roller furling. Sails not valeted since but in good condition when put back in bags.

Some running rigging.

Bruce anchor, loads of chain, Taylor's diesel heater Jabsco loo, self-steering gear. Compass.

Will need more cleaning inside, new batteries, some new wiring. Will also need new upholstery and cooker.

Winches all working

Lister inboard got working shortly afterwards and still free,

Rig stored away in rack.

Boat at Trevor Greens yard Tollesbury.

But must be 'sold as seen' buyer to satisfy themselves on inspection.

Offers on £1750.!!!!

(Now where else could you but a GH31 for that money that, with work, you could sail away on!)

Sharon George :-

Sold to a former owner Nick who is to restore her... A result!

7/17
---
SOLD: 'ISIS' 27ft Kesteloo Eventide in steel.
Isis is a 27ft long steel Eventide built we believe in the Netherlands by the Brunisse company 'Kesteloo'. She was sailed to the UK back in the 1960's and in the same ownership ever since.
She is a project boat and will need a deal of TLC and possibly metal working, to bring her back into safe use.
SAILS:
Includes sails, as-new - virtually unused: Main sail, Genoa, and working Jib.

ENGINE:
BMC marinised engine, with heat exchanger. Has been working well recently but probably needs some attention.

MAST and BOOM:
Auxiliary mast-head. As-new aluminium mast, hardly used. Wooden boom.

EQUIPMENT AND CONTENTS INCLUDES:
Sails and ropes
Anchor
4 fenders
two harnesses
inflatable life-jacket
two wooden oars
one boat hook
Small outboard motor
Arc welder and welding mask

Ashore Burnham on Crouch.
Offers around £1500
SOLD
Contact: Anna Nesbit

SOLD 9/17

---
SOLD: KYLIX 27, 'SWATCHWAY'
Built by Bure Marine, Great Yarmouth 1978, launched 1979
Beautiful example of this Maurice Griffiths classic design in superb condition. 2 careful owners.
Iroko on oak, Bermudan cutter rig, Beta 20HP diesel engine fitted in 2003 (429 hrs), Taylor Paraffin Cooker, Blakes toilet, Faversham solid fuel stove. Centreplate.
4 berths – fore cabin converts to a double.
4 tan sails; main (slab reefing), staysail (self-tacking ) , jib & genoa (roller-reefing). Lazy jacks.
3 anchors; CQR with 15 fathoms of chain, Fortress Kedge anchor, Fisherman's anchor as a spare.
Raymarine ST2000 autopilot, Tacktick instruments ( speed, depth, wind speed ).
2 VHF radios – Navicom ( with in-built AIS ) & Standard Horizon hand-held . Garmin hand-held chart-plotter 76CSx, Garmin personal navigator GPS72
Wooden davits. 2 tenders; Clovelly pram dinghy & Avon Redstart, 2.5 HP Seagull outboard.
2 batteries. Sterling charger, Forgen wind generator,
Sestrel Moore compass. Spare tiller, Davies windlass.
'Granny bars' , extra handholds on cabin top – a very safe boat. Fire-extinguishers – serviced 2015. Cockpit table. Teak decks. 'Loco-cab' cockpit.
Full, fitted, canvas winter-cover.
Lying Grimsby Meridian Quay marina.
Price reduction!!!
SOLD
For further details please contact Bob Barton
9/17
---
For SALE????? maybe..... seller not been in touch
Eventide 24 Niarbyl.
A Restoration project.

This Eventide 24 has mast and rigging but no sails, a solid hardwood planked hull and I have been told she didn't need a great deal of work other than engine and sails.
Location is :- Under Fall yard, Bristol.
asking price , we are open to offers around £800
contact Zak
mobile number: 07391676413
Email :talbot19972 at gmail.com
If the seller reads this please contact us as we have been unable to contact you to establish if this boat is still for sale...
7/16
10/17
---
Maybe For Sale: 'Maplin Maid' Maurice Griffiths Bawley.
As she is now, awaiting TLC.

And how she looked a few years back!
Details of Maplin Maid
26ft. Thames Bawley designed by Maurice Griffiths.
Built by Johnson, Jago & Sons, Leigh on Sea. 1965
6.5 tons. Cutter rigged, with small bow sprit. Sails are white. Variety going back 8 years or so. Slab reefing. Aluminium mast and boom. Galvanised rigging.
Powered by a replacement 10h.p. Saab Diesel Engine. Motor 1967, running well - she never misses a beat.
Fully equipped. VHF Radio, echo sounder, navigation lights, electric winch.
Anchor, ropes, fenders, davits.
2 gas rings and grill.
She needs a considerable amount of work to restore her to her former glory as she needs some planking repaired.
I have had her for 26 years and she has been a comfortable, sea kindly sailing boat.
Sadly over the last 4 years, due to my own health problems, she has needed attention that I have been unable to give and this is not going to change.
I really would love her to go to a good home where I know she will continue to give pleasure and be cared for. I know she would be a really worthwhile project in the right hands.
She is ashore at Tollesbury.
I would like some monetary return for her, but willing to consider any offers. I would be delighted to get £4,000. this is negotiable .
This boat was in Tollesbury ashore at the Saltings company, sadly the phone number no longer worked so advert removed.
2/18
---
Maybe For Sale: 30ft Waterwitch 'Jenny B'
The boat is a "Waterwitch" 30 foot, iroko on oak built by Dempster Smith in 1978; I bought her about 5 years ago from him. In my experience engineers always over engineer their own projects and she is no exception.
She is moored in Lossiemouth Marina and sails Spey Bay and the Moray Firth.
Four berth, 25hp Kubuto engine and dog house for weather.
Changing circumstances means that, unfortunately, she is for sale,
Dempster, the builder, was an engineer and like most engineers when working on their own projects totally over-engineer the product; three pieces of timber when one would do; two radios, two auto-pilots, brand new spare propeller as well as a complete tool kit etc. anti- fouled, anode, new prop., new batteries and some lines.
The belt and braces builder also believed in spares; complete set, new spare alternator, two auto pilots, spare sails, etc. She has a full inventory.

She is due out shortly for a version of 'Coppercoat' (10 year anti-foul) which Lossiemouth marina is sponsoring.
Can be seen Lossiemouth Scotland.
She is listed on boatshed,
http://www.boatshed.com/maurice_griffiths_waterwitch_30-boat-151236.html
Offers near £15.000
Contact Andrew Mason
mail: sermur2002 at yahoo.co.uk
phone : 07512530597 ******* this phone number did not work in 2018 so boat removed from active page.
4/18
---
SOLD
Maurice Griffiths Golden Hind 31 'Imshallah'

Built in 1968 by Hartwells of Plymouth, she is sheathed ply construction, with long keel and bilge plates. Re-engined in 2001 with a Yanmar 27hp 3 cylinder diesel. It is at around the same time as this she was converted to a cutter rig. The current owners (a partnership of three) have extensively renovated and improved her over the last ten years. We believe she is probably in the best condition for a wooden Golden Hind 31 that you can find. Her inventory includes:
Mainsail with 2 slab reefs
Roller reefing Yankee and Staysail Jibs
Lofrans electric windlass
Kiwi feathering propeller
35lb CQR anchor, 15lb kedge anchor,
NASA Clipper speed, log and depth,
NASA Clipper wind speed/direction
NASA Clipper GPS repeater
NASA Navtex and AIS.
Navman DSC VHF
Lowrance Plotter
Masthead and coach roof navigation lights (LED) Merlin battery management system 2x90ah batteries.
Spinflo cooker with 2burner hob, grill and oven Autopilot Twin 53ltr plastic fuel tanks Radio/CD player Refurbished toilet.
Dinghy and outboard
'Imshallah' is a sound, comfortable vessel capable of good passage making she went around the 'pond' in her youth, and will look after you if the going gets tough.
Presently lying at Ilfracombe. Devon.
(£12,000)
4/18
---
May be For Sale: GH 31 'Hale Kai'.??
Hale Kai was built by Terry Erskine Yachts, Plymouth and completed in November 1978, Sail No.199. The construction was supervised in stages by an ARINA surveyor.
Hull : GRP
Cabin and deck : Teak, mahogany, and epoxy sheathed marine ply.
LOA : 31.6" (35'9"including bowsprit)
Beam : 9'
Draft : 3' 8"
Sails : Mainsail (new 2012)
: No1 Jib (Yankee)
: No2 Jib (Yankee)
: 150% Genoa for light airs
: Staysail
: Storm trysail
Engine : Inboard diesel 35HP Beta professionally installed 2006. Ultra flex morse control new 2014.
Steering : Tiller and Raytheon ST400 Autohelm
: An Aries wind vane can be included
in the overall sale price but is currently dismounted from the craft.

Fuel : 2 x 10 gallon aluminium tanks, separate filling and balance line with isolating valve

Water : 2 x 20 gallon glass fibre tanks below saloon seats

Electronics : 1 x 12V 110AH start battery

: 1 X 12V 110AH domestic battery

: 1 inverter

: VHF radio
Navigation

: Plastimo compass

: Standard Horizon GPS CP300i Chart plotter

: Hand bearing compass

: Seafarer Echo Sounder

Galley : 2 Burner with grill & oven gas Plastimo cooker (new 2010)

: Taylors 030 paraffin cooker complete with pressure tank can be included in the overall sale
price but currently dismounted from the craft

: Integral Ice box built in with manual drain pump

: Stainless steel sink with manual water pump

Accommodation : Double in forepeak to starboard with stowage lockers to port instead of V berth

: 2 saloon berths with lee cloths

: 1 pilot berth below chart table currently used for storage

Anchors : Bow - CQR 15kg

: Spare - Bruce 10kg

: Approx 40 metres 5/16" chain

: Simpson and Lawrence Model 0510 windlass

Heating : Danish Refleks diesel stove gravityfed from stainless steel
tank in the heads (see photos)

Liferaft : Eurovinyl 6 man new 2001. Will require recertification.

Tender : Waveco, 3 person, slatted floor 2009

: Outboard 3.3 Mariner 2 stroke

Fenders : 5 off new 2010

Heads : Baby Blake toilet, new soft goods kit 2015

Safety : 4 lifejackets

: 1 Horseshoe life ring

: Whale Gusher 25 manual bilge pump
Miscellaneous : I am the current sole owner since
September 2001 and there were 3 previous owners. My cruising ground has been the Moray Firth as far north as Orkney and Shetland and latterly the West Coast of Scotland from the current berth on the Canal, leaving the boat ideally placed for access to both cruising grounds.

The yacht is in commission at Dochgarroch, one lock from Loch Ness, and in February 2016 passed the Annual inspection required for permanent berthing on the Waterway.

Price £16,000 or nearest offer.

Contact : Reg Simpson

: Mobile 07555501734 This number no longer works...?

: goldenhind199 at gmail.com
4/18
---
SOLD: Senior 'Shelduck.
Built in 1960's sail no: YM4015
2 berths in one cabin, 1 head (sea toilet)
19ft overall (17ft plus bowsprit).
Deck length 16ft 2ins
15ft waterline length
6ft on the beam
She is in very good order, trailer is rather old, though is being refurbished.
Bilge keels hull marine ply sheathed and painted, hardwood trims
Sails are in very good condition: mainsail, two furling headsails
Two burner gas hob, Echo sounder, tiller steering,
Anchor with chain fenders boathook, cockpit cushions with new covers.
She is ashore in Walton on the Naze..... no engine......
Sold for a son to a friend!
8/17.
---
Withdrawn from
Sale: Eventide 26. 'April May'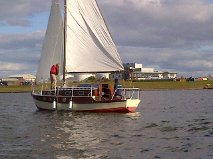 Grey cabintop and decks repainted cream.
Eventide 27, slightly stretched E 26!!
For sale, an Eventide 27 presently berthed afloat at Cardiff Bay Yacht Club.
The boat was built around 1960. It has a teak keelson and teak interior diagonal planks and flooring. The hull is ply over frames.
It has an Arona diesel engine fitted. The engine is in running order.
She carries a set of sails of good condition.
There is a GPS plotter fitted.
I repainted the hull with primer and antifoul in October last year and the boat is now back in the water. There are four berths and fittings for a head.
There is a galley space with a sink and a place for a twin gas burner. The wiring for the boat is not fully completed but the fuse box is ready to be wired into and some cables run out to running lights.
Price £3000 o.n.o.
Contact Tel No:- 07976040047
Email:- michaelmmorgan at hotmail.co.uk
4/18
---
SOLD: Classic MG design, 'Olive Mary'
'OLIVE MARY'
Particulars of "Olive Mary"
(D T I Registered as a British Ship)
Type/Class: Auxiliary Gaff Cutter.
Dimensions:
Overall length (excluding bow sprit)
25' 6"
Lwl 23' 0"
Beam 8' 6"
Draft 4' 3"
7 Tonnes T.M.
Builder: Harry King and Sons of Pin Mill, Ipswich in 1931
Designer: Maurice Griffiths.
Construction: Hull of Pitch Pine planking on sawn Oak framing with generally two intermediate steam bent timbers all being copper rove fastened. Heavy Oak floors with iron ballast keel and internal lead pig ballast. Keel stepped mast. Spruce beam shelf and bilge stringer with heavy scantling varnished Oak deck beams and iroko laid deck over marine ply. Varnished teak bulwark stanchions with varnished iroko bulwark capping and varnished iroko covering board
"Olive Mary" enjoys wide and easily worked side decks with a clear foredeck and low profile Teak cabin top trunking. The coach roof is Teak laid with varnished Teak margins and traditional skylight hatch and a large running hatch as will be seen from photos which can be drawn aft fully enclosing the cockpit. Stanchion rails and guard wires are available but not presently fitted. On deck, forward, galvanised stem head roller for the anchor chain with approximately 3/8" galvanised chain and anchor windlass. Two varnished oak bits for the bowsprit offset to port. Bullseye fairleads. Belaying pins on mast band for halyards and belaying pins against bulwarks to port and starboard. Varnished tongue and groove panelled Teak cockpit joinery with access to the engine and further engine access beneath the companionway steps. Internally, a most attractive and traditional yacht interior, with white enamelled deck head between the varnished Oak beams. Gloss varnished finish to the inside face of the Teak cabin trunking. White enamelled tongue and groove Pine panelling to bunk fronts, varnished back and locker fronts. Varnished Mahogany cabin sole. Teak cockpit grating.
Spars and Rig:
Varnished Spruce heel stepped mast with galvanised iron cross trees. Varnished Spruce bow sprit. Varnished Spruce boom and gaff yard. Galvanised standing rigging with stainless steel forestay bottle screw. Cap shrouds and lower shrouds belayed with traditional dead eyes and lanyards. Running back-stays. Traditional varnished ash blocks for main sheet etc. with Terylene running rigging. Wickham-Martin headsail furling gear.
Accommodation:
Traditional interior with two saloon berths. Standing headroom under skylight and sitting headroom under side decks. Galley and oilskin locker. Folding table. Ample storage lockers. Separate WC to port forward of bulkhead and Taylors hob and grill to starboard forward of bulkhead. Fore cabin with two pipe cots with seat lockers under. Hatch to fore deck. Storage lockers and chain locker.
Sails:
Mainsail in off white clipper canvas with two reefs and tan sail cover.
Furling Jib in white Dacron with burgundy UV strip.
Tan staysail.
Working Jib in white Terylene
Working staysail in white Terylene
Light jib in tan Terylene.
Light staysail in white Terylene.
Topsail in white Terylene.
(Other sails possibly available)
Main new 2016, Furling Jib new 2012, others in good to serviceable condition.
Engine:
Perkins 23 HP diesel new 2006/7.
Shaft drive to three blade prop.
Dynamo charging to two 12 volt batteries.
Steel fuel tank approx. 10 Gallons
Equipment:
Includes porthole compass.
Sestral handbearing compass.
Walker Log.
Navman 3100 Depth sounder.
Autohelm 2000.
ICOM VHF IC-M323G new 2016 (to be connected)
Danforth and Fisherman type anchors and Fortress anchor.
Hand and electric bilge pump.
Electric Nav. Lights.
Beaching Legs.
Clock and Barometer.
Ample warps and fenders.
Equipment cont.
Fire extinguisher and fire blanket.
Olive Mary has been well looked after by her present owner and has received a program of continual maintenance and upgrading whilst in his ownership, to include:
New Iroko deck on marine ply. (1997)
New Ballast keel fairing blocks. (1997)
Apron repair. (1997)
Fitting a new copper fastened oak floor and keel bolt. (2004)
Caulking and stopping below water line. (2003)
New galvanised standing rigging (2012)
New Faversham solid fuel stove. (2010))
New Taylors 028 paraffin cooker. (2010)
New Jabsco Manual toilet. (2011)
New Perkins 23 hp diesel engine. (2006)
New stainless steel fuel tank. (2006)
New flexible water tank. (2015)
New saloon berths. (2006)
New electrics. (2006)
New furling headsail with burgundy UV strip. (2012)
New loose footed main in off white clipper canvas by Patrick Selman of Gaff Sails Falmouth (2016)
New mainsail cover by Patrick Selman (2016)
Lying: Conwy River mooring North Wales.
Remarks: One of three sister ships built in the 1930's to this design. A very able sea boat which performs well and inspires confidence. Has featured in Classic Boat (September '92), March ('93) and as Boat of the Month (July 2011). "A very special little ship"
Price: £15,750
4/18
---
Maybe still For SALE: Roach Class 'Saiorse'?
Roach class cutter , she looks like a Thames Bawley 26 but is longer!

Nice little Maurice Griffiths with bowsprit and bumpkin, with a wood burner and a big V cabin in front. Lots of space for this LOA. Had a major refit (2003) and a owner who kept her in good shape. Pleasant under sail.
Engine recently serviced.
Good electronics (GPS and AIS) useful to cross the Channel.
Inventory available upon request (including life raft 2012 for 6).
2011 survey available upon request
Length on deck: 27'7"
Beam: 8'8"
Draft: 3'9"
Tonnage (TM): 6.7
(built by J W Shuttlewood & Sons, Paglesham 1965)
Asking price
£12,500 negotiable with or without life raft and oil lamps with heat shields
Lying in France.

www.facebook.com/ClassicsailingSaoirse

contact details, e mail and phone numbers.
cristobald00 at yahoo.fr (preferably)
UK mobile +44 7757 430 434
2/16
---
May still be FOR SALE: 'La Simpatia' 1962 East Anglian MK1.
Designed by Alan Buchannan
Built by Dixon Curley
L.O.A: 27'9", Beam: 8', Draft:4'6"
Cast Iron, Long Keel. Laid decks with West resin, woven roving cloth.
Aluminium Mast, Roller furling Genoa,
Vetus 3 cylinder diesel engine with electric start
White Hull, Cream Decks and Blue Cabin
5 Berth
Including:
Sheet winches, halyard winches, Spinnaker, Cruising chute, Mainsail Cover, Navico TP300CX Autopilot, Dinghy,
4x Lifejackets, 2x harnesses, yard trailer, Sestrel 10 Compass, Target echo sounder, toilet, Icom VHF & aerial,
Nav lights, MH lights, Steaming lights, Anchor lights.
The boat lies at the Royal Northumberland Yacht Club in Blyth on the North East Coast, She is currently ashore and having new keel bolts fitted, when launched she is ready to sail away.
Asking £5000 for her.
http://www.ebay.co.uk/itm/1962-East-Anglian-Mk1-Yacht-/231506276726?
Contact Terry Taylor on 07970512844 or Andy Taylor on 07866416266
2
/16
---
For Sale: Golden Hind 26, 'Kinvara'
Her hull and superstructure were supplied by Mark Urry of Golden Hind Marine in October 1999 for home completion. This was done by my husband to a very high standard with quality fittings throughout. She was first launched in May 2004.
She has a GRP hull, epoxied before launch (since copper coated) and GRP cockpit, an encapsulated lead long keel and steel bilge plates. The decks are epoxy-sheathed ply with a timber coachroof
LOA 26' plus bowsprit (LWL22'7")
Beam 8'2"
Draft 3'3"
Displacement 8340lbs
Ballast 3508lbs
4 berths (2 forward with optional infill and 2 saloon)
Max headroom 5'9""
Cutter rig with boomed staysail.
Sailspar alloy spars, furling gear and SS standing rigging
Jeckells Sails
Beta Marine BD722 20 bhp diesel engine, freshwater cooled
2 x 6v 220 AH deep cycle batteries plus 85 AH engine starting battery
70 amp engine alternator with Adverc battery management system,
Victron Phoenix 12/50 shorepower charger
36 watt Sunware solar panel
Winches: 2 x Lewmar 30 self-tailing, Lewmar 7 on mast, Lewmar 7 and 16 on coachroof
27lb plough anchor with 50m 5/16" chain
Simrad TP 20 tiller pilot
Silva 102 bulkhead compass
Garmin 550 chart plotter with GPS (new 2009)
Silva S15 DSC radio
Icom MXA 5000 AIS (new 2009)
Nasa Clipper Navtex (new 2012)
Navman Multi Log/speed/depth instrument
Northstar wind speed/direction instrument
Wallas Safeflame 95D 2 burner ceramic hob with warm air blower lid heater (NB there is no gas on this boat)
Refrigerator (top loading)
Lavac Popular heads with 33ltr black water tank
She is moored at Marchwood Yacht Club, Southampton and has been extensively cruised from the Netherlands to the Isles of Scilly.
£39,950
Contacts: Terri Cox:-
terri_portacre at yahoo.co.uk
2/16
---
SOLD: Golden Hind 31 'Serenity'

Fitted out – Stephen Hanks completion/launched 2015 (purchased Hull 2011)
Hull ( number 251) –Armada Yachts – 1993
Initial Survey – Jonathan Jackson (MRINA, MCMS) 26/3/2011
Recent survey – Jonathan Jackson (MRINA, MCMS) 3/7/2015
Specification
LOA 10.65 mtr
Draft 1.2mtr
LWL 8.2 mtr
Beam 2.75 mtr
Displacement 6275kilos
Construction GRP, Bilge Keel
Steering – Tiller
Deck - treadmaster
Sails
In mast reefing - Z-Spars 2015
Jib/Genoa furling- Z-Spars 2015
Spray Hood and Dodgers 2106
2- Lewmar winch 30-CST
2- Lewmar Winch -8 Standard
2- Lewmar triple D1 rope clutch
Engine Diesel VETUS M3.28
HP 28
Age 2010
Engine Hours 25
Serviced October 2015
Fuel Capacity 98 Ltr (1 tank)
Cruising speed 5knots
Max speed 6 Knots
Bow Thruster Vetus
Propeller – RH 13x9
Ambassador Rope Cutter- AM10
Water Capacity 149 Ltr (2 tanks)
Electronics and Navigation Equipment
Compass – Plastimo (Contest 101)
Chart Plotter – Raymarine (A65)
VHF - Raymarine
Depth – Raymarine (I 50) (warranty until 13/10/17)
Log - Raymarine (I 50) (warranty until 13/10/17)
Wind insturments - Raymarine ( I 60) (warranty until 13/10/17)
Navtex - pro plus 2
Anchor - 35CQR
Chain – 8mm x 40mtrs
Windless- Lewmar - Pro Series
Navtex - pro plus 2
Shore power- 1x double, 4 single
All Lighting LED external and internal
Batteries
Starter 85-AH (warranty ends 7/5/2018)
Domestic- 2 125-AH (warranty ends 7/5/2018)
Bow Thruster- VARTA 125 AH (new 4/9/14)
Sterling power management panel 200 amp
Sterling battery charger 12v 40amp
Sterling alternator - to - battery charger
Berths -4, sea toilet, shower, water heating engine and emersion), fridge,
Cooker and grill ( Plastimo Pacific 3000 2 burner)
Heating- Eberstcher D2 (new 23/3/15 with a warranty for 36 mths)
Small ships register
SSR 162971
<![if !supportLineBreakNewLine]>
<![endif]>
Completed to a high specification, viewing highly recommended. With regret Serenity is now up for sale due to ill health.
Based in Lancashire
We now have full RCD (post construction) A rating CE classification. .

Sale Price further, further, further reduced to £49,000
April 2018, sold subject to survey
Contact Stephen Hanks
<![if !supportLineBreakNewLine]>
<![endif]> .
3/18
Editors note, This is as close as anyone will get to buying a brand new one today! If only Ernie could come up!
---
May Still be For Sale: Lone Gull I 'Beachcomber'
As she was a year back
cockpit before restoration.
..
And how she looked a few years before that...
A 28ft MG Classic! A
nyone interested in taking her on? Needs a little work.
28ft on deck, 25ft on the waterline, 10ft beam and 3ft draft. This one has no plate.
Mahogany on elm with oak transom. Johnson Jago built her- started in 1939 but not launched till 1945. She has no centre board, big bit of iron on the bottom with pig iron in bilge, all nicely primed and stowed. The saloon was recently stripped to wood and primed and painted nicely, although I threw out all the cushions!
She is ashore at Odessa yard in Newport on the Isle of Wight and has been so for over a year.
I have done a lot of work on her over years, a new main bulkhead was put in whilst the cockpit was being replaced, ribs have been sistered, bulwarks scarfed and timber heads repaired, I had asked for a new transom whilst I was away working (I am a commercial skipper- or was I should say) but only 3/4 of it was replaced so needless to say, the other 1/4 now needs doing.
Other works required include hatches- all need attention, galley needs rebuilding- blank canvas at present, there's no electrical system or instrument, mast is good but standing rigging was stolen at the yard she was at before Odessa, so let's say she is a project! The hull is solid though and she exudes character and coziness nonetheless.
She has 2 suits of sails, one a bit shabby and one virtually new, all spars and running rigging, bow sprit may need some attention but I refurbished the mast a few summers ago and as we were going to put it back up in the air discovered the standing rigging had "gone missing". I have a note of lengths and diagrams of how to.
She has original compass, navigation lights, oil lamps, Bukh 20hp inboard, engine spars inc internal anode, new pipe work around engine and tanks, a great windless (can't remember the make) pansy charcoal stove, there's lots of paperwork and history with magazine articles etc. um what else can I write? She's a lovely little yacht!
Offers around £3,000 ono
Contact Samantha
e-mail- sam_fulleruk at yahoo.co.uk
Tele:-07970 251235
01/16
---
SOLD : Eventide 26 'Talland'.
Eventide 26 "Talland". E968
Built in 1970 by G.W.Wall of Talland
Hull Construction
Marine Plywood fastened with copper nails, glue and roves to oak frames. Deck and cabin top also marine ply on oak deck beams. and sheathed with glass cloth and epoxied. Painted with non-slip. Mast and boom are varnished spruce and are the original. Top sides primed and built up with International Toplac. Varnished teak rubbing rails. Raised topsides with six circular portholes. The bottom is well primed, with 2016 anti-foul. Survey of July 2014 commented Hull bottom looked good and sound when tested. Internally the hull looks good and painted white. Keel bolts are mild steel and stainless on the rear skeg.
All galvanized stanchions on deck have been, by previous owner, re-bolted, resealed on new wood blocks. Toe rails are varnished teak.
The tabernacle is welded mild steel and holds a bracket with pole with bow fixings to lower and raise mast with a reconditioned, by owner, Lofrans windlass.
New spray hood canvas, in 2016, with clear windows mounted on stainless steel frame.
Fuel tank is 57 litre stainless steel located starboard forward of cockpit and was removed cleaned out 2016.
Engine
Yanmar 1GM10 single cylinder raw water cooled fitted with 2.62 to 1 reduction gear box driving 3 bladed propeller. Removed 2016 engine mounts painted and checked.
Electrics
12volt circuit with two batteries contained in solid battery box. One for starting engine and a 110amp calcium house battery new 2016. Charged by alternator and 50watt solar panel. Switch panel with fuses refitted and rewired 2016. Clipper battery indicator.
Icom VHF radio with new ariel and cable.
New Clipper log and depth system.
GPS antenna for Raymarine.
Auto pilot; Simrad TP20
All navigation lights 12v.
Galley
Refit 2016
New primus twin burner paraffin stove mounted in gimbals.
New 80litre water bag, pipes, hand pumped cold water tap.
Stainless steel sink.
Rigging
Stainless steel 6mm for Fore stay, inner stay and aft stays. Original 3 port and 3 starboard shrouds are galvanized steel wire and are showing a sheen of rust.
Running rigging in reasonable condition.
Mainsail and Jib with storm jib are all in good working order.
Accommodation
Can sleep 4. All furniture is built of wood, cushions in a hard wearing material. Heads is fitted starboard forward cabin under V-berth, which is a Jabsco marine toilet with new pipes and washers. There is a Victory paraffin heater with chimney on board and brass lamp. Two brass hinged style coat hangers. Cabin just recently painted white.
Safety
Life lines plastic coated with galvanized push-pit, pulpit and stanchions.
Fire extinguisher.
Fire blanket.
Bilge pumps, one electric on auto and one hand pump.
Two anchors. one Danforth and Bruce 10kg and 20kg on 8mm chain 40 meters.
Horseshoe life belt and Dan buoy.
Various fenders.
Surveyors Comments in 2014
These are well built vessels originally and this one in particular would appear to have been built by somebody who knew what they were doing. She appears to have been well looked after. This vessel is quite suitable for sailing in waters for which she was designed.
Owners Comments
My wife and now 10yr old daughter and I have had the pleasure of sailing Talland since summer of 2014. We have had some good adventures sailing around the Norfolk coast and some scary ones. Talland can take some rough weather and we have had fun sailing her. She has been craned out in the winter and kept well maintained as did the previous owner. She is good to go for many years. We are selling as we are looking to sail further afield and longer distances so buying a new boat. Talland has been a great first time sailing vessel and our learning curve.
Lying: Fosdyke Yacht Haven.
Price: £5950.00 (Seen for sale on EBay for £5,000) Price greatly reduced, offers over £1000!!!! Haggle with Stephen!
Contact Stephen Ward.
08/18
---
SOLD: 'Ivory Gull' a Lone Gull II design.
It is with great regret that we are selling Ivory Gull, but circumstances have changed and James will be living much further away.

Ivory Gull is a 1991 Lone Gull 2, 28ft. twin mast schooner, with GRP hull and the most amazing internal fitting out in Maple. In the last four years a lot of refurbishment has been carried out, including new sails, battens and covers, all running rigging and much of the electrics.

The boat has been rigged with simplicity in mind to give the minimum amount of ropes (all led back to the cockpit). on the davits there is normally a rigid dinghy, which is presently stored elsewhere (to keep the Marina costs down). there is a sea toilet, paraffin cooker and a very efficient diesel heater.

There is one double berth and two singles and a fixed table in the centre of the main cabin.

We are looking for

about £27,000 Sold for substantially less!!!

A very full inventory, but we would really prefer the boat to go to a real junk rig enthusiast (or someone who will potentially be one).
We understand this boat may be sold! Will the new owner step forward!! It was seen recently on 'Saving Lives at Sea'!!!! Got into trouble and was rescued... New owners??? No, that was Clive and James, got into trouble after the Heritage boats rally in 2017... James injured. All ended OK!
10/18
---
SOLD: 'Jorrocks II'

Jorrocks II is sadly for sale for family reasons. I have owned her for 20 years and during that time she has undergone an extensive refit, while retaining her original layout. She is one of only two yachts built to this atypical Maurice Griffiths design; the first one was his own (Wild Lone II, now Wild Goose, launched in 1935) who was so admired by a former High Sheriff of Essex that he bought a set of her plans and commissioned the Leslie Harris yard at Burnham to build him a similar yacht. That yacht was Jorrocks II; she was completed in 1936 and was the last to be built at the Harris yard. She is truly a classic.

Jorrocks' overall length is 35'7", beam 9'3" and draft 4'7". She is a Bermudan cutter, her hull planked in pitch pine below the waterline and mainly mahogany above. The mast is spruce (stripped back, refinished and currently in storage, as she is laid up unrigged in a mud berth on Faversham Creek) and is keel stepped. Her boom is also spruce, the spinnaker pole is Douglas fir and the bowsprit is pine. Internally, she has teak joinery and oak beams. The tiller is of varnished teak as is the cockpit (stripped and re-varnished this summer). There are 2 anchors; a main 35lb CQR and a 15lb CQR. She comes with a wooden dinghy that stows on the coach roof between the doghouse and the mast.

The accommodation from aft consists of a lazarette accessed via a hatch in the deck which contains a fuel tank to starboard. The cockpit has seats port and starboard, with a hand bilge pump situated under the port seat. The companionway is amidships with the engine below it. There is a quarter berth to starboard and storage to port.

The saloon contains a settee berth each side with fresh water tanks below, and storage behind and forward. There is an enamelled Faversham solid fuel stove, a teak table

, and the sole throughout is of polished teak planking. A door leads through to the central galley which has a sink and a gimballed paraffin Taylor stove with two burners, grill and oven to starboard. To port there's a door into the heads with a large basin and loo (mostly Baby Blake, but with a modern Armitage Shanks pan because the original one cracked when a bowl full of crockery fell in it!) There are doors to the fo'c'sle which contains two more berths plus an infill so that a large double berth can be created. There is stowage below the berths, and forward of the berth there is storage and chain stowage.

Ten bronze ports are fitted in the teak coamings, and prismatic deck lights in the deck and cabin top. The deck itself is of thick tongue and groove pine, covered with marine plywood, sheathed with woven rovings and epoxy resin, and painted cream. The engine is a three cylinder Volvo Penta 28hp which has been maintained and regularly started and run.

Jorrocks has various sails of various ages, none very modern, including the mainsail, working and storm jibs, and staysail; she still has her original Egyptian cotton spinnaker which is very effective in light airs. As far as her sailing performance is concerned, she is very well balanced, not at all tender, and speaking as a small person of no great weight I can only say that I've never found helming her difficult in any weather. I have sailed her up the East Coast, down to Southampton and most frequently across the Channel to France, Belgium and Holland.

The close-up photographs of Jorrocks' interior and of the cockpit etc are contemporary (mid-September 2014) and the rest were taken a few years ago (the black and white one was taken during the Swale Match). There are more photos that illustrate an article I wrote about her that was published in Classic Boat magazine, should anyone have access to the June 1997 edition.

I have all the invoices and records of the work carried out during my ownership.

Her asking price is

£35,000. XXXX drop the price to £27,500 but would be happy to discuss price with anyone genuinely interested.

SOLD

MEFO PHILLIPS

11

/18

.
---
SOLD: Mainsail.
White mainsail with batten pockets, good condition. £25.00 ono.
Ex Hurley Felicity 20 ply sailing cruiser, sadly no more. Stored for last 20 years in barn, time to move it on.
In store in Tillingham, could post for £8.50 UK.
Contact John 01621 778859
or mail:- enquiries@eventides.org.uk
1/18
---
Sold in bits: Eventide 26 restoration project or parts?.
The boat would be restorable by a dedicated and talented person. However, in the real world people don't have the time to commit. So the only thing to do is to offer bits to current owners who might be interested in buying spares. The main parts could be interesting to current owners.
The mast and spars. (Mast and boom £ 300). Inc Standing rigging. (Stainless wires which hold the mast up).
Sails. £ 200
Pulpit and stern rail (The stainless steel structures at the bow and the stern). £150 each
Stanchions and guard wires £150. (The posts and wires which stop you falling off).
Propeller £ 50
Tiller (The lovely piece of wood with bracket which controls the steering £30
Various Tufnell fair leads (the screw on brackets which the various running lines run through) £30 the lot.
Handles, hooks and eyes locker catches etc. £40 the lot.
The whole boat inclusive £500 as is. ( negotiable)
Naturally your location makes it difficult, but a keen person would handle that. Tobermory, Scotland
If a buyer is interested he/she must understands that the liability to move it rests with them and not still with me. (Lucille)
If you have any questions regarding the above feel free to ask!
Lucille
12/18
---
SOLD
mainsail needs a little stitching on a tear on luff and on a batten pocket, (no battens with it..). ali slides on luff.

No makers name,

Luff 23' 10"

Leech 25' 6"

Foot 10' 9"