<![if !vml]>

<![endif]>
---
<![if !vml]><![endif]>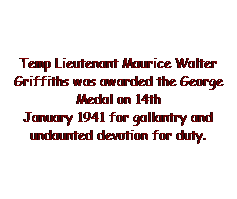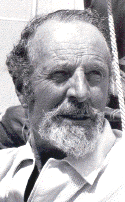 Sadly, I have to report the death, on Saturday 11th of October 1997, of the designer Maurice Griffiths. In addition to declining any royalties for his Y.M. designs, that I helped to sell the drawings of, Maurice was always in close touch with me regarding the Eventide and his other designs, answering queries and enquiries.

He never lost his contact with the 'common man', and much of the sailing we enjoy so much today must surely be as a result of his tireless campaigning for 'Yachting on a small income'.

Born in 1902, and spending much of his early life in Ipswich he gravitated to the water, like so many boys! His early sailing exploits led him to own a succession of small boats, then to write about them. After writing for 'Yacht Sales and Charters', he went on to become it's editor, then later Editor of Yachting Monthly. Though best remembered for his spell book 'The Magic of the Swatchways', with which he bewitched so many of us, he actually wrote some twenty titles, many still readable and apt today.

His latest 'Sailing on a Modest Income' was published as late as 1996.
He was awarded the George Medal for his work defusing mines during WW2, and was always reticent to discuss it. Reading his book, 'The Hidden Menace' and his biography, 'The Magician of the Swatchways' gave a little insight into this dangerous work, and also his unique and little known contribution to the liberation of Europe.

Post war he returned to writing and his place at the helm of Yachting Monthly. On his retirement he moved to West Mersea, Essex, overlooking the River Blackwater, latterly moving inland on the island to a modest bungalow. His study was full of boating memories and paper was always in his typewriter to reply to enquiring yachtsmen.

He and his wife Marjorie, who died spring 97, were really from a bygone age of courtesy and politeness, the end of an era, and both are sorely missed.

John Williams.

Maurice died, at the age of 95 years, on Saturday 11th of October 1997. He had been admitted to a Colchester hospital just ten days earlier.
His funeral at Colchester Crematorium was attended by some seventy plus people, mainly from West Mersea. It was warming to see sailing friends here too, those who sailed his ships.
It was a very simple service, with, 'For those in peril on the sea', as one of the hymns. The service was led by a fellow West Mersea Yacht Club member, a reverent gentleman who had spent most of his service as a missionary in Africa, and looked every inch a naval padre, though he wasn't! One of the memorable quotes he made was from Kipling's 'If', for as he said, Maurice had filled every second of each minute with a distance run, so involved and busy had his life been.
There was of course reference to his Marjorie, who died last February, and their devoted life together. James Jarmain, the Editor of Y.M. addressed the congregation with a brief resume of Maurice's life, mention was made of M.G.s little study, where I can confirm the paper was always in that old typewriter to reply to aspiring sailors or builders. Indeed, though Maurice was a very modest man, he was exceedingly proud of his Eventide, and as James said, always was interested in it's progress.
After the service most attending repaired to the West Mersea Yacht Club, where a glass of wine, or two, and a buffet had been laid on, courtesy of Yachting Monthly.
Here my wife, Darian and I met Maurice's friend John Roberts, who had organised much of the proceedings, together with Barrie, Marjorie's great nephew. We also met Jason and Mathew Griffiths, great nephews, Tanya Griffiths, the great niece, and their mother Pat. Though none of them described themselves as very close, Jason had read and enjoyed a couple of Maurice's books. Mathew described the age at which he last met Maurice as 'when he was a little bendy person'!! I think he meant babe in arms! Maurice and Marjorie had often spoke of them when we lunched together at the W.M.Y.C.
I was very pleased to learn that our Eventide, 'Fiddler's Green', would be very welcome to accompany friends and relatives out on the River Blackwater the following Thursday to scatter Maurice's ashes on the sea. I quickly found a crew in Peter North and David Wright, Darian being unable. It transpired that there was no room left on the Dunkirk Little Ship 'RHIS I', for Maurice's side of the family, so I invited them to join us aboard 'Fiddler's Green'.
So it was that at 0830hrs on Thursday 30th of October, I was dousing the icy decks with buckets of salt water to make it safe for my guests. By 0930hrs, David having helped me ready for sea, we set off from Bradwell with all aboard, into a brilliant sunny morning. The Blackwater was shimmering with not a breath of wind to even ruffle the surface, nor help our half-mast ensign to flutter. We motored at a sedate pace against the flood, towards the Bench Head Buoy, where we were to meet 'RHIS I'.
As we got to know our new friends, it was apparent that none had any boating experience, indeed I had already kitted Tanya out with a lifejacket as I had ascertained she was a poor swimmer and a little nervous. We regaled them with tales of the riverbank! Peter, left to the helm was teaching his new crew the ways of a boat and the sea.
Eventually at about 1030hrs, we made out a white motor cruiser moving purposefully towards us, and spoke on the VHF to confirm our location and the time of the brief ceremony.
At 1100hrs, about one cable up river from the Bench Head, we both cut engines and drifted, about 25yards apart. It was so quiet. A blue cloudless sky was reflected in the sea, with the images of our boats. The reverent gentleman said a few words, that drifted down to us, standing motionless aboard 'Fiddler's', then Maurice's ashes were slipped silently into the sea. The Sea had taken on that glassy look, then as if on cue, the guns of Foulness opened up in salute. Slowly we dragged ourselves out of our thoughts, we waved to the assembled crew of 'RHIS I' as they slowly motored past, reluctantly started the engine and followed in their wake.
This photo was taken from 'Rhis' as M.G's ashes were scattered. The flags were lowered in salute.
As the wine that Dave had bought with him was opened and toasts were drunk to M.G.s' memory, we slid over towards the St. Peter's chapel shore where we brought up in three metres in a perfect flat calm, at the top of the tide, to lunch. Peter's soup, with chunks of cheese and ham and doorsteps of bread, was washed down with more toasts to Maurice. The family were enthralled, so we quickly had to point out that this was very much a 'one off'. Conditions were rarely as they were today.
After lunch we motored on for a while till the sea surface was touched by a faint breeze. The sails, ready for just such an opportunity, were raised. Our crew were surprised at the speed we could 'make sail'! However the breeze was only teasing, though we made a good half knot for a few moments, so sails were re-stowed and the engine started. A seal surfaced indignantly alongside, to complain about his curtailed siesta.!! Another bonus for our crew.
We returned to Bradwell just after 1500hrs, still in bright sun, but now with a fine cirrus cloud just taking the heat out of it. Rainbow colours glittered high in the cloud. We all agreed that Maurice had been given a perfect day for his farewell.
John Williams. Eventide, 'Fiddler's Green' .

The above picture is of M.G. at the helm of Kylix, his retirement boat.
I found this Peyton Cartoon in a very old copy of PBO, could not resist adding it, acknowledgments to Mike Peyton
The Maurice Griffiths Centennial Meet,
June 2002
To commemorate the 100 years since the birth of Maurice Griffiths, a small group of sailors left their moorings in various rivers and moorings, from the Medway to the Deben, in craft that many had built themselves, from plans drawn by Maurice Griffiths, to meet and celebrate his work.
On the first day boats converged on the River Roach and 8 boats dropped anchor close to the steps on Foulness Island. These remote steps lead to a path and then a small country lane, that a group of about 15 walked that evening, scattering hare and rabbit in front of us, cuckoos and curlews overhead, in a landscape that could not have changed much from the 1940's. We arrived, suitably thirsty at the George and Dragon, not much frequented these days, but popular in MGs day. Sadly the message had not got through to the landlord that we were coming, so there was an element of rush and flurry behind the bar. A very old-fashioned evening ended with a walk back in the dark to a very muddy now, landing, and a star lit row in the river to our small craft nearby.
Sunday morning we dropped down the R. Crouch, some taking the Raysand channel back, others, starting a little earlier, going via the Spitway, as they had 'done' the Rays'd yesterday. Musing on the Buxey Beacon that MG oft spoke of as we passed.
All arrived at about the same time at West Mersea, on the afternoon tide. We were welcomed by Geoff, the WMYC boatman, who rafted us up on vacant moorings and was our taxi for the evening. There were thirteen boats now in the assembled fleet, MG designed Eventides and Waterwitch's, a Lone Gull, and 2 Golden Hinds. There were also a few enthusiasts in other craft, one couple attending from Norfolk in their Silhouette, leaving their two..! Eventides on moorings in different parts of the UK! One Eventide was trailed across from Lancashire to Hull and sailed down the east coast from there. Flags were flown, The Golden Hind, 'Francis Fletcher' even had 'MAURICE G' spelt out in signal flags, others were dressed overall.
At about 1900 we assembled on the lawn of the W.M.Y.C. to savour the evening sunshine and relax with a glass on the MG bench! Others who arrived by road, included members John and Anne Morgan. We were pleased to welcome potential member Richard Hare with Golden Hind 'Keppel', you may have read his articles in Classic boat and PBO, also Bill Wallace-King and crew with his G.H. 'Francis Fletcher', (the name of the chaplain on the first 'Golden Hind' a few hundred years ago!) 30 sat down to a simple but excellent meal in the W.M.Y.C. A few words of appreciation were spoken and all had a generally convivial evening. Geoff later conveyed us safely back to our craft.
Monday morning at 1030, we all dropped moorings and set sail as soon as safe to do so, sailing in a gentle SW, in bright sunshine and in line ahead, to the Bench Head. On the way we noted with pleasure the new 'MG' mark near the Nass, a very nice gesture. At the Bench Head to a long blast on the horn, flags were dipped in salute. Here the 'fleet' split, for the Spitway and the south, back up the Blackwater, on up the coast for the Deben and for five of us, the Colne.
We had a great sail into the Colne, dropping hooks in a group, just up from Pyefleet, for lunch. We were easily within hail, and subsequently arranged to motor up as far as Colchester, before dropping back to Pyefleet for the night.
As befits craft designed by MG, we gently motored past all the other moored craft, to anchor close by Maydays Marsh, on the second attempt, as I realised the first anchorage I had chosen was OK, provided no one touched bottom and the oyster layings. As there was a distinct danger of at least one of our number doing so, we moved after a while, further up, much further. So well away from civilization and as far up as we could get and still remain afloat, with our modest draft! We spent a very pleasant evening aboard one of the larger craft, before dispersing the next day. ' Fiddlers' Green' revelled so much in the peace and solitude of this remote place, that we stayed a further day, until our water ran out! Darian and I explored both creeks as far as my Seagull would take us; wildlife of all sorts watched our progress!
Many toasts were drunk to MG, for without his vision and designs, so many people would never have got afloat and enjoyed so much that we do and the sport of kings may have stayed just that. Thankyou Maurice.
Boats attending for all or part of the proceedings:-
Lady Gertrude, Cicerone II, Redwitch, Rosy, Foreland Gull, Sula-Sula, Keppel, Francis Fletcher, Silent Annie, Piglet, and Fiddler's Green.
We stayed on board for a few more days, dodging the rain showers and ending the week on our old mooring at Tollesbury, where we took the ground for a very quiet night. I was delighted to see Avocet wading in the mud near our mooring, feeding, quite oblivious to us. It was the first time in nearly 30 years I have seen them here, and as there were more than one, hopefully they will stay in the area.
We eventually sailed back to Bradwell marina early on Friday afternoon, all was so peaceful. We later learnt that all eyes were on a certain football team in Japan, a wonderful time to go sailing!
John Williams, builder and proud sailor of Eventide, 'Fiddler's Green', with fond memories of Maurice and Marjorie.
This article is from an old Y.M. Just a few words from M.G.
He talks about my sort of boating, quiet creeks and good company.
May 2020, in the midst of the WhuFlu pandemic We were sent the following from M.G.'s writings.
Courtesy of Jim Nicholls in Australia. (building a Senior!.)
These pages taken from a 1946 year book, explain M.G.'s thinking and how he evolved his designs. As he said to me his best designs were post war!
(WWII). Many of his earlier drawings were lost, as he told me, due to 'enemy action'. But they were not my best he said!
John

See also - Des Sleightholme - click on the picture
More Books
E-mail us at enquiries@eventides.org.uk